×
remind me tomorrow
remind me next week
never remind me
Subscribe to the ANN Newsletter • Wake up every Sunday to a curated list of ANN's most interesting posts of the week.
read more
Anime! High Art - Pop Culture in Beverly Hills
by Zac Bertschy,

On May 15th, the Academy of Motion Picture Arts and Sciences began hosting the traveling exhibition "Anime! High Art – Pop Culture" at their Beverly Hills screening & library facility. The night before, they held a gala opening event, which I attended and took a boatload of photos, naturally. The exhibit is pretty expansive – it consumes the entire first floor of the building, with another sizable exhibition on the 4th floor.
First and foremost, this is effectively an art show – there isn't a whole lot of other media, and I got the sense that the curators basically had access to a vast collection of cels and decided to spice it up with some video clips and a few pieces of standard-issue anime merchandise. So if you plan on attending, keep that in mind – 90 percent of this exhibit is a cel collection.
But what a collection! There are more than a few breathtaking pieces, rarities of all sorts. The amazing thing is, most of this stuff is owned by one guy and his wife – "From the Personal Collection of Mike & Jeanne Glad" appears next to nearly every piece. Clearly the work of a very, very serious (and very rich) art collector.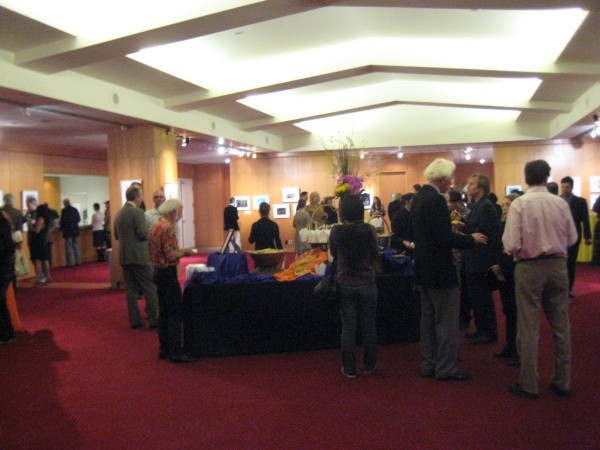 Wine and hors d'oeuvres flowed freely.
Essentially, the exhibit moves in chronological order on the bottom floor, arranged in a clockwise pattern that begins with a brief explanation of the medium's beginnings, and focuses on major directors, with bios posted next to the cels and drawings that represent their body of work. First up is Osamu Tezuka, followed almost immediately by a pretty impressive (but not particularly sizable) collection of cels from Hayao Miyazaki's body of work. The Totoro and Laputa cels were easily the gems of this section.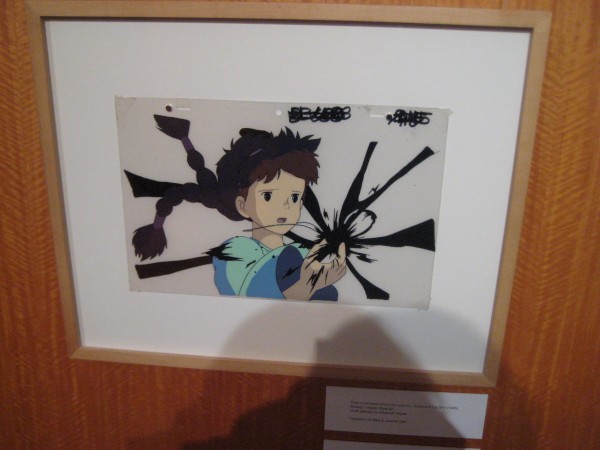 This was the only Laputa cel in the exhibit.
It was at this point that I noticed something curious about the show – the labels aren't particularly specific. There's a handful of Lupin cels arranged together, and the label simply says "Lupin III", with an unspecific timeline ("1976-1992") and that's it. They don't tell you what production each cel is from or even the individual director of each film represented. The lack of information was a little strange.

You can't see it too well in this photo, but that's
Sailor Moon
on the floor.
Everything more contemporary is located in the 4th floor exhibit, which is where most modern anime fans will likely find what they're looking for. In contrast to the more sedate wood-paneled look of the first floor, this area is themed, with stark white walls and a repeating clip of Sailor Moon (and a handful of other series) projected on the floor. Most visitors will likely begin with the collection of Akira cels, and move clockwise around the room on to cover classics like Robot Carnival, Gundam and Robotech before moving into somewhat more modern fare like Slayers, Card Captor Sakura and Ghost in the Shell. As expected the exhibit's scope is limited to the early part of this decade, with the newest piece being a line drawing of Naruto from the TV anime production, accompanied by similar drawings from Bleach. Oddly enough, there's only one Evangelion cel, but it is a really sweet one.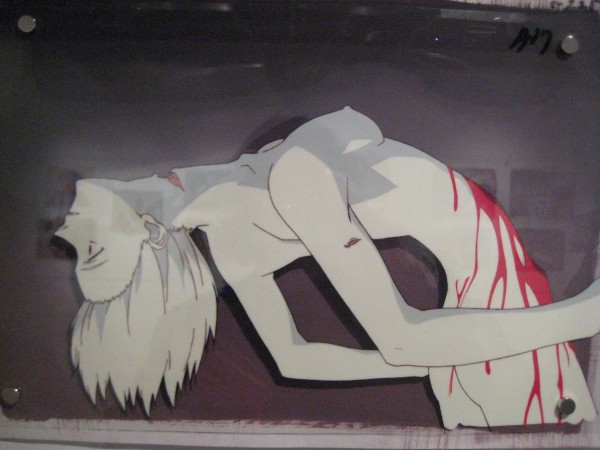 She should really have that looked at.
This area is arranged mostly according to genre rather than chronological order. The left side of the room focuses on shoujo, with the right side covering shonen material. In the back there's a collection of framed original pieces by Yoshitaka Amano, and an adults-only room featuring a handful of cels from various hentai series, with a TV running Golden Boy, a display case full of erotic gashapon and a few placards explaining the adult animation industry in Japan.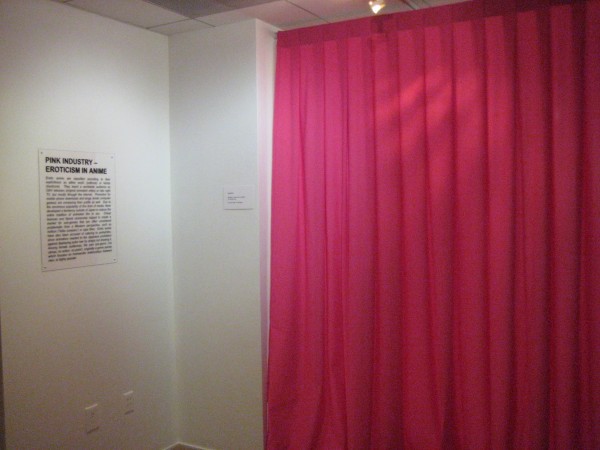 I was hoping this would be themed like the porno section of an 1980's video store.
The problem I mentioned with the labeling downstairs continues upstairs – some pieces are straight-up incorrectly identified, and some of the Macross cels list the director as Robotech dubbing director Robert V. Barron. Not cool. Fortunately there are only a few places where this occurs; diehard fans might have a fun time wandering through the exhibit just to nitpick the labeling.
I did get a moment to chat with Mike Glad, the guy who owns most of these pieces. He told me that he began collecting anime cels back in the early 90's; he knew Carl Macek during the Streamline Pictures days, and while he wasn't a fan of the films – hadn't seen them yet, even – he was entranced by the art he saw and immediately wanted to start collecting cels from Akira and Robot Carnival. He continues to collect to this day. I got the very strong impression that the man was much more an avid art collector than a diehard fan; he told me a very brief story about his quest to obtain cels from Spirited Away, specifically because it was the first anime to win an Oscar. He came up empty-handed time and again, until eventually writing to Hayao Miyazaki himself and offering up a Gertie the Dinosaur cel in exchange for something from Spirited Away, and never heard back. With any luck, we'll be able to arrange a full interview with Mr. Glad in the near future.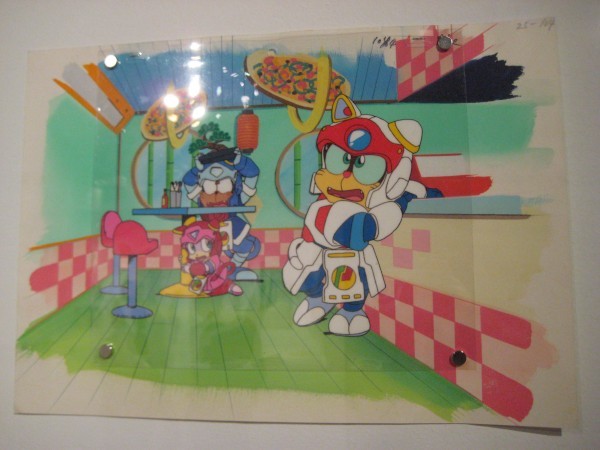 Clearly the shining crown jewel of this entire collection.
Overall, if you live in the area or will be in the area during the show's run, it's definitely worth a look. Admission is free and you'll get to see some really impressive cels, especially if you've been an anime fan for a long time and are familiar with the pre-digital era of anime represented by this exhibit. It's nothing mindblowing, and otaku with even an ounce of experience under their belts won't really learn anything new, but if you take a few friends along to oooh and aaah at the rare and beautiful artwork, it'll make for a fun hour or two.
The exhibit runs from May 15th to August 23rd before moving on to Belgium, so for the forseeable future this is likely your only chance to see it in North America. Fortunately, it'll run basically all summer long, so if you plan on coming into town for Anime Expo, it's a relatively short skip up the 10 freeway to check it out. You can find all the information about attending the show here.
---
---
discuss this in the forum (31 posts)
|
this article has been modified since it was originally posted; see change history