Jason Thompson's House of 1000 Manga - Inio Asano
by Shaenon K. Garrity,


Inio Asano
By Shaenon K. Garrity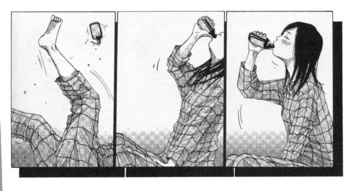 Long ago, in the dawn times before "House of 1,000 Manga,"
Jason Thompson
and I had a brilliant idea for a comics review podcast. It was called "Drunken Manga Reviews." In each episode, we would present a manga, read it while consuming a bottle of fine California wine, then review both the wine and the manga. The more wine we drank, the better the manga would get. It is possible that in this simple concept we unlocked the secret to happiness. Alas, Jason moved away to Seattle, and getting drunk over Skype just isn't the same.
In the end, we only recorded one episode of "Drunken Manga Reviews." The topics: a cheap bottle of Napa red and Solanin, a two-volume manga by Inio Asano. By the end of the recording session we were weeping openly from the simple beauty of Asano's story, and also the booze. Or maybe that was just me. It turns out that as a drunken manga reviewer I have two settings, weepy drunk and angry drunk, depending on the manga.
At the time, Asano seemed poised to hit it as big in the American manga market as an indie/alternative/non-ninja-themed manga-ka can, which, admittedly, is not that big. Viz followed its excellent translation of Solanin with What a wonderful world! , two volumes of loosely connected short stories. It seemed like a no-brainer that someone would pick up Asano's other major work at the time, the twisty psychological horror manga Nijigahara Holograph.
Alas, my drunken dreams of an Asano planet were not to be. In the manga recession, offbeat creators like Asano were even less marketable than usual. Around 2010, Viz shifted its artsy-manga attentions to its new SigIkki line, showcasing titles from the semi-alternative manga magazine Ikki. Ikki has published many top alt-manga creators—Taiyo Matsumoto, Iou Kuroda, Natsume Ono—but Inio Asano is not among them. So Asano fell by the wayside, at least in the U.S., at least for a while.
What a wonderful world!, begun when Asano was just 22, was his debut work, and it immediately established him as a voice-of-a-generation type artist. The brief stories are little windows into modern Japanese life—some funny, some tragic, some mundane, some infused with magical-realist fantasy. A little boy struggles in cram school, a man on the run from the yakuza hides in a bear suit, an old ramen cook tries to make amends with his family, the ghost of a disaffected teenager drifts around the city, a strange plague causes people to suddenly pass into a vegetative state, and on and on through Asano's bittersweet Tokyo, where it always seems to be either a damp spring morning or a cool fall day. The stories range from the forgettable to the sublime, but all are rendered in naturalistic yet expressive art, with an eye for telling details, that looks like the work of a seasoned illustrator rather than a kid drawing his first manga.

Asano followed What a wonderful world! with the ambitiously-structured, still-unlicensed-in-the-U.S. Nijigahara Holograph. The story flits in and out of the lives of a group of twenty-somethings who, years before, were classmates in elementary school. All are still haunted by a tragedy, now almost lost to the mists of memory, that once struck their class. As the nature of this tragedy is gradually revealed in flashbacks, it connects somehow to apocalyptic events in the present day, linked by the recurring images of butterflies, rainbows, and an ominous tunnel running under the local playground. Asano blends character studies of directionless young adults with shocking violence, supernatural horror, time travel, and the end of the world, creating a work that's sort of half Magnolia, half Donnie Darko, with a splash of Stephen King. That's a lot of material to pack into a manga that could easily fit into one of those big Vertical one-volume editions.
Compared to the labyrinthine tour de force that is Nijigahara Holograph, the slice-of-life drama Solenin is far simpler and quieter, but also more thoughtful, the work of a slightly older and considerably more mature artist. This time there's just one protagonist, Meiko, two years out of college and drifting through meaningless office-lady jobs while trying to make rent. Tired of clinging to the bottom of the corporate ladder, Meiko quits her dead-end job, while her boyfriend Naruo gets his college band back together. But, in a more realistic touch than most manga about artists and rock musicians, the couple's spark of youthful rebellion often flickers, and they frequently find themselves wondering what the hell they're doing. Although much of the story deals with Naruo's struggle to make it as a musician, ultimately it's about Meiko developing the courage to stand on her own and do something meaningful with her life.
In Japan, Solenin was successful enough to be adapted into a live-action film. In the U.S., it was nominated for both an Eisner and a Harvey Award before drifting away in the wake of bigger and flashier manga. As much as I enjoyed it in my short-lived career as a drunken manga reviewer, while sober I have a much deeper appreciation for Asano's ability to capture the minutiae of bohemian young-adult life, from the unwanted care packages of healthy food that Meiko receives from her mother to every detail of the characters' cluttered apartments and sketchy late-night bars.
Asano is currently working on Umibe no Onnanoko (A Girl by the Sea), a sexually frank manga about a high-school girl who starts up a no-strings-attached relationship with a classmate after getting cruelly used by her crush, which runs in the not-quite-as-dirty-as-it-sounds-but-still-pretty-dirty magazine Manga Erotics F. (If nothing else, the close-up shots of pubic hair in Umibe no Onnanoko are a sign of the changing times in Japanese publishing, as pubes used to be taboo even in hardcore pornography…although the male characters' penises are still whited out.) Given the age of the characters, there's virtually no chance of this manga getting licensed in the U.S., but Asano has several other titles under his belt. Now in his 30s, he remains one of the most interesting manga-ka of his generation. And I remain too, still raving about his manga with God and Jason Thompson as my copilots, and only a little bit more sober.
---
---
discuss this in the forum (7 posts)
|