Interest

Yamaha Updates Vocaloid Vocal Music Synthesis Engine

posted on by Egan Loo
Vocaloid3 Editor in September; licensees to offer data libraries later; more languages offered
---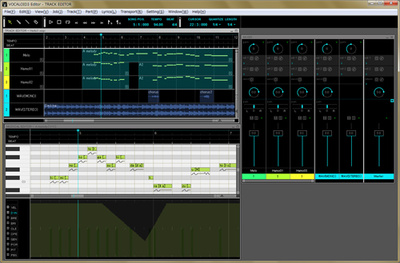 The Japanese conglomerate Yamaha announced on Wednesday that it will release Vocaloid3, a new version of its vocal music synthesis software, at the end of September. With Vocaloid, ordinary computer users can create entirely new songs by typing lyrics and musical notes.
In previous versions, Vocaloid has been the underlying engine for such popular character voice software as Crypton Future Media's Hatsune Miku and Kagamine Rin/Len, Internet's Gackpoid and Megpoid, and Yamaha's own Lily. It has been four years since Vocaloid2 first shipped in 2007, and eight years since the first Vocaloid software was developed in 2003.

Unlike the previous versions, Vocaloid3's components will be split up; the Vocaloid3 Editor (the core music synthesis package) and the vocal libraries (the singing voice data) will be released separately. Yamaha itself will begin selling the Vocaloid3 Editor at the end of September. Licensees will then release the vocal libraries thereafter.
Yamaha claims that the new version of Vocaloid will offer more realistic singing, thanks to its ability to use larger voice sample data as well as its more natural changes in pitch and smoother changes in tone. It also promises that Vocaloid3 Editor has a user-friendly interface.
The vocal libraries will still bundle a "Tiny Vocaloid3 Editor," but the full, separately sold Vocaloid3 Editor will still be required for more advanced capabilities. For example, the tiny version can only edit and play one track, while the full editor can handle 16. The tiny version can handle 17 bars, but the full version can handle 999. The tiny version only comes with the reverb effect, while the full version can add other effects, Vocaloid Job Plugins (see below), and libraries from Vocaloid2 via the V2 Library Import Tool.
Vocaloid3 will also offer Chinese, Korean, and Spanish vocal music support in addition to the Japanese and English capabilities already provided. The Vocaloid 3 Editor's menus can be easily localized into different languages.
Finally, Yamaha is opening the application programing interface (API) so both companies and individuals, under license, can expand the capabilities of the software or create plugins. Yamaha will begin licensing the underlying synthesis engine itself so developers can use it for their own software such as personal computer games.
In related news, a new venture called Vocaloid Music Publishing began offering a system for managing copyrights and royalties for self-published music on Wednesday.
[Via Temple Knights, ITMedia News, Hachima Kikō]
Image © Sega. © 2011 Crypton Future Media, Inc.
---