Interest

One Piece Characters As Animals Return with New Figures

posted on by Bamboo Dong
Latest Shonen Jump offers sneak peak at new special figures from Toshio Asakuma.
---
A spread in Shonen Jump 50, due out November 11, hints at the return of Bandai's Figuarts Zero Artist Special line of One Piece characters re-cast as animals.
No further details are available at the time, but the magazine states that more information will be released at a "big announcement" during Jump Festa 2014. Notably, the spread shows two new characters that were not part of the original set—Shanks as a lion, and Trafalgar Law as a snow leopard.


The original set (shown below) was released to commemorate the 15th anniversary of the One Piece manga. The full set, which was released in three waves, showed Monkey D. Luffy as a monkey, Nami as a cat, Usopp as a chameleon, Tony Tony Chopper as a red panda, Roronoa Zoro as a tiger, Sanji as a big horn sheep, Nico Robin as a falcon, Franky as a rhinoceros, and Brook as a giraffe skeleton. All of the figures were sculpted by Toshio Asakuma.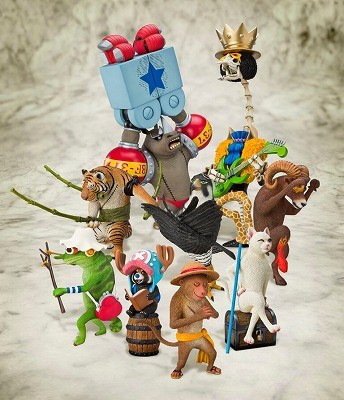 ---