Interest

Boyfriend (Beta) Smartphone Game Released

posted on by Eric Stimson
Gameplay details, 13 character profiles now available
---
In October, we reported on the voice cast of the upcoming smartphone game Boyfriend (Beta). In the intervening period, it's racked up more than 150,000 pre-orders, and it has now been released via Cyber Agent's Ameba social networking service.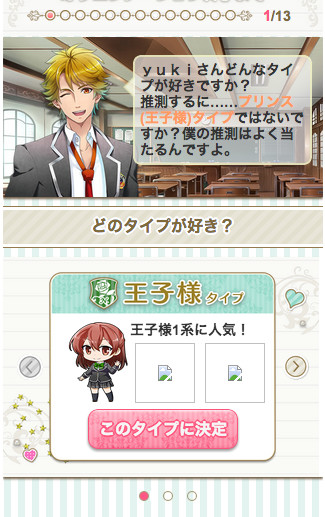 The player decides what type she's into; here she considers the "prince" type.
The game is a follow-up to the same company's GIRLFRIEND (Beta) and combines dating sim elements with a card game. Set in a high school, the game has players collect cards of various bishōnen and earn points by competing with their rivals by bragging about their boyfriends. These points let them take precious photos of their beaux. The cards come with a story mode, and as the player evolves her cards, she can deepen her connection to her true love. The story mode is also the source of the game's exclusive voice clips.


"Sí. I am in the Kendō Club. Please come to cheer me on sometime."
13 characters have illustrations and profiles currently available, although a total of 32 will eventually be included. The character designs are handled by Ruka Urumiya.


A new story segment has been unlocked.
Here's a look at the hunks you'll be able to choose from, along with their voice actors:
1) REN SAIONJI (Jun Fukuyama)


3rd year
Birthday: December 24
Blood type: A
Height: 183 centimeters
Hobbies: Original ikebana, classical music, meditation
Favorite food: daifuku (sweet rice cake)
Heir to the Saionji family of floral arrangers. Student council president. Has many fans around the school thanks to his beauty. May seem like a fine, high-class boy at first glance, but also possesses a sensual side, and approaches the heroine lustfully.
2) HARU MOMOKOSHI (Kenichi Suzumura)

3rd year, no club
Birthday: November 11
Scorpius
Blood type: O
Height: 181 centimeters
Favorite food: kara-age (fried chicken)
Hobbies: Clubbing, going to CD shops, shopping in trendy districts
Fashionable. Cool. The kind of upperclassmen popular with girls. Carefree. Bright and assertive. Sociable; has a wide circle of friends. Speaks with an open heart, but not chatty. Instead, he listens to others and chooses his words to match them.
3) KUON AMAMIYA (Ken Takeuchi)


2nd year
Birthday: February 28
Blood type: AB
Height: 174 centimeters
Favorite food: marshmallows
Best subject: Japanese
Hobby: reading
Quiet. Usually smiling. Slow in speech and movement. May look like an adult, but a child at heart. His way of thinking is innocent and he bears no malice. Entirely ephemeral and fragile, as if about to fade out of existence.
4) ALAN SUMERAGI (Kengo Takanashi)

3rd year
Birthday: April 13
Blood type: A
Height: 185 centimeters
Hobby: collecting those triangular scrolls they sell at tourist sites
Favorite food: sashimi (especially toro (fatty tuna))
Third prince of the Kingdom of Bazil. Real name: Alan Clarus Bazil. His mother is Japanese and he grew up hearing Japanese so he likes Japan. Dignified. Makes bold romantic statements.
5) IKUTO WAKASA (Kousuke Toriumi)


School doctor
Birthday: September 25
Blood type: AB
Height: 183 centimeters
Favorite drink: water (he doesn't care much about food)
Hobby: alcohol (in particular Western liquor like brandy and whisky as nightcaps)
School doctor. His adult sensuality, pretty features, and somewhat mysterious atmosphere make him much-loved among the female students. You could say he's mysterious, but really, he just like to take things at his own pace.
6) MINATO HYUUGA (Kouji Takahashi)


2nd year, no club
Birthday: November 22
Blood type: B
Height: 175 centimeters
Favorite foods: balanced, nutritional food; snacks like candy
Hobbies: making clothes and accessories, people-watching
Proud. Self-confident. Especially confident about his tastes. Tends to blurt out what's in his head without thinking first. As a result he often offends people, but he is unconcerned. You could say he's honest.
7) SHUU SAGISAKA (Takahiro Sakurai)


2nd year, Astronomy Club (sometimes goes in between work)
Birthday: July 7
Blood type: B
Height: 182 centimeters
Hobby: stargazing
Became a male fashion model after being forcibly taken to a photography studio by his model older sister.
8) TOUMA KISARAGI (Masakazu Nishida)

Birthday: August 31
Blood type: B
Height: 178 centimeters
Favorite drink: Coke
Hobby: stargazing
Plays midfield in the Soccer Club. Thought of as a blunt, calm guy who doesn't get rattled by anything and takes things at his own pace, but actually self-conscious. And kind.
9) MASATO NARUMI (Jun Yokoyama)

2nd year
Birthday: October 3
Blood type: A
Height: 176 centimeters
Hobby: the theater
Favorite food: meat buns
Like girls so much, he knows all the female students' names. Normally irresponsible, but extremely passionate and diligent when it comes to the theater. Called "the prince" for his many roles as princes in plays.
10) MOTOI SHIRAKAWA (Noriaki Sugiyama)


2nd year, Natural Sciences Club
Birthday: January 29
Aquarius
Blood type: B
Height: 169 centimeters
Hobbies: reading, karaoke by himself
Hesitant. Weak-spirited. Gentle. Especially bad at talking with girls. Subpar communication skills. Uses keigo (polite Japanese terminology) with classmates and underclassmen.
Favorite food: grape sugar
11) NAOKAGE YOSHIYA (Natsuki Hanae)


1st year
Birthday: March 12
Blood type: B
Height: 167 centimeters
Hobby: walking
Favorite drink: milk (he wants to grow taller)
Compassionate. Has a complex about his cute appearance. Joined the Baseball Club to be manlier.
12) MOMOTA ASUMA (Takahiro Mizushima)


3rd year, Tennis Club
Birthday: May 23
Blood type: O
Height: 179 centimeters
Favorite food: sukiyaki (beef stew)
Hobbies: tennis, games involving physical activity
Loves exercise. Has younger siblings. Fundamentally a kind, reliable, nice big brother. Cheerful. Energetic. Generous. Nice to everyone.
13) KEITO AMANE (Shinnosuke Tachibana)

2nd year
Birthday: March 21
Blood type: O
Height: 163 centimeters
Favorite food: liver
Hobby: walking around amusement parks
Lacks friends. Gloomy. Incapable of compassion. Inconsiderate of others' feelings. Spits abuse at those who kindly approach him ("don't talk to me," "you're annoying"). It's an involuntary defense since he assumes they're trying to use him.
[Via Inside, Image from Cyber Agent]
---