Interest

Pokémon Heroes - Latias & Latios Tops Fan Poll of Favorite Franchise Film

posted on by Jennifer Sherman
The 2002 Pokémon Heroes - Latias & Latios anime film ranked #1 in the "Oshi Pokémon Eiga Number One wa Kimi ni Kimeta!" fan poll to choose people's favorite Pokémon film. The poll celebrates the release of the upcoming Pokémon the Movie: I Choose You! film that marks the 20th anniversary of the franchise's movies.

In the poll, fans voted for any of the previous 19 Pokémon anime films from 1998's Pokémon: The First Movie to 2016's Pokémon the Movie: Volcanion and the Mechanical Marvel. Voting was conducted on Twitter and the Pokémon films' official website. TV Tokyo and other networks will air the winning film on July 17 at 1:35 a.m.
Pokémon Heroes - Latias & Latios, the fifth Pokémon film, is known for its imagery fusing CG technology and animation of the time. Shoko Nakagawa, who plays Joy in the upcoming film, praised the beautiful waterways and accordion music in the 2002 film.
Miramax Films, which released the film in North America, describes the movie's story:
Famous Pokémon trainer Ash Ketchum is en route to a special water race for Pokémon in Altomare with his loyal companion, Pikachu. But when they arrive, they discover there's bigger game afoot than the race. Annie and Oakley are a pair of female villains determined to steal the all-powerful jewel known as the Soul Dew. However, the jewel is guarded by two especially vigilant Pokémon, Latios and Latias, so the thieves must capture the creatures before they can make off with the enchanted artifact. Annie and Oakley are able to put Latios in captivity, but not before Ash and his friends arrive on the scene.
Pokémon the Movie: I Choose You! (Gekijōban Pocket Monster: Kimi ni Kimeta!), this year's new Pokémon film, will open in Japan on July 15. The film's Ho-Oh Real Escape Game will debut on July 13.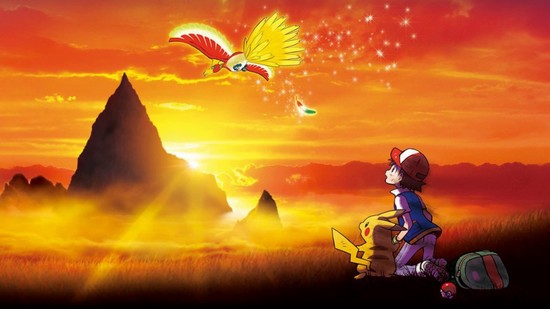 The upcoming film's plot tells the story of how Ash (Satoshi) and Pikachu came to know each other. Pikachu was not cooperative toward Ash, but Ash only wanted to be friends with Pikachu. On the day they set out from Pallet Town (Masara Town), both of them saw a Ho-Oh flying and made a vow to someday go and meet it.
Satoshi Tajiri is credited with the original work. Pokémon movie director Kunihiko Yuyama is directing the film.
"Pokémon! Kimi ni Kimeta!" is the title of the Pokémon anime's first episode from 1997.
Source: Mainichi Shimbun's Mantan Web
---