Interest

'Otaking' Tears Apart In Another World With My Smartphone's Animation

posted on by Jennifer Sherman
Former president of Gainax Toshio Okada, also known as "Otaking," is known for his opinionated personality that he has no qualms with expressing. He previously declared "otaku is dead," and he criticized the anime industry's production committee system last year. He also hasn't shied away from ripping apart anime he doesn't like, including Gundam: Reconguista in G.

In the 195th episode of his Toshio Okada Seminar streaming program, which focuses on "incompetent" isekai (different world) anime, Okada spent more than 10 minutes criticizing the In Another World With My Smartphone television anime while laughing at its animation blunders. The entire latest episode of Okada's streaming program is available for rent on YouTube, but an excerpt is also streaming for free. Okada's criticism of In Another World With My Smartphone begins at around the 2:55 mark in the video below.
In the episode, Okada called In Another World With My Smartphone "awful as anime." He added that before he watched the series, he was sure he would "become dumb just by watching it." However, his criticism focused on problems with the show's animation. He said the anime's art itself isn't the problem, but the sensibilities of the animators could use some work.
Okada began by criticizing the anime's depiction of sand as beige. In the image below, Okada believes the solid patch of beige coloring makes the sand appear to be a haramaki, an item of clothing worn around the abdomen.

Okada criticized the image below for the character's overly long legs. In addition, the left hand's position makes it impossible for the hand to be attached to the boy's arm in a real human way.

In the image below, Okada thinks the butler appears to have rotated the tray 90 degrees from a normal carrying position before passing it on to the seated man.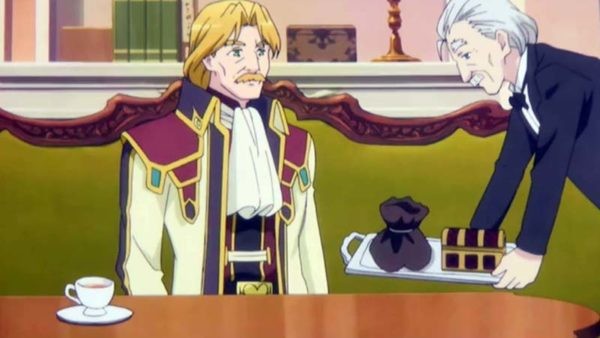 Okada also criticized different scenes in the anime for showing the aftermath of a battle unrealistically, showing a strange viewpoint for too long, and showing characters seated in stiff positions while conversing at a table. Okada said that the enjoyment he got from watching the anime was mostly from observing the animation's problematic composition.
Of course, In Another World With My Smartphone is not alone in broadcasting scenes with animation failures that slipped through. Many anime fans know of a certain episode in Naruto where the protagonist briefly appears without a head. After fans call out errors, studios sometimes correct the animation before additional releases. Hopefully, In Another World With My Smartphone's staff can make adjustments before releasing the series on home video.
The anime premiered on television in Japan in July. Crunchyroll streamed the series in Japanese with English subtitles as it aired, and Funimation's broadcast dub debuted in August.
[Via Niconico News Original, Yaraon!]
---