News

3rd Zero no Tsukaima Anime: Summer's Princesses no Rondo

posted on by Egan Loo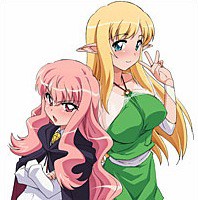 The title of the third Zero no Tsukaima (The Familiar of Zero) television anime series has been announced at Tokyo International Anime Fair 2008 and on the franchise's website: Zero no Tsukaima: Princesses no Rondo. The anime's premiere is now set for this summer in Japan. Noboru Yamaguchi and Eiji Usatsuka's original light novels begins with Louise, a hapless, struggling student who has earned the nickname "Zero Louise" from her fellow students in the Tristein Academy of Magic in an alternate world. When she tries to summon an animal companion to be her familiar, she ends up summoning Hiraga Saito — a Japanese boy from Earth.
The third series was first announced in December. Director Yuu Kou (Chrono Crusade, Loveless) and character designer Masahiro Fujii (Mahoraba ~Heartful days~) will return from the first two series. Series script supervisor Nahoko Hasegawa (Hidamari Sketch, Armitage: Dual-Matrix) has joined the staff. Rie Kugimiya (Louise) will lead a cast that is almost entirely intact from the first two series. Geneon Entertainment announced that it acquired the rights to the first anime series, but the North American release has been in limbo due to Geneon's pullout from in-house production and distribution of anime.
Source: Moon Phase, Hobby Channel
---
back to Tokyo International Anime Fair Briefs: Day 1
News homepage / archives