×
remind me tomorrow
remind me next week
never remind me
Subscribe to the ANN Newsletter • Wake up every Sunday to a curated list of ANN's most interesting posts of the week.
read more
News

Online Retailers List New Manga, Books in 2009 (Updated)

posted on by Egan Loo
---
The
Right Stuf
and
Amazon
retailers have the following Japanese manga and manga-related titles in their listings for next year. The listings are subject to change and may contain tentative, unofficial information.
Aurora Publishing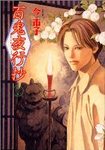 Beyond Twilight (
Hyakki Yakou Shou
)
Ichiko Ima
(
Asahi Sonorama
)
June 10, 2009
Publisher's Description: "Since birth, Ritsu has inherited the ability to see spirits and demons from his novelist grandfather, a sort of sixth sense. However, when his grandfather passes away, he loses the protection he had when under his care and ends up forming a contract with a demon named Blue Storm."
Love Drops
Takane Yonetani
,
Kou Natsuo
,
Mitsuki Oda
,
Hanako Ebisu
,
Mio Tatsumoto
(
Luv Luv Press
)
Jun 10 2009
Publisher's Description: "Mio is an aspiring wedding dress designer who dreams of having the fairytale wedding: a beautiful wedding dress, loving husband, and an everlasting relationship where husband and wife will support each other through thick and thin. Unfortunately, her boyfriend of two years (and co-habitating lover of one), Tatsuya, thinks otherwise as he tells her, "as long as we're together and happy, there is no need for marriage." As Mio's traditional ideals of marriage and Tatsuya's modern ideals of co-habitation collide, what will happen when Mio learns that she might be pregnant?!"
CMX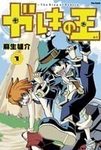 The
King of Debris
Yūsuke Aso
(Flex Comix)
May 5, 2009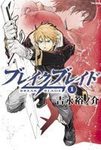 Broken Blade
(Break Blade)
Yunosuke Yoshinaga
(Flex Comix)
June 23, 2009

The Battle of Genryu: Origin
Shouko Fukaki
(Flex Comix)
July 14, 2009
Deus Press (Aurora Publishing)

Portrait in Blue
(Aoiro Keiyaku)
Reibun Ike
(Libre Shuppan)
June 10, 2009
Publisher's Description: "What started as a burglary at an art gallery ends up with more than just a painting being stolen - but also the feelings of those involved. And when that stolen painting happens to be the masterpiece of a young artist named Kagawa Setsuyou, gallery owner Andou finds himself the victim of the eccentric artist's whims."

Part-Time Pets (
Kemomimi Shōji
)
Reno Amagi
(
Frontier Works
)
June 10, 2009
Publisher's Description: "Capable of loving as human beings, and as adoring and loyal pets, Kemonomimi Corporation is an elite service industry that provides highly skilled human/animal hybrid workers. But when Kemonomimi trouble maker, Tama Mikezaki, is dispatched to author Souji Okano, problems were sure to erupt! Always ending up in a fight with his hired masters, this time was also no exception when he rebels against his latest master, Souji, who compares him (a human with rabbit ears) to his beloved deceased cat! However, Souji must 'feed' his pet by the end of their contract. Does Souji have what it takes to make Tama nibble on his offering?"

Kirepapa
Ryō Takagi
(
Core Magazine
)
June 10, 2009
Publisher's Description: "Chisato Takatsukasa is a divorced novelist who thinks that every guy that gets close to his son, Riju, just wants to take advantage of him because of his cute looks. In his efforts to protect his adorably defenseless son, he often resorts to dirty tactics - such as feeding his friends snacks laced with laxatives. There is only one guy who just refuses to give up, and that's Riju's best friend, Shunsuke. Despite four years of trying to get rid of Shunsuke, the younger man continues to visit Chisato's home, and Chisato is starting to wonder whether he might actually be the 'real' thing and not just as his son's genuine best friend."

Trill on Eden
Maki Fujita
(
Akita Shoten
)
June 1, 2009
Publisher's Description: "Ritsu has had bad luck her whole life. Starting fresh in a new boarding school, she hopes to leave her problems behind, but fate crosses her path with that of the school's troubled musical genius, Eiri. Almost immediately, her bad luck explodes to an all-time high. Unfortunately for her, she's been selected to be his new roommate — and to turn him into a proper, well-behaved student before he's thrown out for good! Maki Fujita has created a number of fan favorites in the manga field, and Trill on Eden has all the ingredients of another smashing success — a tempestuous teenage romance, memorable characters, and a plot as up and down as a rollercoaster ride."

Yokai's Hunger (
Yami ni Tōboe, Mune ni Toge
)
Bohra Naono
(Libre Shuppan, formerly
Biblos
)
March 18, 2009
Publisher's Description: "Norito Ogami, an average student, has a tendency to attract demons. Koma appears before Norito, in accordance with the 'Sigil Oath,' a promise Norito made in his past life with Koma. The two are attracted to each other, but Koma's siblings and his beautiful archenemy stand in their way...?!"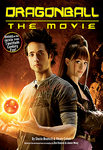 Dragonball The Movie Junior Novel
By Stacia Deutch & Rhody Cohen
Based on the motion picture screenplay by
Ben Ramsey
&
James Wong
February 24, 2009
Publisher's Description: "Read the story based on the hit action film from
20th Century Fox
! Collect all seven Dragon Balls and you can wish for whatever you want! Goku thought he was a normal high school student until he found out he's actually a martial-arts whiz with all kinds of crazy powers. Now he and his new group of teen warriors are on a quest to find all the Dragon Balls before they fall into the wrong hands. But they may already have! Goku must battle the evil madman Piccolo with all he's got to save the planet Earth!"

Dragonball: Evolution
Chapter Book
By Stacia Deutch & Rhody Cohen
Screenplay by Ben Ramsey
Based upon the graphic novel series Dragonball by
Akira Toriyama
February 24, 2009
Publisher's Description: "Goku thought he was just a normal kid until his whole world got turned upside down. It was bad enough that his grandpa just died. But now he's got to save the whole world from a madman who is looking for the seven Dragon Balls. Whoever finds them all can have any wish come true! Can a regular guy like Goku become the strongest fighter of all in time to stop the end of the world?"
Dragonball The Movie Sticker Book
By Viz Media
February 24, 2009
Publisher's Description: "The sticker book introduces the characters from the Dragonball movie and all of their cool gadgets, offering an extremely simplified version of the Dragonball adventure. 8 pages of color stickers and 8 pages of color backgrounds!"

Dragon Ball Chapter Book
Based on the original story by Akira Toriyama
Adapted by
Gerard Jones
August 4, 2009
Publisher's Description: "Dragon Ball introduces a young monkey-tailed boy named Goku, whose quiet life changes when he meets a girl named Bulma who is on a quest to collect seven 'Dragon Balls.'"
Source:
Kuriousity
,
YaoiGen
for Yokai's Hunger
Update:
MangaCast also
notes
that Amazon.com
lists
the following from CMX:

The Lapis Lazuli Crown
Natsuna Kawase
May 5, 2009
Thanks, Lys.
---