News

JoJo's Manga Part 3 Republished in Revised Edition

posted on by Egan Loo
Online protestors complained about images in anime version of manga's story arc
---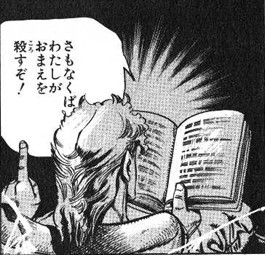 The Japanese publisher Shueisha has announced on Monday that it will publish Part 3 ("Stardust Crusaders") of the JoJo's Bizarre Adventure manga again in a revised edition. Online Islamic protesters had objected to imagery in the anime adaptation of the manga that they deemed offensive last May. Shueisha quickly resumed publication of the other story arcs of the manga, but it held back certain volumes of Part 3 due to "improper scenes."
A scene in the 2001 anime episode "The Mist of Vengeance" depicted the main villain, Dio, vowing to kill the main character Jōtarō Kujō while looking at pages of the Qur'an, the main religious text of Islam. However, the original manga never contained the images of the Qur'an in the corresponding scene; the reproduction of the Qur'an's pages was added by the animators in the anime version. Nevertheless, Shueisha identified other manga scenes with problematic images and promised that it "will not make new copies without correcting these problems."
Specifically, the final volume of the Jump Remix edition of the Stardust Crusaders story arc will resume publication on February 9. Volumes 13 through 28 of the original Jump Comics edition will resume publication in the middle of February. Finally, volumes 8 through 17 of the smaller Shueisha Comic Bunko edition will also resume in the middle of February. The revised versions of the Jump Comics and Shueisha Comic Bunko editions will have a wraparound jacket band with "Kaiteiban" ("Revised Edition") printed on it.
---