News

Tokyo's Youth Ordinance Bill Committee Vote on Monday (Updated)

posted on by Egan Loo
---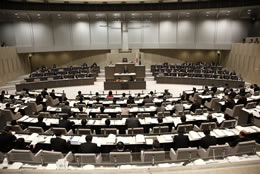 The general affairs committee of the Tokyo Metropolitan Assembly will vote on the government's revised bill to amend the Youth Healthy Development Ordinance on Monday. Bill 156 when then go before the full assembly for a vote on Wednesday.
The current ordinance already prevents the sale and renting of "harmful publications" — materials that are "sexually stimulating, encourages cruelty, and/or may compel suicide or criminal behavior" to people under the age of 18. Bill 156 would require the industry to also regulate "manga, anime, and other images (except for real-life photography)" that "unjustifiably glorify or exaggerate" certain sexual or pseudo sexual acts. Another section of the revised bill would allow the government to directly regulate the above images if the depicted acts are also "considered to be excessively disrupting of social order" such as rape.
The assembly already rejected an earlier version of the bill in June. As a result of Tokyo Governor Shintaro Ishihara and his government's support of the revised bill, 10 manga publishers announced on Friday that they will boycott next year's Tokyo International Anime Fair (TAF). The Tokyo Metropolitan Government is part of TAF's executive committee, and Ishihara also serves as the chairperson of that committee.
The Nico Nico Douga website will stream a live panel on the ordinance amendment bill on Sunday at 2:00 p.m. in Tokyo (midnight EST). The scheduled panelists will include:
Kanemitsu is accepting feedback from people overseas to share at the panel.
Source: 47News
Update: The Nico Nico Douga panel ended, and Kanemitsu is no longer accepting feedback for the panel.
---
This article has a follow-up:
Tokyo's Youth Ordinance Bill Approved by Committee (Updated)
(2010-12-13 03:21)