News

Freedom and Strike Witches Released Monday

posted on by Andrew Osmond
Plus Vampire Knight Guilty box-set.
---

On Monday, Manga Entertainment releases Freedom, an SF adventure with character designs by Katsuhiro Otomo, on DVD and Blu-Ray. Originally released in Japan as a seven-part OAV series in 2006, the series follows a boy in a repressive lunar colony who's determined to find a beautiful girl who may live on the supposedly-dead Earth. The Collector's Edition pack (pictured right), which features the series on both DVD and Blu-ray, has an RRP of £34.99, while the DVD-only edition has an RRP of £24.99. (Beez briefly released the series as a U.K. Blu-Ray in 2008.)
The extras include numerous trailers, messages from the characters and a "digest" of the Cup Noodle TV commercials used to promote the series in Japan. The Collector's Edition comes with four art cards in a specially designed slip cover. The series is rated 12.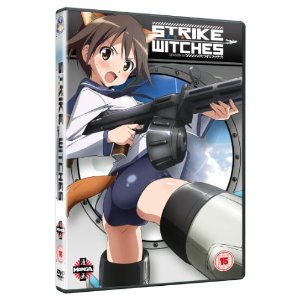 Manga is also releasing Strike Witches (pictured left), carrying the first twelve-episode season of the series about scantily-clad girl witches fighting alien invaders in the 1940s. (Manga is promoting the series with the tag, "War is pants!") The RRP is £24.99. The series was rated "12" by the BBFC (uncut), which caused Manga to make some comments on twitter in June. (The BBFC website classifies the series as containing "moderate sexualised nudity.")

Finally, Manga is releasing a box-set edition of Vampire Knight Guilty, containing the 13-part sequel to the original Vampire Knight. It is rated "12" and its RRP is £34.99.
---