News

Man Arrested for Pirating Resident Evil: Degeneration DVDs

posted on

2012-05-31

13:49 EDT by Egan Loo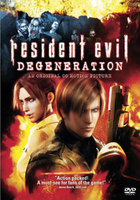 Police from Kanagawa Prefecture arrested a 52-year-old self-employed man from Akita Prefecture's Yuzawa City on Wednesday, on suspicion of violating Japan's Copyright Law by selling unauthorized anime DVD copies and other items. In particular, he is accused of duplicating Capcom's Biohazard: Degeneration (Resident Evil: Degeneration) and 13 other titles onto 21 DVDs on January 25, and thus knowingly infringing on copyrights for the purpose of selling to the public.
According to the police investigation, the suspect sold pirated copies from around last August to this past January, and earned about 200,000 yen (about US$2,600) a month. The police searched the suspect's home in January and confiscated 180 DVD copies that the suspect allegedly pirated for sale.
The authorities say that the suspect admitted to selling the pirated copies to pay for living expenses. In addition to the anime DVD copies, he is also charged with selling pirated copies of three titles (including live-action television series) around last September and earning 15,000 yen (US$190).
---
discuss this in the forum (1 post)
|
bookmark/share with:
RightStuf - Anime, Manga and More