News

Manga Entertainment Podcast News

posted on by Andrew Osmond
Guilty Crown Part 2 Scheduled for April 28, comments on Madoka Magica feature films, individual Dragon Ball Z discs, sold-out Code Geass and Persona 4.
---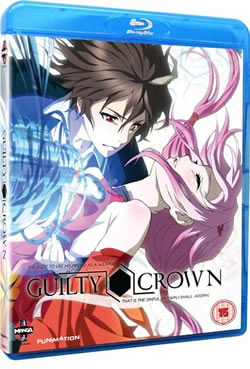 In its latest podcast, Manga Entertainment confirmed that part 2 of Guilty Crown is currently due to be released on April 28. (The first part, pictured, is already available.) Tetsuro Araki and Production I.G's TV anime is set in Japan in 2039, 10 years after the "Apocalypse Virus" devastated the land in an incident known as "Lost Christmas."
Asked about the feature film Gekijō-ban Mahō Shōjo Madoka Magica Shinpen: Hangyaku no Monogatari (the sequel to Puella Magi Madoka Magica), Jerome Mazandarani of Manga said it was up to Aniplex who would distribute it in the U.K. He added, however, that the film would "absolutely" be released by someone. Mazandarani added that he was not very interested in the first two Madoka Magica films, which rework the series (Puella Magi Madoka Magica the Movie Part 1: Beginnings and Puella Magi Madoka Magica the Movie Part 2: Eternal).
Mazandarani added that if Manga did a cinema release of the Magica Madoka films, then it would be limited to "festival-type setting" in London and one or two other cities. He described the U.K. audience for Madoka Magica as "not as big as some people might think" and said the release of the series had been "quite disappointing" for Manga Entertainment.
In addition, Mazandarani confirmed that the six Dragon Ball Z Season 1 discs, originally released in a single box-set, were now individually packaged and available at online retailers at lower prices (Dragon Ball Z Season 1 Part 1 etc). The discs were meant for child viewers, and to offer a "taster" to buyers who hadn't seen the series. However, it was "highly unlikely" that the later seasons would be reissued in this way.
Mazandarani also said that some titles have currently sold out: Code Geass (the first season) and some volumes of Persona 4. In the case of Persona 4, the series will be reissued in separate Blu-ray and DVD editions (not combi packs), each in three volumes, with two DVDs or one Blu-ray disc per volume. All the volumes will be released on the same day, January 27; Mazandarni thought the SRP would be £24.99 each for both Blu-ray and DVD.
Re Code Geass, Mazandarani said, "We have more stock on the way, but it takes a really long for the Kaze stuff to be produced, turned around and shipped back." He apologised for any inconvenience to customers.
---