News

Crayon Shin-Chan Faces Robo-Dad in Film by Gurren Lagann Writer

posted on by Egan Loo
Kill la Kill
's Nakashima pens April 19 movie teased in 1st trailer
---
The official website for the Crayon Shin-chan films began streaming the first teaser trailer for the latest installment, Eiga Crayon Shin-chan: Gachinko! Gyakushū no Robo Tō-chan (Crayon Shin-chan the Movie: Fight! Robo-Dad's Counterattack), on Friday.
Narrator: In the year 2014, the "father revolution" breaks out throughout the land. In these troubled times, this man will rise.
Shinnosuke "Shin-chan" Nohara: Robo Dad!
Robo Dad: Shinosuke! Let's combine!
Robo Dad: I will protect my family!
Shinosuke: Beep
In the kindergartner "Shin-chan's" latest movie, his father goes for a massage to fix his sprained back. However, he returns home as a robot, "with a snort more powerful than an electric fan!"

Wataru Takahashi, a unit director of several previous Crayon Shin-chan films, is helming this new film. Kazuki Nakashima (Gurren Lagann, Kill la Kill) wrote the screenplay.
The film will open in Japan on April 19, 2014. While supplies last, theaters nationwide will be giving away 50,000 windup Hasshin! Aruku Robo Shin-chan (Launch! Walking Robo Shin-chan) toys to moviegoers.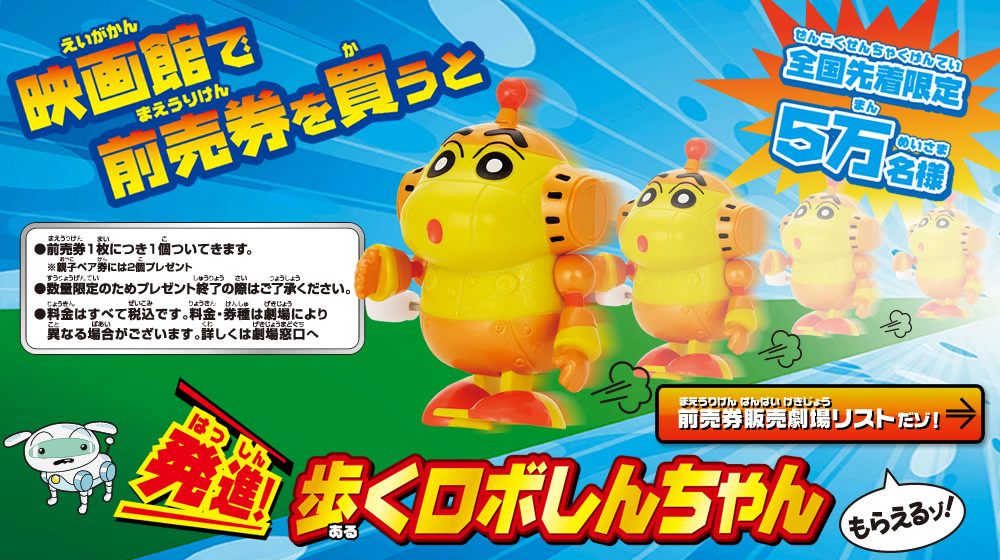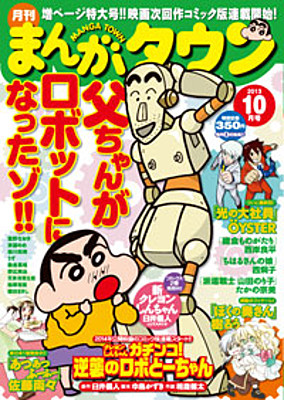 The October issue of Futabasha's Monthly Manga Town magazine began serializing Kenta Aiba's manga adaptation of the film.
American publisher DC Comics' CMX Manga imprint released the first 11 volumes of the late Yoshito Usui's original Crayon Shin-chan manga in North America before the imprint was closed in July 2010. One Peace Books just reissued the first three volumes in October. Funimation adapted the television anime into dubbed English, and America's Adult Swim network used to run episodes every Sunday morning. Eiga Crayon Shin-chan: Bakauma—! B-Kyū Gourmet Survival!!, the previous film inspired by the manga, opened in Japanese theaters this past April.
---