News

Kouichi Yamadera, Satomi Arai, Kappei Yamaguchi Star in Magica Wars Anime

posted on by Sarah Nelkin
Miho Arakawa, Ryoko Shintani, Yoshino Nanjou, more also join cast for series animated by Gainax
---

A flyer at the 2.5 Jigen TV program's booth at Comic Market 85 unveiled the cast and staff for the anime of the Magica Wars (Mahō Shōjo Taisen, or literally "Magical Girl Wars") project on Tuesday:
Cast
Miho Arakawa as Naruko Aoba (Miyagi Prefecture)
Kouichi Yamadera as Takesuzume (lit. Bamboo Sparrow, Miyagi)
Ryoko Shintani as Yuri Inuwashi (Ishikawa)
Ryota Takeuchi as Shishiku (Ishikawa)
Rie Murakawa as Rin Kobari (Tokyo)
Satomi Arai as Mosuke (Tokyo)
Yoshino Nanjou as Matsuri Azama (Shizuoka)
Mitsuo Iwata as Toro (Shizuoka)
Mikako Komatsu as Suzuka Kamiki (Mie)
Shigeru Chiba as Ebizō (Mie)
Kotori Koiwai as Mebuki Konoe (Kyoto)
Arisa Nishiguchi as Oage-san (Kyoto)
Yuka Terasaki as Renka Ariake (Kumamoto)
Kappei Yamaguchi as Esora (Kumamoto)
Staff
Original Work: Ken Matsui, Momoka Itō (2.5 Jigen TV), Gainax
Director: Ayano Ohnoki
Character Design: Mariko Kawamoto (Gainax)
Producer: Yoshinori Asao
Scripts: Kazuho Hyodo
Sound Director: Kisuke Koizumi
Animation Production: Gainax
Magica Wars is a cross-media project that personifies the 47 prefectures of Japan. The designs of the characters are being chosen from over 3,000 entries in a contest on art website Pixiv, and entries for the second round of submissions are being accepted until January 29. The voice actresses for each prefecture were born in the prefecture they represent.
DMM Games has already launched a free-to-play smartphone browser game called Magica Wars Tactics (pictured below). The game has the following premise: You are the hero with a special mission. Protect Japan from wave after wave of invading "Magatsuhi," with the support of 47 local magical girls!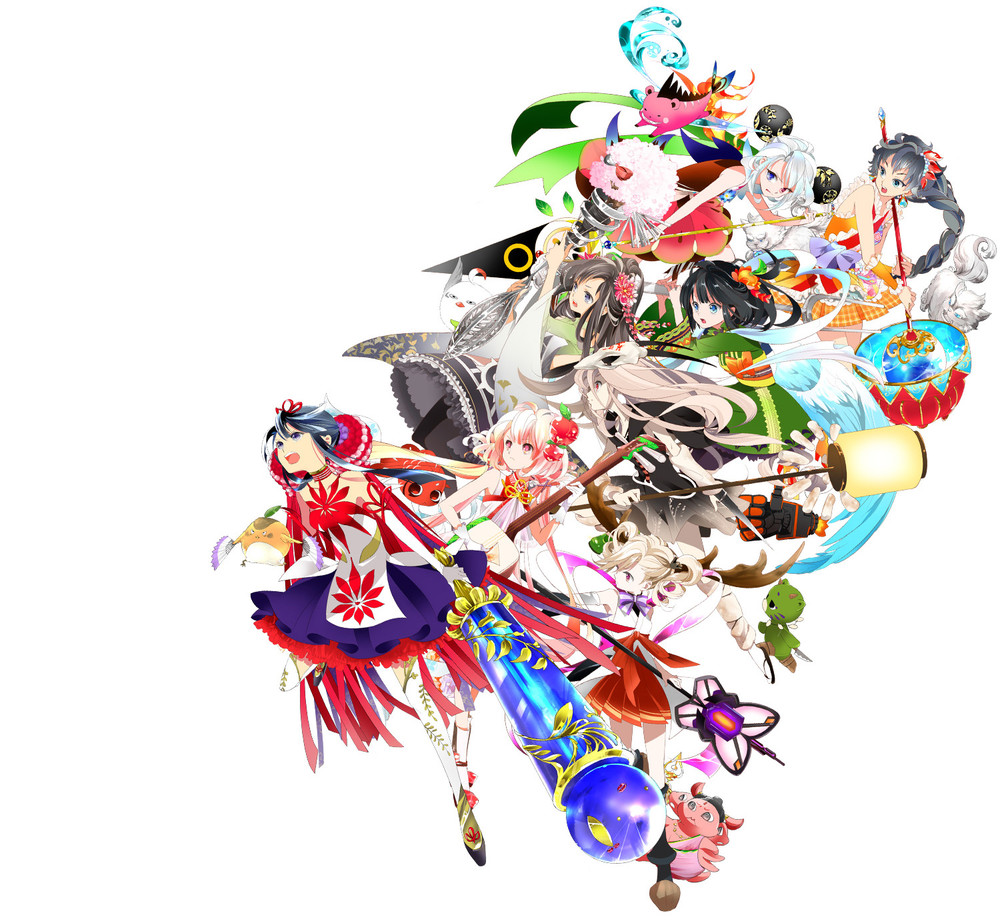 The PS Vita download-only game Mahō Shōjo Taisen for Vita will be a free-to-play game that tells the story behind the scenes of the anime adaptation. The character designs for the game are being handed by animation studio Nomad. The action-adventure game is scheduled to be released on the PS Store this spring.
Source: animeanime.jp
---