×
remind me tomorrow
remind me next week
never remind me
Subscribe to the ANN Newsletter • Wake up every Sunday to a curated list of ANN's most interesting posts of the week.
read more
News

2nd Persona 3 Film's New Promo Video, Release Date Unveiled

posted on by Egan Loo
New anime film of
Atlus
's RPG to open on June 7
---
The official website for the Persona 3 films updated at midnight on Monday, and posted a new promotional video for the upcoming Persona 3 the Movie #2 Midsummer Knight's Dream film. The video features the theme song "Fate In Our Hands" by Lotus Juice. The site also announced that the film will open on June 7 in 35 theaters — nine more than the first movie had.
Kirijo: At any rate, I thought it was right of me to tell you all the truth. 10 years ago, at the last stage of an experiment, an out-of-control accident occurred. Due to the power of the uncontrolled Shadows, abominable remains were left behind.
Takaya: What a spectacle.
Akihiko: We're going to clean this up quick and get out of here!
Takaya: You all should think a little bit more on what it would mean to erase the Dark Hour.
Yukari: Was it… Was it all dad's fault…?
Makoto: When I'm with everyone like this, I don't think it's that bad.
Yukari: What the heck?
Ken: A person…?
Shinjiro: You're…!!
Ken: He was the one…!! He was the one who killed my mother…!!
Fuka: Please wait! Just a little longer…
Mitsuru: We're going to search for the two of them!
Junpei: When this battle ends…
Ken: It would be great if these days continued…


Participating theaters are now selling advance tickets with one of four randomly distributed character clear file folder/Persona leaflet sets. Jika Net Tanaka and the AnimeJapan event are also selling a set with an advance ticket and a CD with the theme song, while Animate and Gamers stores are offering two different limited-edition sets with an advance ticket and character goods (one of two mobile phone straps with rubber mascots, or an A3 clear poster with an exclusive illustration).



The cast includes:

Akira Ishida (Slayers Next, Neon Genesis Evangelion) as Makoto Yūki, the protagonist. He has the wildcard Persona, meaning he can use various Personas and not just one.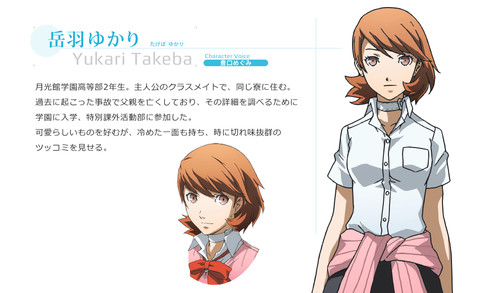 Megumi Toyoguchi (The Sacred Blacksmith, Danganronpa The Animation) as Yukari Takeba, Makoto's female classmate who is on the archery team. Her persona is Io.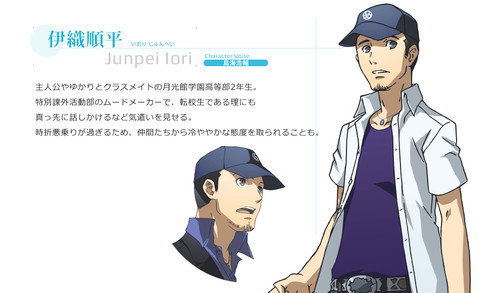 Kousuke Toriumi (Hakuouki, Pretear) as Junpei Iori, Makoto's classmate and close friend. He likes cracking jokes in almost any situation. His Persona is Hermes.

Rie Tanaka (Hyperdimension Neptunia The Animation, Chobits) as Mitsuru Kirijō, Makoto's upperclassman and the president of the student council. She is close friends with Akihiko, and they have known each other since middle school. Her Persona is Penthesilea.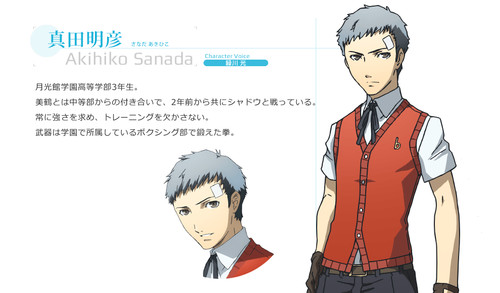 Hikaru Midorikawa (Majestic Prince, Slayers Next) as Akihiko Sanada, the captain of the school boxing team. He is obsessed with training, and often gets scolded by Mitsuru for overdoing it. His Persona is Caesar.

Mamiko Noto (Hell Girl, Arcana Famiglia) as Fūka Yamagishi, a girl in a different class than Makoto and the others. Although very shy, she is extremely kind. Her Persona is Lucia.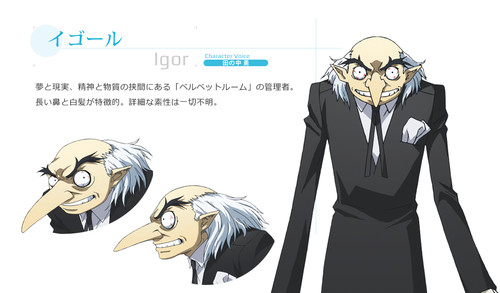 Voice recordings from the late Isamu Tanonaka will voice Igor, the master of the Velvet Room. A very mysterious old man who has the ability to read destinies and fuse Personas.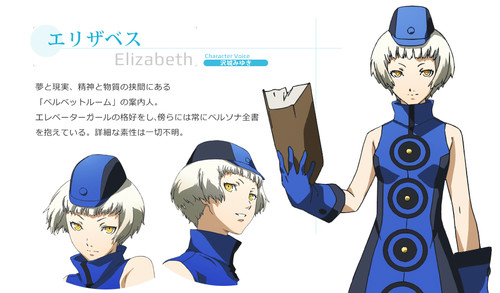 Miyuki Sawashiro (Galaxy Angel, K) plays Elizabeth, a guide of the Velvet Room who is a bit eccentric and curious about the outside world.

Kazuya Nakai (One Piece, Gintama) will play Shinjirō Aragaki, an upperclassman and friend of Akihiko and Mitsuru's who left the school and Iwatodai dorm for reasons unknown.

Maaya Sakamoto (Coppelion, Final Fantasy VII: Advent Children) as Aegis, an anti-shadow robot. For some unknown reason, she considers it her mission to protect and serve Makoto. Her Persona is Palladion.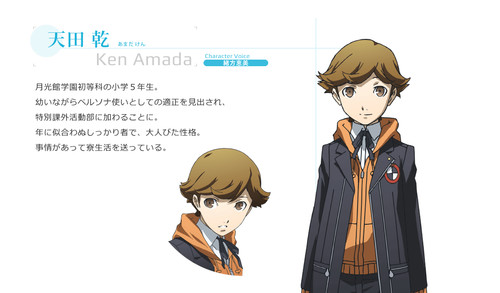 Megumi Ogata (Yu Yu Hakusho, Danganronpa The Animation) as Ken Amada, an elementary school boy who was found to have the potential to summon a Persona. Though young, he sports a very mature attitude. His Persona is Nemesis.

Unchanged from the game, Koromaru has no credited voice actor. His Persona is Cerberus.
Tomomi Ishikawa and Yae Ootsuka are replacing Akiko Asaki and Mizuka Takahashi as chief animation directors, while Tomohisa Taguchi is replacing Noriaki Akitaya as director.
The rest of the staff is as follows:
Scripts: Jun Kumagai
Supervisor: Seiji Kishi
Character Design: Keisuke Watabe
Animation Director: Keisuke Watabe
Action Director: Ryo Tanaka
Persona Design: Kyouma Aki
Prop Design: Shibobu Tsuneki
Color Coordinator: Saori Goda
Art Designer: Kaoru Aoki
Art Director: Toshihiro Kohama
Composite Director: Hideki Imaizumi
Editor: Takashi Sakurai
Music: Shoji Meguro
Sound Director: Tomohisa Taguchi
The film will open early this summer.
In the game's story, there is a hidden time known as the "Dark Hour" that exists between one day and the next when all movement in the town stops. During this time, terrible creatures called Shadows roam, and a group of high school students in the city of Iwatodai are drawn into the Dark Hour to fight these creatures and explore the mysterious tower of Tartarus. This group uses weapons called Evokers that are used to summon Personas.
Noriaki Akitaya (three Bakuman. series) directed the first film at AIC Asta with Seiji Kishi (Persona 4: The Animation, Devil Survivor 2 The Animation, Angel Beats!) supervising. Jun Kumagai (Aura: Maryūinkōga Saigo no Tatakai, episodes of Persona 4: The Animation) wrote the screenplay, and Keisuke Watabe (Crest of the Stars, Banner of the Stars) served as character designer and animation director. Shoji Meguro (Persona 4: The Animation) composed the music.
Source: animeanime.jp
Image © Index Corporation/Persona 3 the Movie Production Committee
---