News

Toh EnJoe's Self-Reference Engine Honored at Philip K. Dick Awards

posted on by Egan Loo
Space Dandy
episode writer is also a theoretical physics researcher
---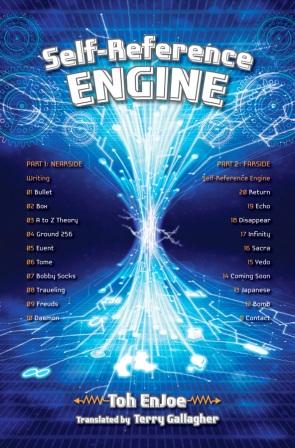 Hayakawa Publishing announced on Saturday that the English-language version of Toh EnJoe's book Self-Reference Engine earned a Special Citation honor at Friday's Philip K. Dick Awards ceremony. The Philip K. Dick Award and the related Special Citation honor the American science-fiction author of the same name. Viz's Haikasoru imprint published the book last year, and describes the book's contents:
This is not a novel.
This is not a short story collection.
This is Self-Reference ENGINE.


Instructions for Use: Read chapters in order.
Contemplate the dreams of twenty-two dead Freuds.
Note your position in space-time at all times (and spaces). Keep an eye out for a talking bobby sock named Bobby Socks. Beware the star-man Alpha Centauri. Remember that the chapter entitled "Japanese" is translated from the Japanese, but should be read in Japanese. Warning: if reading this book on the back of a catfish statue, the text may vanish at any moment, and you may forget that it ever existed.

From the mind of Toh EnJoe comes Self-Reference ENGINE, a textual machine that combines the rigor of Stanislaw Lem with the imagination of Jorge Luis Borges. Do not operate heavy machinery for one hour after reading.
41-year-old EnJoe is the second Japanese honoree of the Philadelphia Science Fiction Society and Philip K. Dick Trust's Special Citation. The first was the late Project Itoh's novel Harmony, which Haikasoru also published in English. (Harmony and another science-fiction novel by Itoh, Genocidal Organ, are inspiring an anime film project from Fuji TV's Noitamina.)
In addition to his award-winning books and research in theoretical physics, EnJoe wrote the 11th episode of Space Dandy, "I'm Never Remembering You, Baby." In 2007, he won the Bungakukai Shinjinsho (Literary World Newcomer's Prize) with "Of the Baseball." In 2010 his novel U Yu Shi Tan won the Noma Prize for new authors. In 2011, his "This Is a Pen" was nominated for the Akutagawa Prize, and he won Waseda University's Tsubouchi Shouyou Prize. In January 2012, he won the Akutagawa Prize with "Doukeshi no Cyo" (Harlequin's Butterflies).
Source: Jiji
---