News

Hidenobu Kiuchi, Tomokazu Sugita Lead Terra Formars OVA Cast

posted on by Emma Hanashiro
---

The Terra Formars Kickoff Stage event at the Niconico Chōkaigi 3 convention announced more of the original video anime's cast on Saturday.
Hidenobu Kiuchi as Shōkichi Komachi
Tomokazu Sugita as Ichirō Hiruma

Ayako Kawasumi as Nanao Akita
Tomohisa Hashizume as Thien
Rikiya Koyama as Donatello K. Davis


Ayahi Takagaki as Zhang Ming-Ming
Kenjiro Tsuda as God Lee
Nana Mizuki as Maria Viren


Ami Koshimizu as Victoria Wood
Hiroshi Yanaka as Kō Honda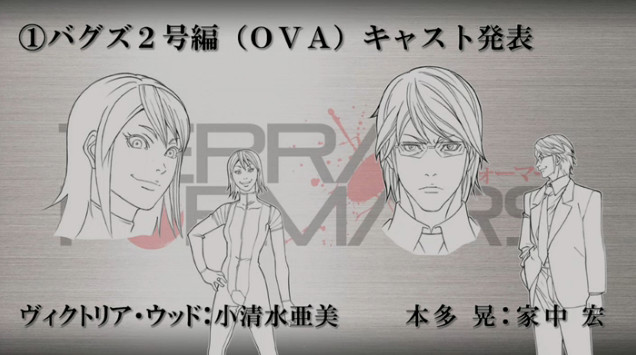 The event also confirmed that Jouji Nakata will play Alexander Gustav Newton. The cast for the Terra Formars television anime will be announced later.
Hiroshi Hamasaki (Blade & Soul, Shigurui: Death Frenzy, Steins;Gate, Texhnolyze) is directing the anime at Liden Films. Shogo Yasukawa (Hyperdimension Neptunia, Invaders of the Rokujyōma!?) is in charge of the series scripts. Masanori Shino (Black Lagoon, Gungrave, Kurozuka, Shigurui: Death Frenzy) is credited as the main character designer with Satoshi Kimura (Buddy Complex, Horizon in the Middle of Nowhere) also designing characters. Takaharu Ozaki (director of photography on Highlander: The Search for Vengeance, Occult Academy, Senki Zesshō Symphogear) is the assistant director.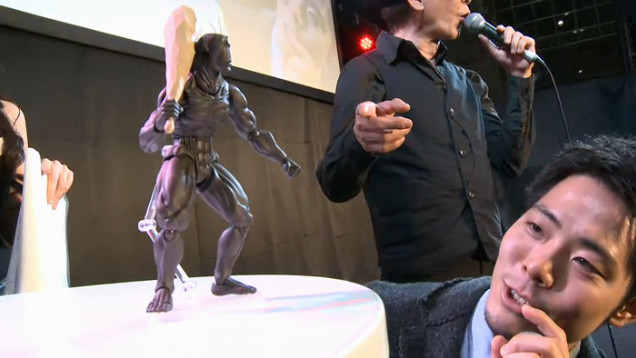 The event also announced that Good Smile Company is releasing a figma figure this October. (The above picture shows manga creator Yū Sasuga admiring the figure prototype.) Good Smile Company's booth at Niconico Chōkaigi 3 is previewing the figure maker's plans and distributing headbands during the convention.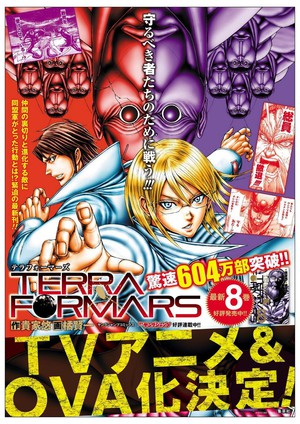 The official Twitter account for the upcoming anime of writer Yū Sasuga and artist Kenichi Tachibana's Terra Formars manga had already teased last week that Jouji Nakata (Hellsing, Fate/stay night) will star in the series. Chiaki Takahashi (Kill la Kill, Bleach) hosted Saturday's event.
ニコニコ超会議のテラフォーマーズステージの出演者を公開しました!原作貴家悠先生に加え、声優の中田譲治さん、たかはし智秋さんも出演されます。じょ、じょうじ…?ステージは4月26日(土)16:30~予定 chokaigi.jp #terraformars #chokaigi WB澤

— アニメ『テラフォーマーズ』公式 (@_terraformars) April 18, 2014
The television anime will animate the Annex 1 arc of the manga, while the OVA project will adapt the Bugs 2 arc. The Annex 1 arc takes place 20 years after the Bugs 2 arc.
The story of the original manga begins in the year 2577, hundreds of years after scientists sent cockroaches and mold to terraform Mars. However, when the first manned ships land on Mars, they encounter large humanoid cockroaches with great strength, and are wiped out. Humanity then sends elite warriors to Mars to eliminate the cockroaches.
Sasuga and Tachibana launched Terra Formars in 2011. The manga ranked at #3 on the Da Vinci magazine's list of the best male-oriented comics in the first half of 2013. The manga also topped the male readers category of the 2013 edition of the Kono Manga ga Sugoi! guidebook. The manga was nominated for last year's Manga Taisho award.
Viz Media licensed the manga for North America.
---