News

Akiba's Trip 2 PS4 Port's New Promo Previews New Costumes

posted on by Sarah Nelkin
Port with "panty jump" mini-game, "Visual Creator" mode, all paid/free DLC from original release ships in Japan July 3
---
The official website for the Akiba's Trip 2 video game began streaming a promotional video for the PlayStation 4 port of the game on Thursday. The video features the main theme song of the game, "TRUE STORY" by Luna Haruna, and shows the costumes for Shizuku, Toko, and Rin that will be bundled with the first copies of the game.
The next promotional video will premiere on Friday, and will show the new "Visual Editor" mode.
Along with the graphics being improved, the game will be easier to play with shorter loading times, and more pedestrian NPCs will walk around in Akihabara. The port will also include a "Visual Creator" mode, which allows the player to create their own scenery, such as making the streets of Akiba look like cyberspace, or like a town during a summer sunset. The game will include almost all of the paid and free DLC that was included with the original release of the game. New players to the game can make their experience a bit easier by calling for a team of "little sisters" to save them in a pinch. In addition, a "panty jump" mini-game where women's panties fly around Akihabara will be included.
Acquire will ship the port in Japan on July 3, with both the physical and downloadable versions of the game costing 5,980 yen (about US$59). First copies of the game will come with a product code to download new costumes for the heroines of the game, as well as a code for original hairstyles. Images of the hairstyles will be unveiled at a later time.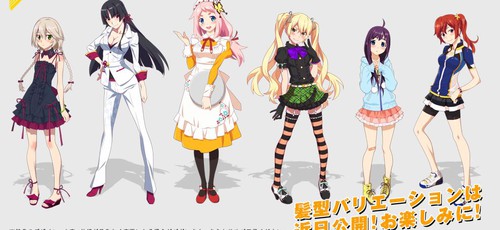 The game takes place in a rendered version of Akihabara, which has been invaded by vampire-like creatures known as Synthisters that feed on the residents' will to live and socialize. The only way for the protagonist to defeat the vampires is to strip their clothing and expose them to the sunlight.
The PS Vita and PS3 versions of the game shipped in Japan last November. Acquire released the original Akiba's Trip game for PlayStation Portable in 2011, as well as an updated version, Akiba's Trip Plus, in 2012 with full voice acting for event scenes. Keitaro Arima (Tsukuyomi: Moon Phase) drew an exclusive special "what-if" manga for the game.
XSEED Games has licensed the PlayStation Vita and PlayStation 3 versions of the game for North American release, and plans to ship the game under the title Akiba's Trip: Undead & Undressed this summer.
---