News

Kyoto Animation Unveils Character Relationship Chart For Free! Predecessor High Speed!

posted on

2014-06-09

09:00 EDT by Sarah Nelkin
---
Kyoto Animation updated the website for the of High Speed!, Kōji Ōji and Futoshi Nishiya's light novel series that inspired the Free! - Iwatobi Swim Club television anime and its sequel, and unveiled a character relationship chart for the upcoming second volume of the series.

Kyoto Animation is listing an updated version of the novel's synopsis:
Haruka and Makoto have entered Iwatobi Middle School, and enter the school's swim club. There, they meet such new comrades as their classmates Asahi and Ikuya, the captain Natsuya, and the team's manager Nao. Haruka and the others who spend their days training decide to participate in the official competition titled, "Grade in School-Separated Time Trial," and Haruka, Makoto, Asahi, and Ikuya have been chosen to participate in the medley relay. However, there is still a wall between them that makes it not plausible to call them a team... Can the boys overcome their worries and pain in order to become a true team!?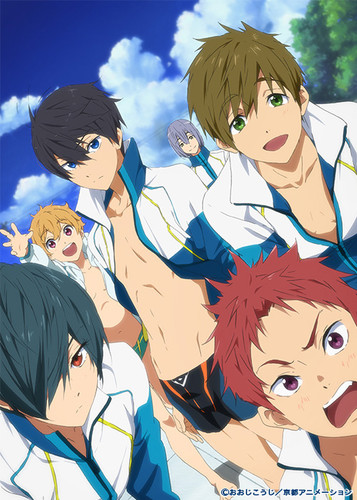 The novel will ship in Japan on July 2.
Free! Eternal Summer, the second season loosely adapting the original novels, will premiere in July. The first anime premiered last July, and Crunchyroll streamed the anime as it aired in Japan.
---