News

Marta, Jude, Stahn Join Tales of the World: Reve Unitia 3DS Game

posted on by Sarah Nelkin
3DS crossover game to ship in Japan on October 23
---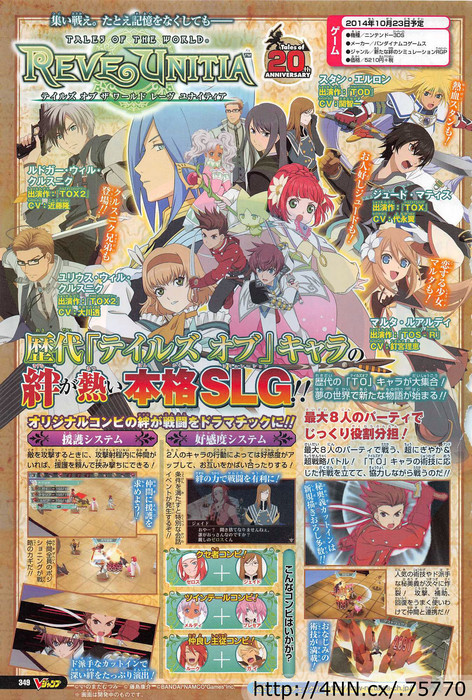 The August issue of Shueisha's V-Jump magazine is announcing on Saturday that Marta Lualdi (voiced by Rie Kugimiya) from Tales of Symphonia: Ratatosk no Kishi (Tales of Symphonia: Dawn of the New World, Jude Mathis (Tsubasa Yonaga) from Tales of Xillia, and Stahn Aileron (Tomokazu Seki) from Tales of Destiny will join Bandai Namco Games' Tales of the World: Reve Unitia 3DS video game.
The magazine also reveals the affection system for the game, which allows characters solidify their bonds by having conversations that can be activated by fulfilling certain requirements. Some examples are Zelos and Jade (weirdo combo), Presea and Meredy (pigtail combo), and Luke and Guy (master and servant combo).
In addition, the magazine lists the eight characters will be able to participate in a battle party at a time. Characters will be able to back-up the attacking character during battle.
Daigo Okumura designed two characters for the game: the timid, gentle-hearted Terun and the strong, big-brother-like Nahato. Asbel Lhant (voiced by Takahiro Sakurai) from Tales of Graces f and Lloyd Irving (Katsuyuki Konishi) from Tales of Symphonia will fight alongside each other in the game.
The other cast members include:
Cress Albane (Takeshi Kusao) from Tales of Phantasia
Leon Magnus (Hikaru Midorikawa) from Tales of Destiny, Tales of Destiny 2
Meredy (Omi Minami) from Tales of Eternia
Colette Brunel (Nana Mizuki), Presea Combatir (Houko Kuwashima), and Zelos Wilder (Masaya Onosaka) from Tales of Symphonia
Norma Beatty (Kaori Mizuhashi) from Tales of Legendia
Natalia Luzu Kimlasca-Lanvaldear (Michiko Neya), Jade Curtiss (Takehito Koyasu), Guy Cecil (Yasunori Masutani), and Luke fon Fabre (Chihiro Suzuki) from Tales of the Abyss
Yuri Lowell (Kousuke Toriumi), Rita (Rika Morinaga), Raven (Eiji Takemoto), and Flynn Scifo (Mamoru Miyano) from Tales of Vesperia
Sophie (Kana Hanazawa) from Tales of Graces
Rubia Natwick (Mai Kadowaki) from Tales of the Tempest
Milla Maxwell (Miyuki Sawashiro) from Tales of Xillia
Ludger Krusnik (Takashi Kondo) and Julius Krusnik (Toru Ohkawa) from Tales of Xillia 2
Nami Nakagawa is performing the opening theme song "Hikaru Yami" (Shining Darkness) and the ending theme song "Natsukashii Yume" (Nostalgic Dream). Gō Shiina is composing both songs.
The game will ship in Japan on October 23 for 5,210 yen (US$51). First limited editions will include a code to download the opening and ending theme songs, and one of three illustrated cards. Those who pre-order the game between May 26 and August 31 will receive a code for a free extra stage.
Bandai Namco Games informed Anime News Network at the Tales of Festival 2014 event that the company currently has no plans to release the game outside of Japan.
---