News

San Diego Police: Comic-Con Cosplayer's Injuries Were From Fall

posted on

2014-08-01

02:00 EDT by Lynzee Loveridge
Teen believed to have fallen after climbing a gate
---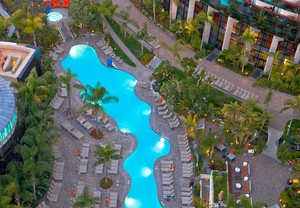 Police released further information on Thursday regarding the recent injuries suffered by a cosplayer attending San Diego's Comic-Con International event. Police have ruled that the 17-year-old cosplayer, who was admitted to a local hospital for skull and eye-socket fractures and cerebral hemorrhaging, sustained the injuries from a fall.
After reviewing surveillance footage, police stated the victim was climbing a gate after an altercation with an older man and fell approximately six feet at 1:00 a.m. Sunday morning. She was found unconscious and bleeding near the Marriott Marquis and Marina pool near the San Diego Convention Center. The girl, who has not been identified because she is a minor, does not remember entirely what happened. Police stated she was under the influence of drugs.
Her family stated she is still recovering from her injuries. She has stated on her personal social media site that she was raped, but did not clarify when or where.
Police arrested 29-year-old cosplay photographer Justin "Stuntman Justin" Kalior of Project Cosplay on suspicion of having sexual contact with a minor and contributing to the delinquency of minor. Authorities believe he gave the girl alcohol.
Kalior provided an interview with gaming website Polygon denying the charges. He stated that the girl and he were only friends, that he had no sexual contact with her, and he believed that she was 20-years-old at the time. After the two fought at approximately 12:00 a.m. Sunday, Kalior claims she left and he did not see her again until she was found in the pool area.
Kalior posted bail on Sunday and is scheduled to appear in court on August 5 if charges are filed. Harbor Police said "charges against" Kalior "will be forwarded to the District Attorney's Office."
Update: While the victim has stated on per personal social media that she has been raped, she did not specify if the rape was during this Comic-Con incident or at another point in time.
Sources: Polygon, NBC San Diego, ABC 10 News
---
This article has a follow-up:
Police Report: Arrested Photographer Was in Sexual Relationship With Injured Teen Cosplayer
(2014-08-02 13:45)
follow-up of
San Diego Police Arrest 29-Year-Old Male in Alleged Assault on Comic-Con Cosplayer