×
remind me tomorrow
remind me next week
never remind me
Subscribe to the ANN Newsletter • Wake up every Sunday to a curated list of ANN's most interesting posts of the week.
read more
News

Terraformars 3DS Add 4 Original Terraformars Types, George Smiles

posted on by Sarah Nelkin
---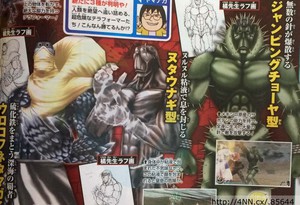 This year's 15th issue of Shueisha's Weekly Shonen Jump magazine is announcing on Monday that the upcoming Nintendo 3DS game Terra Formars: Akaki Hoshi no Gekitō (Fierce Battle on the Crimson Planet) will add four original Terraformars types, including three new ones. Original manga artist Kenichi Tachibana drafted rough sketches for three of them.
The original types include, from right to left:
Jumping Chōya Type: Shoots countless needles from its entire cactus-like body
Nuta Unagi Type: Covered with slimy mucus which can cover an enemy's face to suffocate
Uroko Fune Tamagai Type: A deep sea Terraformar who can attack with metal blades that cover its arms like scales
Funkorogan Type: Possesses enormous strength to wield objects over 1,000 times its own weight
The magazine issue also reveals that George Smiles is a playable character, complete with his sword that can slice enemies in two.
This Nintendo 3DS game based on Yū Sasuga and Kenichi Tachibana's Terraformars manga will ship on April 2. FuRyu (Unchained Blades, Exstetra, Hamatora: Look at Smoking World, To Love-Ru Darkness: Battle Ecstasy, The Legend of Legacy) is developing the 3D battle action game. In the game, player control Shōkichi and the other humans as they fight the Terraformar swarms on Mars. The game will cost 5,980 yen (about US$55).
The story of the original manga begins in the year 2577, hundreds of years after scientists sent cockroaches and mold to terraform Mars. However, when the first manned ships land on Mars, they encounter large humanoid cockroaches with great strength, and are wiped out. Humanity then sends elite warriors to Mars to eliminate the cockroaches.
Sasuga and Tachibana launched the manga in 2011, and Viz Media will publish the fifth compiled volume in North America on March 17. The manga ranked at #3 on the Da Vinci magazine's list of the best male-oriented comics in the first half of 2013. The manga also topped the male readers category of the 2013 edition of the Kono Manga ga Sugoi! guidebook. The manga was nominated for 2013's Manga Taisho award.
The manga inspired both an original video anime (OVA) project and the recent television anime series. The OVA project adapted the Bugs 2 arc on discs bundled with the 10th and 11th manga volumes, while the television anime adapted the Annex 1 arc. (The Annex 1 arc takes place two decades after the Bugs 2 arc.)
---