News

Kōji Yakusho, Aoi Miyazaki, Shōta Sometani Star in Hosoda's The Boy and the Beast Film

posted on by Karen Ressler
---
The staff of director Mamoru Hosoda's upcoming Bakemono no Ko (The Boy and The Beast) film announced the film's cast on Sunday.

The cast includes:

Kōji Yakusho as Kumatetsu, a bear-like being who acts as a teacher to the human Kyūta


Aoi Miyazaki as child Kyūta


Shōta Sometani as adolescent Kyūta


Suzu Hirose in her debut voice-acting role as Kaede, a high school student Kyūta meets


Masahiko Tsugawa as Grand Master


Lily Franky as Monk Momoaki


Yo Oizumi as Tatara


Kazuhiro Yamaji as Iōzan


Haru Kuroki as younger Ichirōhiko


Mamoru Miyano older Ichirōhiko


Momoka Ohno as younger Jirōmaru


Kappei Yamaguchi as older Jirōmaru


Sumire Morohoshi as Chiko

Other cast members include Keishi Nagatsuka as Kyūta's father and Kumiko Asou as Kyūta's mother.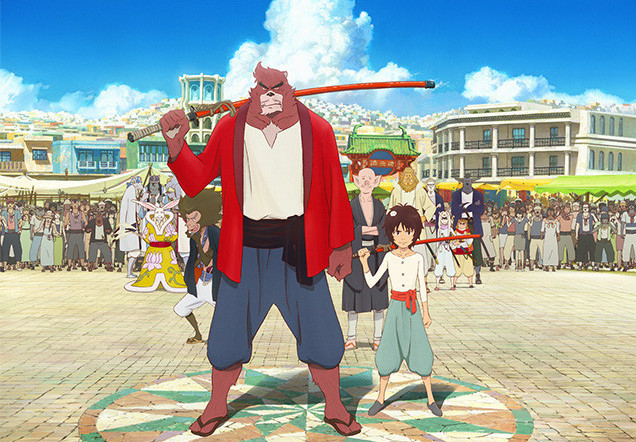 The story of the film is set in the human realm (Tokyo's Shibuya ward) and the bakemono realm ("Jūtengai"). In these two worlds which must not intersect, there lives a lonely boy and a lonely bakemono. One day, the boy gets lost in the bakemono world, becomes the disciple of the bakemono Kumatetsu, and is renamed Kyūta.
Hosoda (Summer Wars, Wolf Children) created and scripted the movie. Theatrical screenings have already been set for France, and the major French movie studio Gaumont will handle international sales outside Asia. It will be Hosoda's first film since 2012, when his relatively new animation movie company Studio Chizu released Wolf Children as its first project.
The film will open on July 11. Renji Asai (Sentō Jōsai Masurawo) will launch the manga in Kadokawa Shoten's Monthly Shōnen Ace on April 25.
Source: Eiga.com (link 2) via Catsuka
Images © BBFP
---