×
remind me tomorrow
remind me next week
never remind me
Subscribe to the ANN Newsletter • Wake up every Sunday to a curated list of ANN's most interesting posts of the week.
read more
News

Ore ga Ojō-sama Gakkō ni "Shomin Sample" Toshite Gets-rareta Ken Anime's Cast, October Premiere Revealed

posted on by Rafael Antonio Pineda
---
The official website of the upcoming Ore ga Ojō-sama Gakkō ni "Shomin Sample" Toshite Gets-rareta Ken (The Case of My Abduction as a "Commoner Sample" by a School for Rich Ladies) anime unveiled the anime's cast and October premiere date on Monday.


Atsushi Tamaru as Kimito Kagurazaka
An extremely normal high school student, who suddenly gets kidnapped and taken to a school for rich ladies to serve as a sample of the common masses. He now attends Seika Academy.


Yū Serizawa as Aika Tenkūbashi
A tsun-pure first-year high school student who speaks the first thing that comes to her mind. She doesn't want to be alone, but has trouble talking to people all the same.


Rika Tachibana as Reiko Arisugawa
A first-year high school student, and the eldest daughter of the Arisugawa family, one of the "big three" families. She demonstrates elegance, grace, and sympathy as a class representative, and is a true "lady among ladies."


Yūki Kuwahara as Hakua Shiodome
A second-year middle school student with her own personal laboratory, and in demand by many international companies' R&D departments. When she gets a flash of insight, she immediately takes off her clothes and underwear and begins writing formulas on the nearest wall.


Chitose Morinaga as Karen Jinryō
A first-year high school student in a different class from Kimito and Aika. She always carries a katana around. A lady of the sword. Deep down, she is lonely, and likes cute things.


Saori Ōnishi as Miyuki Kujō
The originator of the suggestion to kidnap Kimito as a "commoner sample." She is an extremely sadistic head maid who works as Kimito's exclusive maid.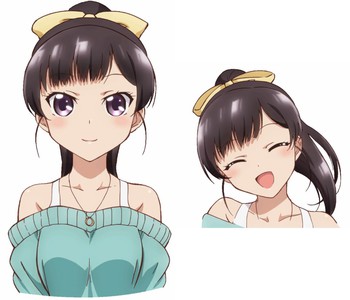 Yumi Hara as Eri Hanae
A childhood friend of Kimito who works as an idol voice actress. She is worried about Kimito suddenly moving out and going missing.
The website also revealed that the anime will premiere in October on the AT-X, BS Fuji, Tokyo MX, Sun TV, and KBS Kyoto channels.
Ichijinsha previously streamed a promotional video for the series in March.
Text: A high-class all-girl's school where ladies of prestigious families can retreat from the world and live in peace in the mountains.
Text: Born October 6. 15 years old. First prefectural high school. Normal first year. Hobby: Cooking. Grades are all average. Hardworking personality. Nickname in junior high school: Sebastian. Likes guys. Kimito Kagurazaka, unpopular.
Text: The character of the commoners...
Text:Ore ga Ojō-sama Gakkō ni "Shomin Sample" Toshite Gets-rareta Ken
Text: The tsun-pure lady who will believe any lie: Aika Tenkuubashi
Text: The lady of ladies: Reiko Arisugawa
Text: The genius lady who is ready take off her underwear anywhere: Hakua Shidome
Text: A lady swordsman who really likes cute things deep down: Karen Jinryō
Text: To meet the common people...
Text: It will be the girls'...
Text: Own precious story?
Text: Commoners are pretty amazing, aren't they?

The Ore ga Ojō-sama Gakkō ni "Shomin Sample" Toshite Rachirareta Ken light novel series debuted in 2011 with Gekka Urū's (Onii-chan Dakedo Ai Sae Areba Kankei Nai yo ne) character designs. Ichijinsha published the 10th volume of the novel series on Monday. Risumai's manga adaptation launched in Ichijinsha's Monthly Comic Rex magazine in 2012.
In the romantic comedy's story, an ordinary high school boy is kidnapped by an elite young lady's academy to be a "sample of the common people." The school is full of sheltered girls who have never met male peers before.
Masato Jinbo (Fate/kaleid liner Prisma Illya 2wei!, Nozo × Kimi) will direct the television anime adaptation under the title Ore ga Ojō-sama Gakkō ni "Shomin Sample" Toshite Gets-rareta Ken at the Studio Silver Link. Kento Shimoyama (Bleach, Servant × Service) is in charge of series composition. Hiromi Mizutani (Hell Girl, Toriko, Non Non Biyori) of Team-MAX is composing the music for the series and Takao Sano is adapting the character designs for animation.
[Via MoCa News]
---