×
remind me tomorrow
remind me next week
never remind me
Subscribe to the ANN Newsletter • Wake up every Sunday to a curated list of ANN's most interesting posts of the week.
read more
News

Sekai Project, Degica Plan to Launch Kickstarters for NEKOPARA Anime, Kimi Ga Nozomu Eien Game Remake

posted on by Crystalyn Hodgkins
---

Anime News Network's Anime Expo 2016 news coverage sponsored by Yen Press.
---

Video game and manga publisher Sekai Project announced at the "Catgirls Galore! Meet Sayori, the creator of Neko Para!" panel at Anime Expo on Sunday that it will launch a Kickstarter campaign for an anime based on Sayori and Neko Works' NEKOPARA adult game. The company could not confirm with ANN any further details about the project, or if the anime would be an adult anime.
Sekai Project also confirmed with ANN that video game publisher Degica plans to launch a Kickstarter for a remake of Age's Kimi ga Nozomu Eien video game. The company could not confirm any other information at this time.
Sekai Project released the Nekopara Vol. 1 visual novel on PC via Steam in December 2014. The company describes the story:
What's NEKOPARA? Why, it's a cat paradise!

Kashou Minazuki, the son of a long line of Japanese confection makers moved out to open his own shop "La Soleil" as a patisserie.

But upon moving out, hidden amongst his things were two of the catgirls ("neko"), Chocola and Vanilla, that the family had been raising. When he tried to send them back, they begged and pleaded until he gave in and now they've opened La Soleil together.

With two nekos who really, REALLY love their master trying their very best and occasionally failing -- a heartful comedy opens for business!
Sekai Project also released the Nekopara Vol. 0 fandisc prequel on PC last August, and the Nekopara Vol. 2 game on February 20. Sekai Project also released the first game in an uncensored adult version.
The game's official Twitter account previously revealed that a Nekopara Vol. 3 is under development.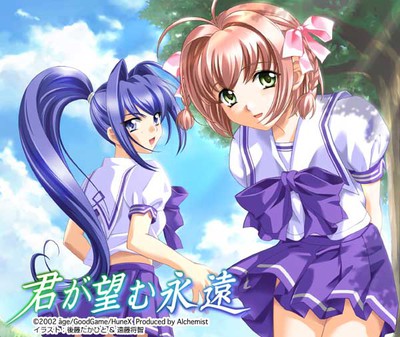 Kimi ga Nozomu Eien started as an adult visual novel developed by Age (Muv-Luv) released for the PC in 2001. The game received an all-ages Dreamcast port in 2002, and a PlayStation 2 port in 2003. The game received a 14-episode television anime adaptation in 2003. Funimation released the series on DVD in 2006 with the title Rumbling Hearts.
The story centers on the relationship between Takayuki Narumi, and the two girls Haruka Suzumiya and Mitsuki Hayase, starting in their high school year and progressing to their adult lives. The story begins when Haruka confesses to Takayuki that she likes him, and they begin dating. Unknown to either, Mitsuki also harbors feelings for Takayuki, but buries them to make her best friend Haruka happy. When an accident puts Haruka in a coma for many years, only Mitsuki looks out for the grief-stricken Takayuki, and eventually they live together and begin a relationship. Haruka wakes up to a world she no longer knows, with friends having moved past parts of her life that she is still coming to grips with.
The game is loosely related to Kimi ga Ita Kisetsu, Age's first game, as well as the company's later Muv-Luv game. Certain characters, events, and iconic imagery from both Kimi ga Ita Kisetsu and Kimi ga Nozomu Eien appear in Muv-Luv. Apart from the television anime, Kimi ga Nozomu Eien also received the Kimi ga Nozomu Eien ~Next Season~ OVA, which tackles the story from a different series of events, as well as the Akane Maniax comedy spinoff anime.
Update: The article previously indicated that Sekai Project will launch the Kimi ga Nozomu Eien Kickstarter campaign. Sekai Project clarified with ANN that Degica will launch the campaign.
---