News

Arslan and Yona of the Dawn Released Monday

posted on by Andrew Osmond
---

On Monday July 25, Universal Pictures will release the first volume of The Heroic Legend of Arslan as a Collector's Edition (in both DVD and Blu-ray editions), with an 80-page book, a map of Arslan's world, a board game and art and character cards.
The Heroic Legend of Arslan, is based on a manga by Hiromu Arakawa (Fullmetal Alchemist, Silver Spoon), who is adapting the story from a novel series by Yoshiki Tanaka. Funimation described the story:
In the kingdom of Pars lies the Royal Capital of Ecbatana, a powerful city ruled by the fearsome King Andragoras. Arslan, the 14-year-old prince of Pars, is a green ruler and lacks the fierce leadership skills possessed by his father. After his father falls victim to a treacherous plot headed by one of his most trusted comrades, the kingdom of Pars falls in the war with the neighboring nation of Lusitania. Narrowly escaping with his life, Arslan must embark on a journey to reclaim the fallen kingdom and fulfill his destiny as ruler of Pars.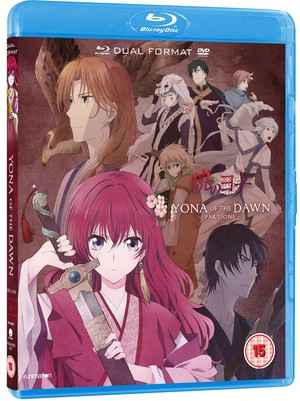 Funimation will release a Blu-ray/DVD combo pack edition of the first half of Yona of the Dawn, carrying the first twelve episodes of the series. Funimation has previously described the story:
Upon her sixteenth birthday, the cheerful Princess Yona intended to tell her doting father of her love for SuWon, but her life was turned upside down after witnessing the man she loves cruelly assassinating her father. Heartbroken by this painful betrayal, Princess Yona fled the palace with her loyal servant Hak. Now, she will take up the sword and the bow on a quest to gain new allies and protect her beloved people
Kazuhiro Yoneda (technical director on Gekijō-ban Tiger & Bunny -The Rising-, Aquarion Evol) directed the anime at Studio Pierrot (The World Is Still Beautiful). Shinichi Inotsume (Hayate the Combat Butler!!, Zettai Karen Children) was in charge of the series scripts, and Maho Yoshikawa (Amnesia) designed the characters. Kunihiko Ryo (The Twelve Kingdoms, Emma) composed the music with sound director Yukio Nagasaki (Ao Haru Ride, Love Live!).
Mizuho Kusanagi, the creator of Mugen Spiral, Game X Rush, and NG Life, launched the Akatsuki no Yona manga in 2009.

Animatsu will release the second of the live-action Attack on Titan films, entitled Attack on Titan: End of the World., on both Blu-ray and DVD. As with the first part, the director is Shinji Higuchi.

Anime Limited will release a standard Blu-ray edition of Tokyo Ghoul √A, which it previously released as a Collector's Blu-ray and a standard DVD. The series is a continuation of the original Tokyo Ghoul.

MVM is releasing a one-volume edition of the Bones serial Blast of Tempest, which it previously released in two volumes.
---