×
remind me tomorrow
remind me next week
never remind me
Subscribe to the ANN Newsletter • Wake up every Sunday to a curated list of ANN's most interesting posts of the week.
read more
News

21st Tezuka Osamu Cultural Prize Nominees Announced

posted on by Rafael Antonio Pineda
---
The Asahi Shimbun paper announced the eight nominees on Thursday for the 21st Annual Tezuka Osamu Cultural Prize. The awards commemorate the contributions of the manga pioneer Osamu Tezuka (Astro Boy/Mighty Atom, Kimba the White Lion/Jungle Emperor, Phoenix, Black Jack) by recognizing the manga that best follow his tradition.

Kujira no Ko-ra wa Sajō ni Utau
Abi Umeda
Akita Shoten
The manga's story takes place in a world covered in sand. A boy named Chakuro lives on the giant vessel Mud Whale that drifts over the sea of sand. Chakuro and his friends have never seen anyone from the outside world, and they spend their days yearning to explore and learn about it. One day, a ruined ship suddenly drifts ashore, and Chakura meets a girl inside.


Golden Kamuy
Satoru Noda
Shueisha
A soldier who was famous for his prowess in the Russo-Japanese War now heads to Hokkaido for the gold rush for a certain purpose. In search of a vast treasure hidden by the Ainu people, he faces criminals and the overwhelming power of mother nature. There, he meets an Ainu girl who saves his life.


SAD GiRL
Kan Takahama
LEED Publishing Co., Ltd.
Contains five short manga, with the title story centering on Shiori Murakami, a housewife. After overdosing on sleeping pills, she is rushed to the hospital. The next day, she disappears, never to be seen again.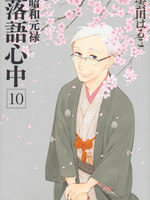 Shōwa Genroku Rakugo Shinjū
Haruko Kumota
Kodansha
The manga's story revolves around a mature prisoner who was released on good behavior during Japan's Showa Genroku era (1960s to early 1970s). He is called Yotarō by others, a term that means an "anti-hero" or a "dim-witted man." When he returns to society, he starts a new life in rakugo (comic storytelling). Touched by Yakumo's role as the "grim reaper," he asks the master to take him in as an apprentice.


Tokusatsu Gagaga
Niwa Tanba
Shogakukan
The manga's story centers on Kano Nakamura, a 26-year-old officer worker seen as highly desirable in her workplace, but is in truth a tokusatsu geek. She lives in fear of being found out, sneaking around town to get capsule toys for her favorite shows, singing tokusatsu songs alone in karaoke, and living her life with her heroes' credo in her heart.


Dokonjō Gaeru no Musume
Yūko Ōtsuki
Hakusensha
An autobiographical manga focusing particularly on the author's tumultuous childhood as the daughter of Yasumi Yoshizawa, the author of the Dokonjo Gaeru manga for which this manga is named after. In the manga, Ōtsuki shows how unstable their family situation was even as her father garnered fame for the manga.


Hana ni Somu
Fusako Kuramochi
Shueisha
The story centers on Kano Sogabe, a girl who, through archery, met her best friend Haruta. When Haruta loses his family in a tragic accident that also claims the shrine he called home for years, he is taken to Kansai for psychiatric care. Kano has not seen him since. In high school, Kano has hit a slump in her archery, and tries to get away from it temporarily only to return to it again. Now, Haruta returns, but both of them maintain their distance from each other.


Rainman
Yukinobu Hoshino
Shogakukan
Taki Amamiya is notified of the sudden suicide of his twin that he never even knew existed. But to Taki, who works reluctantly at the Parapsychology Research Institute, it was only the prelude to a more shocking chain of events. After following the recommendation from police to investigate the matter more in depth, they found a surprising fact: Taki has no brain.

This year's committee – consisting of actress Anne Watanabe, author Kazuki Sakuraba, manga creators Machiko Satonaka and Tarō Minamoto, professor and scholar Shōhei Chūjō, manga editor Haruyuki Nakano, manga critic Nobunaga Shinbo, and author and manga researcher Tomoko Yamada – selected the nominees from titles recommended by specialists and bookstore employees. To be eligible, the manga had to have had a compiled volume published in 2016. Noda's Golden Kamuy has been nominated the second time in a row. This is also the second time Kumota's Shōwa Genroku Rakugo Shinjū manga has been nominated, after being nominated in the 17th awards in 2013.
The winners will be announced in Asahi Shimbun in late April, and Asahi Shimbun will host an awards ceremony in Tokyo on May 31.
Last year, seven titles were nominated, and Kei Ichinoseki's Hanagami Sharaku and Kiyohiko Azuma's Yotsuba&! won the Grand Prize. Yuki Andō's Machida-kun no Sekai won the New Creator prize. Tatsuya Nakazaki's Jimihen won the Short Work Prize.
Source: Animation Business Journal (Tadashi Sudo)
---