News

Shonen Sunday Launches 6 Manga by The World God Only Knows Creator, Others

posted on by Rafael Antonio Pineda
---
This year's 17th issue of Shogakukan's Weekly Shonen Sunday magazine revealed on Wednesday that it is launching six new manga series this spring. The new series' titles, debut dates, and teaser text include:
Tenshō no Quadruple by Takahiro Arai (Cirque du Freak) in issue 19 on April 5
"The youth epic where four people's destinies intertwine."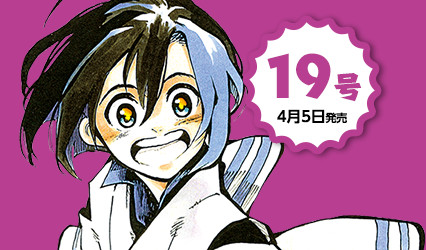 Hoankan Evans no Uso: Dead or Alive (The Lies of Sheriff Evans: Dead or Alive) by Mizuki Kuriyama in issue 20 on April 12
"'Love? Don't care for it.' A comedy about the most powerful gunman in the West."


Daiku no Hatō (The Ninth Wave) by Michiteru Kusaba (Fantasista, Fantasista Stella) in issue 21 on April 19
"A city kid heads to Nagasaki. A portrait of a youth in fisheries."


Yōkai Giga (Supernatural Giga, temporary title) by Satsuki Satō in combined issue 22/23 on April 26
"A young genius paints a picture scroll for a new interpretation of yōkai"


K.O.I (temporary title) by Tamiki Wakaki (The World God Only Knows) in issue 24 on May 10
"Tamiki Wakaki returns soon!"


Inseki Shōjo - Meteorgirl by Riichi Ishiyama in issue 25 on May 17
"'A girl is falling … from the sky!' For you who have tired of such miracles."


Yen Press published Arai's Cirque du Freak manga in North America.
Kusaba's Fantasista Stella manga is the sequel to the original Fantasista manga. The sequel series ended in 2015. The manga inspired three OAV episodes, which shipped with the manga's eighth, ninth, and 10th volumes.
Wakaki's The World God Only Knows romantic comedy series ended in 2014. The series launched in 2008. The manga inspired three anime series, and also inspired several sequel and spin-off OVAs.
---