News

Inazuma Eleven: Ares no Tenbin Promo Video, October Premiere Revealed

posted on by Jennifer Sherman
New episode 27 with branching storyline to premiere in September
---
The fourth episode of the regular streaming program Inazuma Walker premiered on Friday and debuted a promotional video for Inazuma Eleven: Ares no Tenbin, a new game and television anime in its Inazuma Eleven franchise. The program also announced that the anime will premiere in October, though it was originally slated for summer.
The program also announced a "completely new episode 27" for Inazuma Eleven will screen at the "Inazuma Eleven Dai-Fukkatsusai" event in September. The spinoff episode will lead up to the premiere of Inazuma Eleven: Ares no Tenbin and remake the earlier anime's existing 27th episode with a diverging story. The Inazuma Eleven: Ares no Tenbin anime's first episode will also have an advance screening at the event. Additionally, the program showed the upcoming anime's pilot film that premiered in July.
The Inazuma Walker program's "Vol. 4" episode will stream until April 20. The program streams the original Inazuma Eleven Outer Code anime, offers news on the franchise, and includes discussion and a segment for viewer interaction.
The story of Inazuma Eleven: Ares no Tenbin is set after the first Inazuma Eleven, but will take place in a parallel world from all other Inazuma Eleven games apart from the first because the story has taken a different course.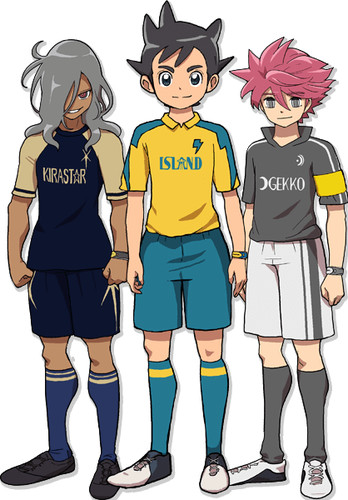 The cast includes, from left to right in the image above:

Level-5 released the first Inazuma Eleven video game on the Nintendo DS in 2008. The Inazuma Eleven soccer anime franchise is based on Level-5's game series of the same name. The original 127-episode anime series aired between 2008-2011, and has since inspired the Inazuma Eleven GO, Inazuma Eleven GO 2: Chrono Stone, and Inazuma Eleven GO Galaxy sequel series. The television anime franchise ended its five-and-a-half year run in March 2014. The anime franchise also includes three films and the Inazuma Eleven Go vs. Danbōru Senki W crossover film.
Nintendo released a 3DS port of the original Inazuma Eleven game in North America in February 2014.
Update: Replaced full program video with standalone promo video posted on March 26.
[Via Hachima Kikō]
---
this article has been modified since it was originally posted; see change history