News

Shin Godzilla, 'your name.,' Kabaneri, Erased Nominated for Seiun Sci-Fi Awards

posted on by Jennifer Sherman
---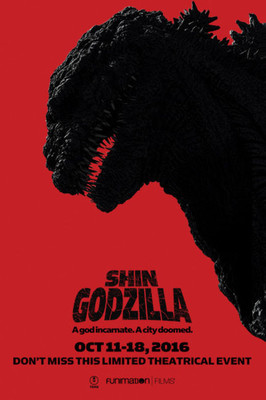 The 56th Japan Science Fiction Convention (Nihon SF Taikai) revealed the list of nominees for the 48th Seiun Awards last week.
The nominees of the Media and Comic categories include:
Media Category
Shin Godzilla film
Your Name. anime film
Kabaneri of the Iron Fortress television anime
Rogue One: A Star Wars Story film
Concrete Revolutio television anime
Zegapain ADP anime film
Look Who's Back film
Kuromukuro television anime
Comic Category
Osamu Akimoto's Kochira Katsushika-ku Kamearikouen-mae Hashutsujo (all 200 volumes)
Tsubana's Dainana Jyoshikai Houkou (all 10 volumes)
Satoshi Mizukami's Spirit Circle (all 6 volumes)
Yumiko Shirai's Wombs (all 5 volumes)
Kei Sanbe's Erased (all 9 volumes)
Izumi Takemoto's Natsu ni Sekirannun Made
In the Art category, Naoyuki Kato (The Legend of the Galactic Heroes mechanical design) and Nozomu Tamaki (Dance in the Vampire Bund, Don't Meddle With My Daughter) received nominations. Kato won the Best Artist award in 2014.
In the Japanese Long Story category, Hiroyuki Morioka's Toppen Sekai Ikyō no Mizuto novel, Hiroto Kawabata's Aoi Umi no Uchūkō Haru Natsu-hen and Aki Fuyu-hen novels, and Yasumi Kobayashi's Ultraman F novel received nominations. Morioka's Seikai (Stars) novel series inspired the Crest of the Stars and Banner of the Stars anime. Kawabata's Ginga no World Cup novel inspired the Ginga e Kickoff!! manga and anime adaptations. Kobayashi's Gangu Shūrisha novel received a manga adaptation.
Chohei Kanbayashi's "Anata ga Wakaranai" was nominated in the Japanese Short Story category. His Kōshudai no Mokushiroku novel was nominated in the Japanese Long Story category last year. Kanbayashi wrote the novels that inspired the Teki wa Kaizoku: Neko no Kyōen and Yukikaze anime.
Ken Liu's The Grace of Kings novel and Peter Tieryas' United States of Japan novel were nominated in the Translated Long Story category, and Ken Liu's "Simulacrum" was nominated in the Translated Short Story category. His "Good Hunting" won last year's Seiun award in the Translated Short Story category. Viz published his story "Mono no Aware," which won the Hugo Award, and "The Paper Menagerie" by Liu won the Seiun award in the Translated Short Story category in 2015, as well as Nebula, Hugo, and World Fantasy Awards. His "The Man Who Ended History: A Documentary" novella was nominated for a Hugo in 2012 and a Nebula award in 2011.
Additionally, Haruna Ikezawa's SF no S wa, Suteki no S comic essay series, Shinichi Hoshi's Kimagure Hoshi kara no Dengon (compiled by Shinji Maki), and Moto Hagio's Hagio Moto SF Art Works books received nominations in the Nonfiction category. Ikezawa roles as a voice actress include One Piece's Caimie, Pretty Cure's Porun, and Beelzebub's Shizuka Nanami. Hoshi's Kimagure Robot inspired a television anime, and his Tōsō no Michi" (Escape Route) short story received a manga adaptation. Hagio's manga include The Heart of Thomas, Poh no Ichizoku, and Tenshi Kamoshirenai. Hagio's Barbara Ikai manga previously won a Seiun Award.

The "movement launched by Zegapain ADP and tie-ins," Niantic's smartphone app "Pokémon Go craze," the official naming of the chemical element Nihonium, the world's first direct detection of gravitational waves by the Laser Interferometer Gravitational-Wave Observatory, the visual book Gear Another Day Go-iro no Rinbu, and novelist and musician Hiroyuki Nanba's "Nanba Hiroyuki Kenban Seikatsu 40 Shūnen Kinen Live ~Isshō Kenmei~" event received nominations in the Free category.
The awards this year are again separated into nine categories: Japanese Long Story, Japanese Short Story, Translated Long Story, Translated Short Story, Media, Comic, Art, Nonfiction, and a "Free" category. Each category has between 5-10 nominees. The nominees were chosen among works that were released between January 1 and December 31, 2016.
The attendees of the 56th Japan Science Fiction Convention at "Donburacon" in Shizuoka will vote on the winners. The staff will announce the winners at the end of July.
"Seiun Shō" literally translates to "nebula awards," but the Japan SF Con's Seiun Awards are more akin to Worldcon's Hugo Awards, in that the attendees of each respective convention vote on the winners. There is another set of awards, the Science Fiction and Fantasy Writers of Japan's Nihon SF Taishō honors, that are the rough Japanese equivalent of the Science Fiction and Fantasy Writers of America's Nebula Awards. Like the Hugo Awards, the Seiun Awards honor all forms of speculative fiction — including but not limited to science fiction — and related materials.
Previous winners of the Seiun Awards include Girls und Panzer, Knights of Sidonia, The World of Narue, Bodacious Space Pirates, Range Murata, Masamune Shirow, Makoto Shinkai, Full Metal Alchemist, Gundam: The Origin, 20th Century Boys, Summer Wars, Card Captor Sakura, Madoka Magica, Pacific Rim, Space Battleship Yamato 2199, Moyashimon, and more.
Source: Animation Business Journal
---