×
remind me tomorrow
remind me next week
never remind me
Subscribe to the ANN Newsletter • Wake up every Sunday to a curated list of ANN's most interesting posts of the week.
read more
News

Kamen Rider Film Tops Box Office, 1st Girls & Panzer Finale Film Opens at #4

posted on by Rafael Antonio Pineda
---

The Kamen Rider Heisei Generations FINAL Build & Ex-Aid with Legend Rider crossover film opened on Saturday in 330 theaters. It sold 303,100 tickets to earn 359 million yen (about US$3.16 million) and rank #1 at the Japanese box office. The film sold 32.6 more tickets and earned 30.1% more on the first week compared to last year's film, Kamen Rider Heisei Generations: Dr. Pac-Man vs. Ex-Aid & Ghost with Legend Riders. The film is expected to earn up to 1.5 billion yen (about US$13 million).
The film focuses on Sento Kiryū/Kamen Rider Build, the protagonist of Toei's newest Kamen Rider series, and Emu Hōjō/Kamen Rider Ex-Aid, from the series before. It also features earlier Kamen Rider protagonists and their original cast members: Takeru Tenkuji (played by Shun Nishime) from Kamen Rider Ghost, Kōta Kazuraba (Gaku Sano) from Kamen Rider Gaim, Gentaro Kisaragi (Sōta Fukushi) from Kamen Rider Fourze, and Eiji Hino (Shu Watanabe) and Ankh (Ryosuke Miura) from Kamen Rider OOO.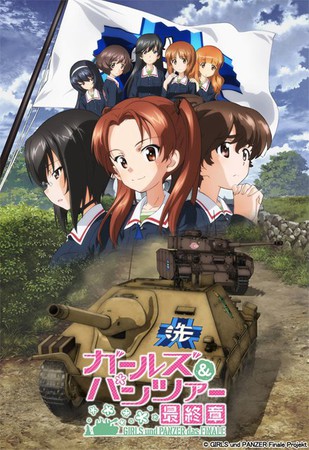 The first film in the six-film Girls und Panzer das Finale anime project opened in Japan on Saturday in 59 theaters. It sold 118,798 tickets and earned 145,981,740 yen (about US$1.28 million) to rank #4 at the Japanese box office.
The new film features new characters from BC Freedom High School as they engage in a winter battle.
The Finale anime project will also have immersive 4DX and MX4D screenings, after the project's second episode ends its initial run of regular screenings. Each of the immersive screenings will combine two episodes; the first ones will combine the first and second episodes. The next set of immersive screenings will combine the third and fourth episodes, and the last set will combine the fifth and sixth episodes.
The Girls und Panzer der Film anime film followup to the original Girls und Panzer television anime opened in Japan in November 2015. Certain theaters in Japan continued to screen the film through its one-year anniversary on November 21, 2016, earning the film 2,440,849,294 yen at the box office over the course of the year. As of August 13, the film has sold 1,454,048 tickets to earn 2,501,970,524 yen (about US$22.9 million).

The live-action film of Hiromu Arakawa's Fullmetal Alchemist manga dropped from #1 to #5 in its second weekend, earning 138,119,200 yen (about US$1.21 million) from Friday to Sunday. The film has earned a cumulative 663,813,950 yen (about US$5.84 million). The film had opened on December 1 on about 400 screens in Japan, including on IMAX and 4DX screens. The film earned a total of 264,065,100 yen (about US$2.34 million) in its first week.


Touken Ranbu: Hanamaru ~Makuai Kaisōroku~, the compilation film based on the first season of the Touken Ranbu: Hanamaru television anime series, dropped off the top 10 in its second week, but still topped the mini-theater ranking. The film earned 20,237,900 yen (about US$178,200) in its second week, and has earned a cumulative 85,340,900 yen (about US$751,800). The film opened at #7 in tickets sold on December 1, and also topped the mini-theater rankings. The series and the film tells a year in the life of the Tōken Danshi, human forms of ancient famed swords who must protect Japan's history from being changed by the "historical revisionists." The anime's first season premiered in October 2016 and the second season will premiere on January 7.
Gochūmon wa Usagi Desu ka?? Dear My Sister — the new special episode for the Is the order a rabbit? (Gochūmon wa Usagi Desu ka?) anime — earned 17,834,800 yen (about US$157,100) in its fifth weekend, and has earned a cumulative total of 320,997,340 yen (about US$2.82 million). Eiga Kaiketsu Zorori: ZZ no Himitsu (Kaiketsu Zorori the Movie: Secret of Double Z), the Kaiketsu Zorori franchise's 30th anniversary work and fifth anime film, dropped off the top 10 in its third weekend, from #8 last week. The film earned 16,792,140 yen (about US$147,900) in its third week, and has earned a cumulative total of 84,211,720 yen (about US$741,900).
Sources: Kōgyō Tsūshin (link 2), Eiga.com, comScore via KOFIC
---