News

Hisone to Masotan Original 2018 Anime Reveals New Illustration

posted on by Rafael Antonio Pineda
---
The staff of the 2018 original television anime Hisone to Masotan opened an Instagram account on Monday, revealing a new illustration. The post also has an English translation that calls the anime with an English title of "Dragon Pilot - Hisone & Masotan."

The tagline of the anime is, "I will fly the skies with you." The anime will tell "the heartwarming story of dragons tamed by [Japan's] Air Self-Defence Force and their rookie pilots filled with love, laughter, and tears."
Straightforward and innocent Hisone Amakasu is a Self-Defense Force rookie stationed at the Air Self-Defense Force's Gifu Base. She was struggling with the fact that she sometimes hurts people unintentionally by her innocent words and decided to join the Air Self-Defence Force, hoping to maintain a certain distance from people. This decision led her to a fateful encounter which profoundly changed her life. It was the "OTF" dragon hidden in the base and it chose Hisone as his pilot. When it soared into the sky with Hisone, her fate as a dragon pilot was decided. It is said that dragons have a key to the future of the world…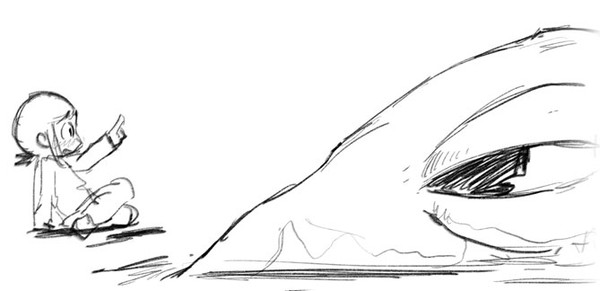 Gainax co-founder and Shin Godzilla co-director Shinji Higuchi is supervising the anime for Warner Brothers. Hiroshi Kobayashi (Kiznaiver) is directing the anime at BONES, and Mari Okada (The Anthem of the Heart, anohana) is writing the anime. Higuchi noted that he, BONES, and Okada created the original story concept together.
Yoshiyuki Ito (Space Dandy) is adapting the original character designs by Toshinao Aoki (Kimi no Koe o Todoketai) for animation. Shoji Kawamori (Macross) is credited with mechanic design. Shigeto Koyama (Star Driver) is responsible for the monster concept design, and okama is credited with concept design. Taisei Iwasaki (Blood Blockade Battlefront) is composing the music
Keigo Koyanagi is the military supervisor. Yūji Kaneko is directing the art with art designer Akihiro Hirasawa. Yuko Kobari is designing the color key. Kota Sasaki is directing the photography, and Yōta Andō is directing the 3D CG. Hiroshi Okuda is editing. Haru Yamada is directing the sound, and Toru Noguchi is in charge of sound effects.
Images © BONES, Shinji Higuchi, Mari Okada/Hisone to Masotan Flight Test Unit
Thanks to Liam for the news tip.
---