×
remind me tomorrow
remind me next week
never remind me
Subscribe to the ANN Newsletter • Wake up every Sunday to a curated list of ANN's most interesting posts of the week.
read more
News

That Time I Got Reincarnated as a Slime Anime Adds More Cast Members

posted on by Egan Loo
---
The official website for the television anime of author Fuse and artist Mitz Vah's That Time I Got Reincarnated as a Slime (Tensei Shitara Slime Datta Ken or Regarding Reincarnated to Slime) light novel series revealed additional cast members and characters on Wednesday.
Takaya Hashi
as the dwarf king Gazeru

Kenjiro Tsuda as the minister Besutaa


Ken Narita as Fyūzu


Itaru Yamamoto as Beruyaado


Ryūichi Kijima as Gido


Akane Kumada as Ellen


Kengo Takanashi as Kabaru


Yen Press licensed the novel series, and it describes the story:
Lonely thirty-seven-year-old Satoru Mikami is stuck in a dead-end job, unhappy with his mundane life, but after dying at the hands of a robber, he awakens to a fresh start in a fantasy realm...as a slime monster! As he acclimates to his goopy new existence, his exploits with the other monsters set off a chain of events that will change his new world forever!
The previously announced cast includes:
Takuma Terashima as Satoru Mikami


Miho Okazaki as Rimuru, who was an ordinary salaryman named Mikami until he was transported to an alternate world as a slime monster after a certain incident.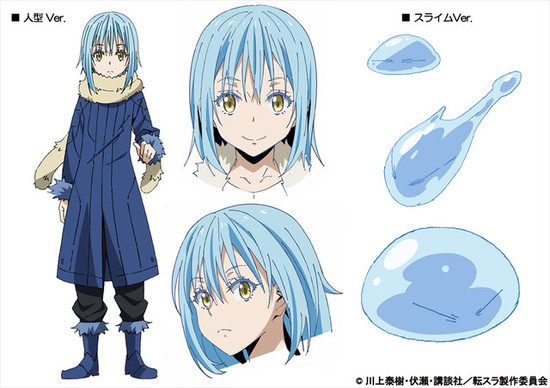 Tomoaki Maeno as Veldora, a Storm Dragon who is the first creature the slime monster encounters. Veldora names the slime monster Rimuru and becomes Rimuru's first friend.


Yumiri Hanamori as Shizu, a Japanese girl summoned to an alternate world by a demon king. She will eventually have a great impact on Rimuru


Makoto Furukawa as Benimaru, chief of the Ogre tribe


Sayaka Senbongi as Shuna, Benimaru's younger sister


M.A.O as Shion, a member of the Ogre tribe


Takuya Eguchi as Sōei, an Ogre who specializes in covert operations


Houchu Ohtsuka as Hakurō, an Ogre who is a master of the sword


Rina Hidaka as Milim, the oldest of the Demon Lords


Kanehira Yamamoto as Rigurdo


Haruki Ishiya as Rigur


Asuna Tomari as Gobuta


Atsushi Ono as Kaijin


Rie Tanaka as Trainee


Megumi Toyoguchi will also play Great Sage, a Unique Skill that Rimuru has that speaks inside him.

Yasuhito Kikuchi (Infinite Stratos, Macross Frontier, Busou Shinki) is directing the anime at 8-Bit, with Atsushi Nakayama (Absolute Duo) as assistant director. Kazuyuki Fudeyasu (Tantei Opera Milky Holmes, Girls' Last Tour, Recovery of an MMO Junkie) is in charge of series composition. Ryōma Ebata (Busou Shinki, Magical Warfare) is adapting the character designs for animation. Takahiro Kishida (Spring and Chaos, Serial Experiments Lain, Knight's & Magic) is in charge of monster design. Elements Garden is composing the music.
Takuma Terashima is performing the anime's opening theme song "Nameless story." TRUE is performing the anime's ending theme song "Another colony."
The anime will premiere on Tokyo MX and BS11 on October 1 at 24:00 (effectively October 2 at 12:00 a.m.), before airing later that evening on tvk. The show will also air on MBS. The series will begin streaming on d Anime Store (Docomo Anime Store) on October 3, and it will also stream through other services in Japan. The anime will run for two cours or half a year. Crunchyroll will stream the series, and FUNimation Entertainment will stream an English dub.
Fuse launched the story serially on the "Shōsetsuka ni Narō" (Let's Become Novelists) website from 2013 to 2016, and the series has since garnered over 400 million page views. Micro Magazine began publishing the series in print in 2014. The 12th volume shipped on March 9. The series has 4.5 million copies in print.
Taiki Kawakami launched the manga adaptation in Kodansha's Monthly Shonen Sirius magazine in 2015. Kodansha published the eighth volume on June 8, and the ninth volume will ship on September 28. Kodansha Comics publishes the manga in English. The novels also inspired a separate manga spinoff titled Tensei Shitara Slime Datta Ken - Mamono no Arukikata (That Time I Got Reincarnated as a Slime - How Monsters Walk) by Shō Okagiri, which serializes in Micro Magazine's Comic Ride manga website. Micro Magazine published the manga's third volume on March 9.
Yen Press published the novel series' second English volume on April 24, and Kodansha Comics published the sixth volume of Kawakami's manga on June 19.
Sources: That Time I Got Reincarnated as a Slime anime's website, Comic Natalie
---