Unique Hip Hop trio Home Made Kazoku Making a Great U.S. Debut Performance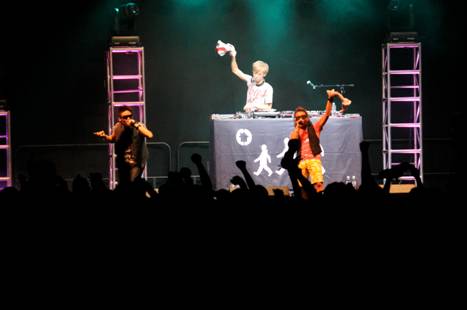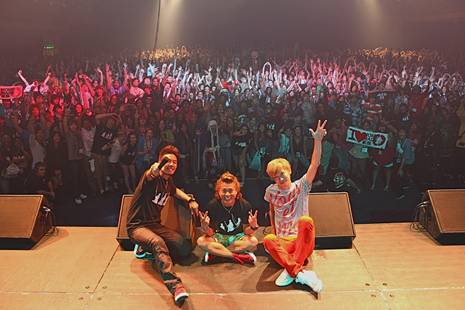 August 1 2010,
Home Made Kazoku
arrived as guest performers at
Otakon
2010, an event that boasts the largest following of any Anime convention on the east coast, and finished their first U.S. performance with a great success!
Although they performed on Sunday, which was the final day of the convention and usually receives the smallest crowd, Home Made Kazoku was able to attract a swarm of 5000 screaming fans from all across the country. They opened with "Kazoku Sensei," which immediately filled the concert hall with excitement, and once they began playing their next song "Shonen Heart", the opening theme for anime series
EUREKA SEVEN
, the entire audience stood up in unison and would not settle down for the rest of the performance. MCs MICRO and KURO began a call and response in English, and at one point, MICRO shouted to the crowd, "No matter where you are from, or who you are, or what color your skin is, we are one big family!" and the audience's fervor reached its peak. The show concluded with Home Made Kazoku and the crowd all singing along their biggest hit song, "Thank You!!" which was also featured as the ending theme of
BLEACH
.
After the show, the band conducted a fan signing, which, as one of the Otakon staff members noted, had "the longest line I have ever seen in 17 years of the convention!" The line even consisted of fans that came all the way from Japan, and the band was able to sign for about 700 visitors.
Although their scheduled appearance was on the last day of the 3-day convention, Home Made Kazoku arrived on the first day and was busy being chased by media from all over the U.S. Over the course of the convention, the band conducted over 20 interviews, and even sat down with FOX TV, a network that is the equal of the big three networks (
ABC
,
NBC
,
CBS
).
During Otakon, MICRO specially "tweeted" in English and DJ
U-ICHI
took photos of the convention in order to communicate with the fans. After the live show there were nearly few hundred "tweets" related to Home Made Kazoku.

The group released a special Anime tie-in single collection "Home Made Kazoku @ the Animes" which is now available on all major digital outlets from SIN/
Sony
Music Independent Network.
Home Made Kazoku @ the Animes
1. Thank You!! (ending theme for BLEACH)
2. SHONEN HEART (opening theme for Eureka Seven)
3. Shooting Star (ending theme for
NARUTO
)
4. No Rain No Rainbow (theme song for
NARUTO SHIPPUDEN
the MOVIE –Kizuna-)
Home Made Kazoku Office
HP
:
http://www.sonymusic.co.jp/Music/Info/home

-made/
The first two photos on top of the article are by Dave Wujcik/Copyright 2010 by Otakorp Inc
The third and fourth photos on top of the article are by
Sony Music Entertainment
Japan
---
discuss this in the forum (4 posts)
|
this article has been modified since it was originally posted; see change history