×
remind me tomorrow
remind me next week
never remind me
Subscribe to the ANN Newsletter • Wake up every Sunday to a curated list of ANN's most interesting posts of the week.
read more
Shelf Life
Settling in for the summer
by Bamboo Dong,
I survived my first year of college. Wow. It seems like I was just a senior in high school a few months ago, and already I'm a college sophomore. Strangely enough, when I stepped back into my home, I thought to myself, "I feel like a visitor in my own house." Over the past year, I've been identifying myself more and more with the East Coast. Granted, I'll always be a Coloradoan no matter what happens to me, but still—it's a strange feeling telling yourself that it will most likely be the last summer you will ever spend at home. Somehow, it's an oddly satisfying feeling. Just two years ago, I thought I could never be on my own and never be apart from home, but now it just feels like the natural thing to do. It feels like I'm always moving, always packing. Even if I'm at the airport maybe eight times a year, it still feels like I'm always on a plane, always moving. I suppose soon I'll grow used to it, and even start to like it. I don't mind it now (though I wish my laptop was a million pounds lighter) and I suppose that falls right in line with the whole "natural thing to do." In that vein of thought, I suppose there is no real reason to fear doing anything in the future, or even view it with aversive anticipation. Once you get there, you'll probably have changed your mind about it anyway. What I'm afraid of doing now could end up becoming second-nature to me in the future. Either way, that's enough introspection for today. Welcome to Shelf Life.
Shelf Worthy


.hack//SIGN Vol. #2: Outcast
Bandai Entertainment 125 min. 2/6 $29.98 05/20/2003

I love how Bandai likes to release their special edition DVDs before the regular editions, just so the cool kids who bought it first can brag about all the great stuff they got with the disc. Well, this release is for all the un-cool kids who didn't nab this volume with the CD the first time. Either way, it's still a great disc to own, especially since the series is getting better with every episode. Tsukasa gets nabbed by the Crimson Knights, but some slick stunts are pulled to get him out of there, whether wanted or not. Also, more information (and/or speculation) is revealed about the Key of Twilight, an aspect of the series that I'm sure many fans are eagerly awaiting for. As the episodes progress, the story gets more and more complex and with all the unanswered questions flying around, the intensity really thickens as time goes by. In the meantime, a lot is revealed about certain characters and their personalities, giving viewers a glimpse into their thoughts and actions, as well as the motivations behind what they do and say. Pushed along by Yuki Kajiura's eerily gorgeous music, the slick animation really brings Sadamoto's characters to life. Visually, .Hack is soothing to the eyes and with the added suspense and plot twists, it's good for the brain too. If you haven't bought volume two already, now's the time.



Banner of the Stars Vol. #3
Bandai Entertainment 100 min. 3/3 $29.95 05/20/2003

Banner of the Stars is both one of the nicest done anime series and also the slowest. The storytelling capacity of the dialogue and scenes heightens the drama, but even with the moving story, the pacing can induce sleep in the most caffeinated viewer. In the final volume of the series, the final battles continue to rage and the question of consequences come into play. How long can one survive in the face of adversity? The climax of the series peaks in these episodes and if you've been following the Stars series, this is something you can't afford to miss. Armed with a knack for drama, the battle scenes are definitely something to gush over, even if the action element isn't really played. Yeah, Banner of the Stars can be slow, but you can't deny that it's good.



Geneshaft Vol #1: The Ring
Bandai 100 min. 1/6 $29.98 05/20/2003

I wish I had a mecha named Shaft. Just think of all the horribly lame jokes you could crack to all of your friends. Well, sadly, I don't, so I won't be making any lewd jokes anytime soon. On the positive side, I also have that warm feeling in my heart that means either that either I have angina pectoris, or that I have a good, throbbing vibe about this show. Since I've yet to hit my prime and I'm in impeccable physical condition, I'll have to waver towards the latter assumption. Geneshaft has one huge thing swinging in its favor right now, and that's its novel story. Taking place in the future, humanity is on the edge of destruction because of internal turmoil. In order to preserve mankind, society has decided to crank up their genetics engineering program and haul in some heavy duty eugenics. One of the traits that they have tried to wipe out is violence, so there is a ratio of nine women to every man, who has to be watched over every minute of his life. In any case, out of nowhere, a ring appears in space (When I think of the word ring, all I get is a really creepy picture of a girl crawling out of a TV.) that a troupe of super engineered people have to go battle. The story focuses largely around a girl named Mika and her compatriots. Even in the first volume, you can see Mika's character slowly begin to shape and mould in accoradance to the events around her, which makes for compelling viewing. The other technical aspects of the show are done well, including the animation, but as mentioned before, what makes the series worth watching is the interesting way the usual mecha-vs-alien concept is presented. I really think this one has potential.

Rental Shelf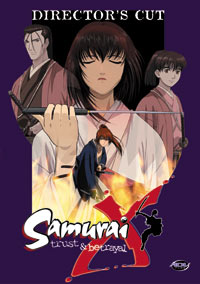 Rurouni Kenshin: Trust & Betrayal Director's Cut
ADV Films 120 min. 1/1 $29.98 05/20/2003

Without a doubt, the first Rurouni Kenshin OVAs are one of the best things to ever grace the anime stage. Everything is painstakingly done to perfection and nothing is left wanting: the animation is impeccable, the artwork is jaw-dropping, the music is powerful, and the subtle symbolism used in the scenes raises the production to something that can only be described as stylistically flawless. So why tamper with perfection? ADV is now releasing what they are calling the Samurai X: Trust & Betrayal Director's Cut—a theatrical version of the OVAs. Throwing in a few extra scenes and a few scant lines, the four episodes were spliced together in Japan to form a movie. In their work, they took out some of Iwasaki's gorgeous music in the scenes, but surprisingly kept the fluid pacing intact. However, just the mere addition of a few short scenes here and there seem a waste of money if you already own the OVAs. In fact, I would recommend buying the two separate discs over the movie compilation, but if you're somewhat of a lukewarm fan of Kenshin, then the director's cut would be ideal for you. For those that are unfamiliar with the story, it takes place ten years before the start of the television series. Weaving history, powerful storytelling, and breathtakingly realistic animation, it delves into the tale of how Kenshin became the Hitokiri Battousai, as well as how he received his infamous scar, and the enigmatic woman behind it all. To be honest with you, these OVAs are much too precious to not watch in their original form. If you're curious to see what this movie version looks like, I suggest just renting it. Nothing can beat the original.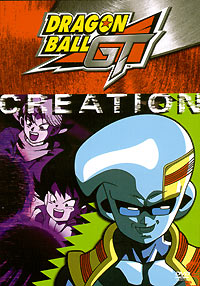 Dragon Ball GT Vol. #03: Baby: Creation
Dragon Ball GT Vol. #04: Baby: Proliferation
Funimation Productions 62 min. 3/4/? $24.95 05/20/2003

In the third volume of Dragon Ball GT, viewers finally get to run into the Saiyans, an encounter that makes the next two volumes rather fun to watch. The quest for Dragon balls continues, naturally, but when one of the balls ends up being smack dab in the middle of Saiyans, a bit of bantering occurs, to say the least. I'm definitely digging DBGT much more than DBZ, as the pacing is much better and much more solid, and the dialogue is more varied. Overall, I can't say that it's the best series ever, or one of my favorites, but it definitely has its moments. Besides, this is something that fans of the Dragon Ball chain can't pass up. Creative and fun, the characters really add life to this series, which is definitely a large plus in my book. Without a doubt, anyone that grew up on Dragon Ball Z will enjoy this series. If you've never been a fan of DBZ though, this may be something that requires a rental first. While I will profess to the entertainment value of these volumes, it may not rock your bad as hard as some of the other stuff being released this week.



Hello Kitty's Paradise Collection
ADV Films 360 min. 1/1 $39.98 05/20/2003

This here DVD is the pinnacle of what is known as wholesome family entertainment. Collecting all sixteen episodes of this cute series into one handy package, this is great for all those times you need to plop kids in front of the TV. Games? Learning? Manners? Hello Kitty Paradise has everything you could possibly want. Granted, you probably wouldn't ever watch this unless you had kids, or had reason to take care of them, but if that case does arise, it's Hello Kitty to the rescue! Besides, it's really, really ridiculously cute. I wouldn't recommend it for feeding any Hello Kitty obsessions though. Like I said, it's strictly for the kids.

Perishable Item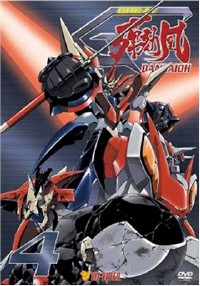 Great Dangaioh Vol. #4
Viz Inc. 78 min. 4/4 $24.98 05/20/2003

If there's one thing that I really enjoy about this OVA series, it's the fact that it's finally over. Coming off as a largely rambling show with flawed military logic, it doesn't hold its weight against the original Dangaioh at all, which is a shame. Even though the series has thirteen episodes, the story seems rushed and disjointed, jumping from plot twist to plot twist. In the final volume of this series, the Dangaioh team has to recuperate from its last huge battle. Meanwhile, the series explores the idea of throwing in some characterization by revealing a few chunks out of the characters' pasts, as well as the secrets that the series has been harboring until now. Once the denoument is over, another battle is prepared again—this time it's the real final battle. Much to their surprise, they have to fight against another Dangaioh. Such story twisting fails to make the scenes more interesting; rather, they just have the ability to make some viewers sigh in exasperation at the never-ending story. Sometimes when a story needs to end, it needs to end. Even the animation and music is mediocre, leaving the series with nothing more than empty plot convolutions and a empty dialogue. If you want your mecha fix for this week, I recommend Geneshaft. Some shows are best to be left alone.

That's the end for this week. Enjoy your summer!
---