×
remind me tomorrow
remind me next week
never remind me
Subscribe to the ANN Newsletter • Wake up every Sunday to a curated list of ANN's most interesting posts of the week.
read more
Shelf Life
GOTT Sugar?
by Bamboo Dong,
I thought really hard about what I was going to write about this week. Honestly, I did. I brooded for seconds upon end, furrowing my brow in what would clearly be the biggest decision I would make. I racked my brains, I summoned my Muse, and I even stared at a blank wall for all of a minute. Suddenly, it hit me that three of the titles being released this week are porn titles. Porn doesn't need an intro. It's just porn.
To balance everything out, I figured I'd just conclude this with the box description for Gigli:
[This week's Shelf Life] is a high-octane romantic comedy that packs serious heat!
Welcome to Shelf Life.
Shelf Worthy

Black Jack Vol. #1: Infection
Central Park Media 100 min. 1/? $24.99 02/10/2004

I can't begin to imagine the legal problems that could possibly arise from gallivanting around the world as an unlicensed surgeon. Regardless, Black Jack does just that, and having been borne from the hand of the God of Manga, Osamu Tezuka, he does it with flair and quintessential finesse. Based on the manga, ten OVA episodes (and a movie) were made, and now by the good graces of Central Park Media, American fans can now check out this mysterious medical show. Black Jack is a wonder surgeon who can cure practically any disease EVER (never mind the fact that most of his cases would probably be a case for internal medicine and not backwater technology surgery). Scooting around the world saving lives and gathering high paychecks, he uses his skill to save the lives of a variety of characters and examine the threads that tie people together. With two 50-minute episodes on the first disc, the viewer can watch this miracle worker at his job as he uncovers dark secrets and sinister plots through the course of his work. Mixing in atmospheres of dark and icy cold with the wonders of original storytelling, Black Jack is definitely a unique experience for fans wanting a taste of Tezuka.

Rental Shelf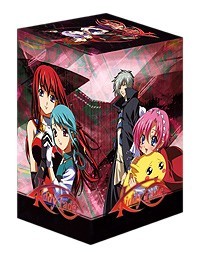 Kiddy Grade Vol. #1 (also w/box): Peacekeeper
FUNimation Productions 75 min. 1/? $34.98 02/10/2004
Kiddy Grade Vol. #1: Peacekeeper
FUNimation Productions 75 min. 1/? $24.98 02/10/2004

No, no, Kiddy Grade isn't kiddy porn. It's not even porn. It's just a fun show with your duo of energetic gals kicking butt throughout the galaxy and uncovering plots of sinister intent. In a time far, far away, the economic pains of the intergalactic federation are regulated by an entity called the Galactic Organization of Trade and Tariffs. Dealing with everything from illegal smuggling rings to bodyguard services, they are the end-all of the economic world. We zoom in on our dynamic duo, cute girls named Éclair and Lumiere. Their job is to take on some of these assignments and do their part to preserve the peace. The first three episodes are a little slow, but the series definitely has potential. Helmed by the folks at Gonzo, the series is certainly a visual treat, if anything else. If you want a nice laid back show with eye candy to watch this week, check out this title.



Tiny Snow Fairy Sugar Vol. #6: Sugar Baby Love
Geneon Entertainment (USA), Inc. 100 min. 6/6 $29.98 02/10/2004

With the blistering cold still ripping through half the United States, this is the perfect thing to warm you up. Filled with adorable saccharine cuteness, watching the last four episodes of this series is like plunking down next to a fireplace and sipping a steaming mug of white chocolate cocoa with marshmallows. When the fairies find the last of their Twinkles, they pack up to head home, but Saga is so one-tracked on making the money to buy back her grandmother's piano that she hasn't even noticed they're gone. Overworked and underpaid, Saga is deteriorating rapidly, casting her friends aside and worrying herself to bits. This only makes Sugar upset, so what's she to do but to wreak unneeded havoc? These last four episodes really tie up this sugary sweet series nicely. Giving the characters one last poke at their real feelings, this show can't help but flood everyone with smiles. If you think you're too cool or too manly for this show, this is most definitely not something you'd want to watch, but if you need a virtual teddy bear for the night, this is it.


Initial D Vol. #03: Challenge: Night Kids
TOKYOPOP 150 min. 3/? $19.99 02/10/2004

Initial D has the amazing talent to be so action-pumping and engaging that you hardly notice the wolf-ugly characters and badly rendered cars after a few minutes. Of course, having the race scenes set to the adrenaline rushing Eurobeat tunes of the soundtrack are always a boon. As Takumi hones his driving talent, he's sought out by some of the toughest drivers in the area, including a Skyline driver from the rival Night Kids racing team. Even for people who don't even know how many wheels a car has, this series can still be really fun. Though the street races take center stage, character development continues with the growing relationship between Takumi and Natsuki. It's a shame that Tokyopop didn't put a few more episodes on each disc, though. With each street race taking almost three episodes from its setup to its conclusion, the audience is often left hanging. By the time the next volume is released, everyone has to get back in the mood again. Regardless, with the winning combination of the music and the exciting races, it's hard to not care about what happens. However, there's one word of caution: after awhile, the series does get a bit repetitive. This shouldn't stop you from having fun though, so if that's what you're looking for this week, this is the rental for you.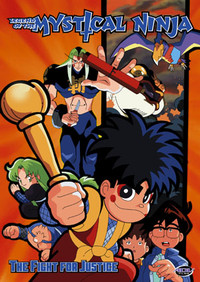 Legend of the Mystical Ninja Vol. #2
ADV Films 125 min. 2/6 $19.98 02/10/2004

Would you believe that there's a parallel video game world? Would you believe it if I told you Konami thought it up? No, no, don't heave your collective sighs yet. It's not that bad—if you've played the video game, know what's so funny about the in-jokes, and are aged 4-12. In staunch Har Har Oh So Funny fashion, our clan of video game characters is wreaking havoc in the real world. They're not used to everyday commodities like trains though, so everything is an adventure for them. This may be a fun little show with plenty of quirky scenes, but it's really aimed at a younger audience. If it's your cup of tea, give it a rental, but don't be expecting anything too deep here.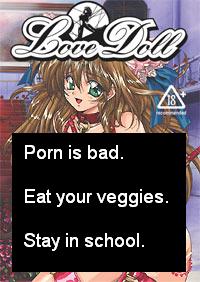 Vanilla Series: Love Doll Vol. #1
Critical Mass Video 60 min. 1/? $24.98 02/10/2004

Dare I say it? This show is almost... touching. No pun intended. Following the story of a sweet girl who was sent to a convent after her mother died, viewers can only sit back as her unfortunate story unwinds. While there, she falls in love with a nearby prince, but that's the only good thing in her life. Our heroine is getting picked on, and to just make things awful, the nuns and bishop in the convent spend their time training the girls as sex slaves, surrounding the show with molestation and fecal fetishes. She thinks her life will change when her uncle takes her away to his castle, but he has plans to train her as a Love Doll, a girl perfected in the arts of love making whose purpose is to loan herself out to the royal select few in the kingdom. Complete with a leather outfit and Janet's nipple shields, she longs to return to her Prince, but being a Love Doll is better than being molested at the convent. As far as hentai goes, the people behind this production really tried to put in a meaningful story. The art is beautiful, though some of the sex scenes may turn away easily offended viewers. Even I winced at some of the scenes, but if you're a fan of hentai, you'll have to give this one a quick glance. It isn't often nowadays that you get a porn flick with an emotional back story.

Perishable Items

Fobia
Anime 18 94 min. 1/1 $29.98 02/10/2004

Mm... flying penis-shaped appendages, sloppy tentacles, violent and bloody rape scenes, poorly animated scenes, and a lame story... what could POSSIBLY be better?!?!?!??!?! Oh wait. Everything else. The poor campus of Enoshima College is being wrought with chaos and tragedy. Someone (or something) is sexually assaulting and eating women all around campus! But how does one conceal writhing masses of penii? As members of the opposite sex, of course! A hyuk! Luckily, two cute girls are out to uncover the sinister secret behind the attacks and save the campus from these awful, awful monsters. Can they do it? Can they make it without getting raped a million times? Can they beat the penetration record currently held by my nearby sorority? Watch and find out!!!! With a tangled story containing everything from mystery to time warps, it is a mere chassis for the true motive of this touching story: bloody tentacle rape. Is that your thing? If yes, by all means, buy this and enjoy it in the privacy of your room. If you're looking for a more meaningful way to spend your time, go buy a copy of Penthouse.


Sohryuden - Legend of the Dragon Kings Vol. #5: White Dragon
Central Park Media 94 min. 5/6 $19.99 02/10/2004

After an unimpressive 94 minutes, I wish I remembered what happened. Maybe if the story weren't so dull and uninteresting, I would have remembered something about it. Then again, maybe I'll just take every generic "plot twist" ever used in the history of mankind, put it in a hat, and draw one out of random. The more generic it is, the more likely it is that I hit the one. After five volumes, the Mulligan Foundation is still trying to snag the dragon boys. Five volumes. Five. One, two, three, four, five. The bloody story hasn't moved a single inch in five volumes. In this utterly unimaginative chapter of our dull quest, the enigmatic (i.e. mysteriously scarred) Lady L cooks up some Wile E. plot to snag Owaru for her own private collection of "Things I Need for World Domination". She actually manages to succeed, so for our heart-stopping finale, our handful of sleeping viewers get to watch Owaru's brothers try and rescue him. If you need a cure for insomnia, this is it.


Sacrilege
Anime 18 60 min. 1/1 $29.98 02/10/2004

There exists hentai out there that doesn't have a DROP of story in it. All there is is gratuitous sex and penetration shots for an hour. For the horny though, it serves its purpose just fine. Then there's Sacrilege which is, quite frankly, a sacrilege to the name of all hentai. Not only is the story nonexistent, but the characters are so ludicrously ugly that not even a blind man could jerk off to them. Really now, what's the point of having ugly characters in hentai? This defeats the entire purpose of masturbatory material. The vapid storyline... well, the stars of the show are two lesbian policewomen who spend virtually the entire time frolicking around naked. When they finally get bored of exploring each other's ugly bodies, they get assigned to a drug bust. This isn't your average cocaine bust though. Oh no, this drug turns men into sex-craved monsters. Please. Just do yourself a favor and get your sex kicks elsewhere.

Well, that's it for today. Enjoy your week, and remember kids, keep your hands out of your pants.
---