The Mike Toole Show
Little Pitch Academia
by Mike Toole,
It's October, and you know what that means: time for a spooky, creepy discussion of the haunted world of… baseball, because I've spent the last two weeks staying up way too late to watch my beloved red sock-wearing Red Sox march towards a seemingly inevitable World Series win. (Note: if the Dodgers come back and make the steal, I take full responsibility for jinxing it here!) Baseball takes on an interesting shape at this time of year; it's a sport cunningly designed to be played languidly on balmy summer evenings, but now it's subtly transformed into a gripping contest waged on frigid autumn nights.
I find that one good way to get a taste of a town's character is to visit its baseball park. I've been to ballparks in Arlington and Baltimore and Toronto, and they're all different. My hometown of Boston boasts the oldest park in the country, Fenway Park, opened in 1912 and nestled right in the heart of the city. When I visited Japan in 2016, I swung by a stadium that was nearly as old: Meiji Jingu, opened in 1926. The two parks have one interesting thing in common: both have hosted games played by Babe Ruth. As I enjoyed the ambience of an exciting contest between the then-league champions Yakult Swallows and the visitors, the popular and always-formidable Hanshin Tigers, I had no idea that just a couple of years later, I'd be watching anime featuring the very stadium I was in, telling the story of a fictional version of the Swallows trying for the pennant—because baseball and anime go hand in hand.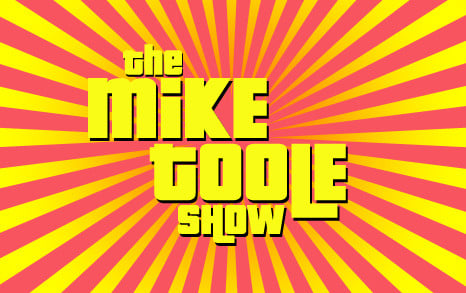 Baseball took an interesting path to Japan. Just a few decades after the modern version of the game was formalized, the sport was introduced to Japan in 1872. The nation was accustomed to one-man contests of strength and skill, like archery and sumo, but here was something new—a team sport, one that would allow platoons of rice farmers and carpenters, already well-used to working cooperatively, to compete as groups against each other. That got the sport a toe-hold, and in 1896 a famous victory over a visiting foreign team fired the public's imagination and appetite for the game. Baseball has been a fixture of Japanese culture ever since.

In the chaotic time after World War II, one baseball manga emerged to rule them all: 1961's Chikai no Makyu, or The Game-Changing Pitch. Created by Kazuya Fukumoto and Tetsuya Chiba for Weekly Shonen, the series didn't run for terribly long, but its depiction of hard-luck pitcher Hikaru Ninomiya's ascent from high school star to big-league hero fascinated both manga readers and mainstream sports fans. The magazine's editors knew that they had to top it somehow, and they had just the idea: nothing less than a baseball version of the life of famed swordsman/scholar Musashi Miyamoto, complete with a baseball version of his rival Kojiro Sasaki. Star writer Ikki Kajiwara and artist Noboru Kawasaki were recruited to create the story, and they story they made was called Star of the Giants.
Star of the Giants isn't merely the most important baseball manga/anime ever, it's one of the most important and influential series in the manga and anime canon, period. If you boil down the medium to a representative species for each genre, Star of the Giants would win out in the sports category by a mile. If you're still reading this column, you're curious about sports anime, so think about this: Ever seen an anime pitcher's windup that includes a high-stepping flourish? A scene where the ball in flight is not just distorted, but wildly, outrageously elongated? A disappearing 'magic' pitch? You've got Star of the Giants to thank for that. Aside from helping to establish a visual vocabulary that sports manga employs to this day, Star of the Giants became a giant hit because it focused on the sport's romantic essentials, as it was played in Japan: endless training, the development of spirit and focus, and the idea of magokoro—pure sincerity and devotion to the cause of winning.

Star of the Giants also worked so well because it was a great human drama with interesting characters. Hyuma Hoshi is seemingly destined to play baseball; his dad Ittetsu was a fearsome infield player in his day, and eagerly pushes his kid to surpass him. Not satisfied with the youngster's proficiency as a right-handed pitcher, dad forces the kid to become a lefty, so batters would have a tougher time with him. Through rigorous training, domestic struggles, and a scintillating rivalry with the powerful Hanshin Tigers first baseman Mitsuru Hanagata, Hoshi lifts his team to victory and becomes Japan's most formidable pitcher.
Hoshi's story isn't the only thing that makes Star of the Giants compelling—it's the scope of the tale, which follows the player from childhood to his time as a seasoned pro. He makes friends, like the catcher Chuta Ban and American contract slugger Armstrong Ozma; his esteemed dad becomes an adversary, and his rivalry with Hanagata turns convivial when the Tigers star marries Hoshi's sister Akiko. All the while, the story references real-life teams and events, like Sadaharu Oh's home run streak in 1962. Star of the Giants anime and manga continued for decades, and the original classic is still periodically rerun, because it's amazingly good television, even today.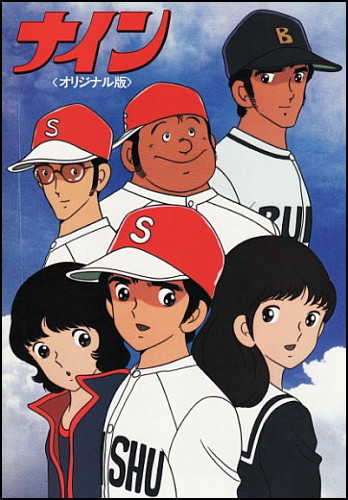 While Star of the Giants set the tone, the long-reigning king of baseball manga and anime is Mitsuru Adachi. He was already a savvy manga artist when he launched his first baseball-themed hit, Nine, in 1978. Nine's formula is simple: two boys and a girl. The two boys, Susumu and Katsuya, are good buddies who find themselves getting bored after mastering their chosen sports in junior high. An encounter with a pretty girl, who cries unconsolably after watching the high school team slump to another loss, inspires the two kids to quit their old sports and try to drag the baseball team up off the mat. That kind of struggle, with side dishes of romance, comedy, and melancholy, is Adachi's bread and butter.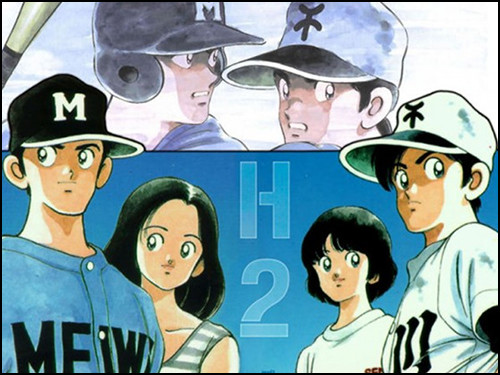 Adachi would bring back the two-boys-and-a-girl formula for Touch, arguably his biggest hit, H2 (multiple boys and girls), and Cross Game (two girls and a boy). Adachi's baseball work is also a little different in that it focuses almost entirely on high school baseball. In Japan, high school baseball is singularly romantic, a grueling endeavor with a championship series at the storied Koshien Stadium that's arguably a greater spectacle than the Japan Series. Every single one of Adachi's baseball hits has been adapted for anime, be it the TV-movies-only Nine or the fairly recent Cross Game. These days, Adachi is plugging along with Mix, his bid to make Touch into a multi-generational affair. It's been going for six years and has an anime adaptation planned for next year, so it looks like another grand slam for the master.
Sports anime and manga has only recently started to carve out some real estate in the western market, with hits like Haikyuu!! and Yowamushi Pedal. It's not for lack of trying—fare like Prince of Tennis, Hajime no Ippo, and Big Windup! have been launched, and pretty much all landed with a thud. Princess Nine is a notable exception, a modest little series from the Giant Robo people (minus Yasuhiro Imagawa) about an all-girl team that audaciously challenges the boys' leagues for a spot at Koshien. The look of the series hasn't aged all that well (lots of brightly-colored, improbable hairstyles), but the story holds up. You can catch a couple of shows, like the quiet high school baseball meditation Battery and mainstream shonen hit Major, via streaming channels. One-Outs is one of the most interesting baseball shows of the 2000s—I think of it as Kaiji Baseball, because it involves seedy characters, high risk, and gambling-- but it fell through the cracks before streaming became a thing.

Baseball is just as important in non-baseball anime, too. Everyone remembers that one episode of Samurai Champloo where the characters play a baseball game against a team of bulky American visitors, even if it's just for the authentic swearing. There's a baseball episode of forgotten card-game show Mon Colle Knights where the pitcher is a literal giant (he still does the Star of the Giants windup!) and his opponent, a hulking ox, is dubbed 'Bull Buckner' in the English version. Genius! The Compiler OVA series even teachers the viewer some important baseball history; when the Tigers won the pennant in 1985, jubilant fans were racing through the streets of Dotonbori, chanting the names of their heroes. When they got to American slugger Randy Bass, they seized the nearest thing that seemed to resemble the player—in this case, a Colonel Sanders statue from the local KFC—and flung it into the river. That led to a real-life sports curse, but it also led to an amazing scene in Compiler where the statue is fished out and promptly turns into a giant version of… Randy Bass. These days, Bass is a state senator in Oklahoma.
Now, we come to the present, and one of my favorite current shows, Gurazeni. Gurazeni is the story of Natsunosuke Bonda, a middle reliever (the pitcher they put on for one or two innings when the starter starts to fade, but before their reliable closer is needed) for the Spiders, a thinly-veiled analogue of the Yakult Swallows. The 26-year-old Bonda was a notable star in high school and went pro soon after, but on the Spiders he's a fringe player; he has to fight playing time, and is hyper-aware of both his extremely modest salary… and the salary of every single other regular in the league. For Bonda, it's intimidating to be throwing to an all-star player who earns ten times what he does!
From some of the chatter I've picked up, nobody in these parts is really watching Gurazeni, and that's too bad. But I don't know how to sell this to western viewers at all. Typical anime fans won't want it, because it doesn't have the brisk pace, high drama, and cinematic action of the best TV anime—it's workmanlike, and not at all flashy! American baseball fans won't want it either, because Japan's Central League has its own bizarre rules and customs that don't always intersect with baseball as we know it. Bonda himself is decidedly not a superstar, but that is precisely why we are meant to like him. Instead, he's a fringe player who dreams not of winning the Japan series with a thunderously epic performance, but of racking up a few wins and making incremental improvements that tweak his salary.

What seems like a very average show finds its strength in Bonda. The character sports big, thick-rimmed glasses, a perpetual 5 o'clock shadow, and a wry, weary smile. As the show's narrator, he patiently explains the ins and outs of being a mid-career professional, describing not just his workdays, but those of his coaches, the commentators, and even the team staff. Bonda delivers a nifty balance of adult anxieties and the dizzy, wild joy and pressure of pro sports. Gurazeni also does a surprisingly good job of communicating just how different Japanese pro baseball is from American baseball. In Japan, for example, pitchers often employ a wider variety of throws, and will try to fool batters into striking out rather than overpowering them with brutal, tricky fastballs. At bat, even the stronger players use low, steady swings, aiming for line drivers rather than home runs. Chaotic pitching duels abound, and if a batter happens to hit a home run? Well, he's probably getting intentionally walked at his next at-bat.
As I gird myself for a nail-biting finish to the World Series and enjoy Gurazeni's simple pleasures, one interesting coincidence strikes me. For years, I'd just assumed that Japanese players had always been on the fringes of the American game; Hideo Nomo was a star in the 90s, and more recently we've seen players like Daisuke Matsuzaka, Ichiro Suzuki, and Shohei Ohtani at the ballgame. But prior to Nomo's debut in 1995, there were no Japanese players in major league baseball at all—except for one. Masanori Murakami played for the Giants in '64, just two years before Star of the Giants debuted in Weekly Shonen, and two years after Don Newcombe became the first American to try his luck in Japan. And just like Gurazeni's Natsunosuke Bonda, Murakami was a middle reliever.
---
discuss this in the forum (13 posts)
|