×
remind me tomorrow
remind me next week
never remind me
Subscribe to the ANN Newsletter • Wake up every Sunday to a curated list of ANN's most interesting posts of the week.
read more
Anime Spotlight: HYOUKA
by Justin Sevakis,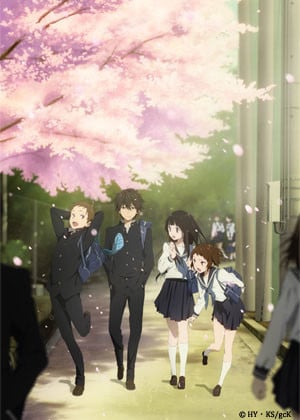 April 22, 2012 (Japanese Premiere)

Key Staff
Series Composition - Shoji Gatoh

Character Design - Futoshi Nishiya

Director - Yasuhiro Takemoto

Animation Production
Introduction
Youth isn't all tenderness.
Though it isn't all hurting either.
...a slightly bitter high school anime.
Creator Comments
Spirit Towards the Animation
I don't like the phrase, "Every man to his trade."
Every tradesman was a simple beginner at first, and if every beginner spurned their efforts because of the saying, "every man to his trade", then there would one day be no tradesmen. I always felt that danger behind the phrase. However, this time, when the series was going to be animated, my first intentions were to leave everything to the Animation Staff, because "every man to his trade", and I hardly know anything about film.
But I had second thoughts, that maybe there was something even I could do to help bring out the atmosphere and the feel of the classic club in film. There were several things that changed my mind, but the greatest reason was probably because I could trust Kyoto Animation as a work partner.
If I confront them, they'll grapple with me. They won't just toss my ideas aside. Even if I jump in when it's not my trade, they'll add my ideas where they should be added, and turn them down when need be. I believed they would do that, and set about working on a new "HYOUKA".
Since we've decided to do it, then... well, we can't exactly afford to produce a bad product, can we?
Word to Fans
I'm very happy to see the HYOUKA that so many have read being recomposed with a different approach. When Oreki and the others, who only existed on paper, finally take shape and begin to move, I wonder how the feel of their tale will change. Please look forward to it. I know I am.
—Original Story & Composition Cooperation: Honobu Yonezawa.
Spirit Towards the Animation
I'm working hard, confident that we'll make this a great work.
"Thorns of Youth". This is what I wanted to depict. When we're in school, that special time in our lives, we experience many things. Fun things and interesting things, of course, but also events that prick at our hearts, and I believe that all of these become very bright, precious memories to us. I wanted to depict how such thorns leave their scabs, causing our hearts to grow stronger and mature.
Word to Fans
I'm working very hard together with many different people to make this work even better, so please look forward to it.
—Director: Yasuhiro Takemoto
Spirit Towards the Animation
I'm looking forward to this very much. This work was a type that I haven't had much opportunity to work with before, and it's full of new things for me, so it's been very rewarding to use my head and face the challenges it's thrown at me. This time I've been working more behind the shadows as a staff member, like a catcher trying to firmly catch all of the balls being thrown his way by everyone.
Word to Fans
I've been working my wisdom every day. I can feel that this is going to be a great work, so please enjoy it.
—Series Composition: Shoji Gatoh
I took great with each and every character, designing them to bring out both the youth and frailty of the new high schoolers in the classic club. I hope to carefully depict the slight changes of heart Houtarou and the others go through bit by bit as time passes, which I was able to feel from the detailed descriptions in the original work.
—Character Design: Futoshi Nishiya
Story
Houtarou Oreki, a high school freshman who believed in conserving his energy, finds himself in the classic club, a club on the verge of dissolution. There he meets Eru Chitanda, a heroine with a hearty curiosity, and his old friends from middle school, Mayaka Ibara and Satoshi Fukube.
Together at Kamiyama High School the four of them investigate various incidents in this youthful academy mystery.
Characters
| | |
| --- | --- |
| | A high school freshman who believes in conserving energy and not doing anything that doesn't need to be done. After a certain event, he joins the classic club. |
| | He confesses to being a self-proclaimed database, who only does things he's interested in. He's been Houtarou's best friend since middle school, and followed him in joining the classic club. |
| | Eru is the single daughter of the Chitanda Family, a remainder from one of the four wealthy farming families, according to Satoshi. She joined the classic club in search of something. |
| | An inseparable friend who's been in the same class with Houtarou since their first grade in elementary school. She has an interest in Satoshi, which is what leads her to join the classic club. |
Cast
Houtarou Oreki

Yūichi Nakamura

Eru Chitanda

Satomi Satou

Satoshi Fukube

Daisuke Sakaguchi

Mayaka Ibara

Ai Kayano

Tomoe Oreki

Masashi Togaito

Fuyumi Irisu

Youko Itoigawa
Staff
Original Creator
Composition Cooperation

Honobu Yonezawa

Series Composition

Shoji Gatoh

Character Design

Futoshi Nishiya

Music

Director

Yasuhiro Takemoto

Animation Production

Kyoto Animation

Production

The graduates of the classic club of the Kamiyama high school
© Honobu Yonezawa・
KADOKAWA SHOTEN
CO.,LTD./The graduates of the classic club of the Kamiyama high school
---
discuss this in the forum (283 posts)
|
back to Anime Spotlight Spring 2012 - The List
Anime Spotlight homepage / archives