Sakura-Con 2013

Aniplex of America Industry Panel

by Lynzee Loveridge,
Aniplex of America's own EJ Rivera opened Friday's Aniplex of America panel with a review of their currently streaming titles, available releases, upcoming releases and two announcements.

EJ started the panel with a series of trailers for their currently streaming titles: Vividred Operation, OreShura, Magi, and Blast of Tempest. This was followed by currently available limited edition box sets: Durarara, Bakemonogatari, The Garden of Sinners, Nisemonogatari, and the first season of OreImo.
Next, a series of trailers were shown for previously announced upcoming releases including the Neon Alley's streaming dub of Fate/Zero, the Hatsune Miku Mikunopolis concert DVD which will feature English and karaoke subtitles, and the dub of Sword Art Online,.
Finally, the company moved into it's special announcements. Aniplex of America announced two new streaming series, second season of OreImo and Bandai's Valvrave the Liberator Both series will stream simultaneously on Crunchyroll starting next month.

Sunrise's mecha series is set in a world where 70% of the human population lives in space. The main character is a high school student named Haruto. Haruto is a kind young man who hates fighting, but all that will change as his peaceful town will be invaded by a military force. Everything will change once Haruto's encounter with a mysterious humanoid weapon called Valvrave.
The series premieres on April 11.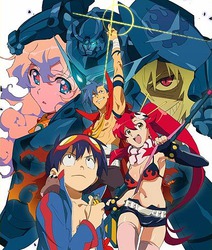 AoA's second announcement was the rescue of fan-favorite series Gurren Lagann. The company will release the series in limited edition Blu-ray and DVD box sets with both Japanese and English audio. The set includes the original television series, an unaired episode, both films, the Parallel Works music videos, the Nintendo DS exclusive OVA, a double-sided poster, 12 postcards, two soundtracks, a 36-page booklet, and two stickers in a box illustrated by mecha designer You Yoshinari. Video extras include 3DCG test footage, staff interviews, and the special "Yoko Goes to Gainax." All together the set includes 10 Blu-ray discs and 5 CDs. Pre-orders open on April 1 with a street date set for May 29.
---
discuss this in the forum (22 posts)
|
back to Sakura-Con 2013
Convention homepage / archives