ANN Exclusive: 1-on-1 with HYDE
by Jonathan Mays,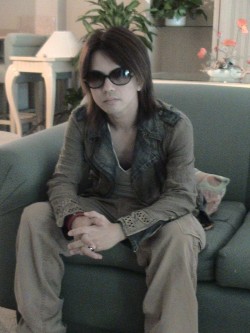 You may know him from Fullmetal Alchemist or Blood+ or NANA or Otakon's spectacular L'Arc~en~Ciel concert, but you definitely know him. HYDE is one of the biggest rock names in all of
Asia, an accomplished solo artist and the front man for a band that has moved over 34 million recordings in the last decade. The accolades go on and on: a multiyear streak of top-ranked releases in Japan, a Baltimore concert that attracted more
J-Rock fans than any previous event in America, and an ongoing tour that sold out within minutes in both countries.
HYDE rarely holds private interviews; when L'Arc~en~Ciel performed at Otakon in 2004, not a single request was granted. But this time, he made an exception. Below is a transcript of my exclusive 20-minute chat with Japan's biggest rock star.
Thank you for taking the time. I understand you recorded the FAITH album an hour away in Los Angeles. Why?
I've been a part of L'Arc~en~Ciel for 15 years, as you know, and we have never recorded overseas; it's always been in Japan. I listen to British and American music a lot, and it's always been very hard to get that exact sound while in Japan. So I wanted to come here to do the recording so I could be closer to the sound that I like. Since I am working solo, it's more flexible to do whatever I want.
Who in particular do you listen to in the US and UK?
Depeche Mode,
Mission UK, and things like Korn.
Okay. Let's talk about the big differences between FAITH and your 666 album.
666 is something I made while I was envisioning doing live performances. I was in charge of doing the guitar and the vocals, so it was more punkish and rough. FAITH was made with guitars and helped to be produced by Kaz. There's more of a guitar sound because he got involved.
Kaz also wrote some of the songs this time, right? What impact did that have?
Kaz and I have similar tastes; all the tracks he makes are very likable. Everything he's made, there's nothing wrong with his songs. For L'Arc~en~ciel, for anything we recorded there were a lot of people giving opinions. It was hard to like the songs from the very beginning. Whereas with Kaz I liked everything right from the beginning he made for Faith. It's a lot smoother, then, because I'm a solo artist and I can do whatever I want. With Kaz I have a goal and working with Kaz I can reach that goal.
One of your songs, Jesus Christ, is about contradictions of faith. How do you find those contradictions, and how do you reconcile them?
Let's see...In Japan while I'm on tour, there's usually a Jesus Christ banner in the back of the set. While writing the Jesus Christ song, I had imagined this banner before this whole tour even started. So while writing this song, I brought up a lot of the questions I had in my mind. Obviously, I don't know the right answer or anything, but that's how I arrived at those contradictions. These are questions that I had. So many bad things are happening in the world right now that I wanted to point them out and write it down on paper.
Can you be more specific? Which question of faith do you struggle with the most?
Hmm...[long pause]...In Japan on New Year's there's a ritual called Hatsunode, where people visit the shrine and make their wish for the year. I always wish for world peace. One of the big questions is why it doesn't come true.
You've said writing lyrics opens you to things you hadn't seen before. I think the Jesus Christ song reflects that insight. What other things did you see for the first time while writing?
In everyday life, I don't think deeply about things. But when I'm writing songs, I write songs about the questions that I have. While I write those songs, I get deeper and deeper. Actually, what I noticed was that in everyday life there are a lot of little things that are happy, but while writing, I realized I've passed the peak where I was happiest. Every day, I didn't realize it, but I looked back at my lyrics I had written and realized I had passed that peak.
Why is that?
The reason is that I thought I could die at that moment. If you can think that, it means you've already reached that level of happiness.
You've also said you want to use concert venues in different or unusual ways. Can you elaborate?
Usually, for example, you would use a venue horizontally. But maybe you can use it diagonally. There are a lot of different things you can do with it, but I can't really talk about it because the performances aren't done yet and the tour doesn't start until September. But I want to make sure that everyone at the venue can see me as closely as possible. If you use the stage differently, every person will be able to see me closer. But I don't want to talk about it too much. Not yet.
On FAITH you have a deep sound, heavier than you've done before. Countdown is probably the best example. Are you moving in that direction?
I actually wanted it to be heavier. When I noticed I had a lot of slow songs and not heavy ones, I wanted to include more. I wanted to make an album that was even heavier.
What is the biggest thing you've learned since your solo debut?
When I was working with L'Arc~en~Ciel, there were four different people all with their own specialties and goal in the band. Whereas when I'm solo, I have to do everything on my own. By doing this solo, for example, when I'm recording the sound for the guitars, I would not normally do that for L'Arc~en~Ciel. While I'm doing this solo project, I started to realize how each person in L'Arc~en~Ciel feel about what they're doing. So I'm getting the aspects of the other people. By doing this solo project, I feel that I've grown musically.
Would you like to share a funny moment from recording or performing on stage?
You said recording or a concert, but the thing about recording is that it's very stoic and very tough and there aren't many episodes I can think of. But live performances are so much fun. Every day there's a memory that will last forever, but there's so many of those that it's not that special anymore. If I were to name one...once I went to a venue in Nara on a jinuksha [rickshaw], one of those Japanense carts where someone pulls you along.
Before you go, would you mind recording a quick message for your fans?
Sure. I've grown up listening to American music and I'm very happy to have a CD release here and actually be able to do concerts. That's one of the big memories that I'll think about forever. I hope to be able to come back for more and more. Thank you for your support.
HYDE on Tofu Records
HYDE on MySpace
FAITH audio/video samples
Special thanks to Yaz Noya, Yuriko Inagaki, and Fumika Nagase for arrangements and translation. Transcribed by Sean Broestl, photo by Evan Miller.
---
discuss this in the forum (22 posts)
|