×
remind me tomorrow
remind me next week
never remind me
Subscribe to the ANN Newsletter • Wake up every Sunday to a curated list of ANN's most interesting posts of the week.
read more
Diana Garnet: an American Performer in Japan
by Cindy Sibilsky,

Much like the title of the song from Yuri!!! on Ice that she performed at Ohayocon 2019, in a concert compilation of her original tunes plus popular anisong covers mashed up in a collaboration with Shin Kurokawa, Diana Garnet -- an American performer living and working in Japan as a singer and TV, stage, radio and voice actress -- is a history maker. To some it may seem that she is living the dream of many otaku and convention regulars, but it's the result of a lifetime of ambition and hard work to fight for her position in the challenging media industry of Japan as a foreigner.

We interviewed Diana for her third year as a panelist and musical guest at Ohayocon, celebrating its 19th year this January in Columbus, Ohio. We discussed her multifaceted career, her journey and personal evolution, the challenges of living and working abroad, and how anime and conventions are not only responsible for her career, but likely for her life itself.


Garnet grew up around the Washington D.C. area as the result of a couple otaku (before the word was commonly used in this manner or conventions were a thing in the U.S.) coming together through their love for anime and sci-fi in the 1980s. "My father was a big fan of the space-themed anime shows like Macross and Space Cruiser Yamato (aka Star Blazers), among others," Garnet reveals, "He and my mom bonded over their mutual affection for Gatchaman (aka Battle of Planets) and their first date was a sci-fi convention, so you could say I was -- quite literally -- born out of and into convention culture." This continued throughout her childhood. To Diana and her brother, "Anime and sci-fi were our Disney." But her family's tastes -- considered much less mainstream at the time -- turned the heads of teachers and supervisors whose reactions set the Garnet kids up for bullying and being labeled as 'odd.'
"I didn't think anything was wrong or different until I brought the film My Neighbor Totoro to daycare and they wouldn't let us watch it because of the scene with the father and daughters taking a bath," Garnet recalls, "I knew it was innocent and part of the culture, but they didn't understand. They finally let me play Kiki's Delivery Service, but also looked down on her old-fashioned bloomers showing when her skirt blows in the wind." But these judgments and misunderstandings didn't deter her from diving head-first into the culture and content she was raised on and adored. They only propelled Diana to shape her life around those passions. Singing was always a part of her life, as her mother is an accomplished operatic singer who even performs with convention choirs. Both possess around a 3.5 octave range.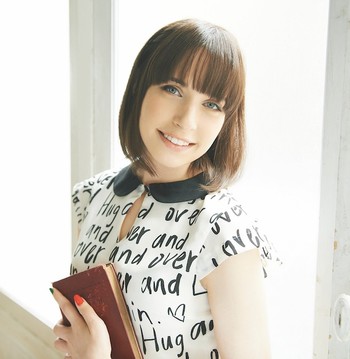 The eureka moment happened around age seven, when Diana heard the song 'Yuzurenai Negai' -- the opening song from Magic Knight Rayearth, sung by Naomi Tamura. "The song affected me deeply on so many levels," Garnet relayed, "It's a third-person song about never letting go of your dreams, plus the show was made by Clamp, a group of female manga artists whose works are all about girls kicking butt." But the biggest effect on Diana was the singer herself, for it was the first time she heard a voice like her own -- a much higher range than she was used to hearing from American singers. Suddenly it all clicked. "From then on, I knew this was my path and I set about seeking to confirm if Japan was really the place I wanted and needed to be to do this." That determination led Garnet to discover the depths of her love for Japan through programs in both high school and during university. Once she moved there permanently and got a job teaching English, she set her sights on finding a career within the world that shaped her childhood -- anime.
Feeling the strongest about her skills as a singer and working diligently on perfecting her Japanese, with encouragement from the success of other gaijin singers such as JERO and HIMEKA at the time, Garnet sent out dozens of demos but received no response. Her big break came through the NTV show for foreigners passionate about Japanese culture and singing in Japanese -- Nodojiman The World. She appeared several times and was well-regarded for her near-perfect accent and excellent grasp of Japanese. On her third or fourth performance, she earned the 'wild card win', beating out fellow American singer Chris Hart, who has since become a dear friend. After winning, Sony Music Entertainment Japan came calling and asked if she had representation. "I was over the moon!" Garnet exclaimed. "This was a dream come true because not only was Sony such a major force in the music industry in Japan and globally, it also had the best anime tie-ins, and the songs and artists had the highest level of artistry, especially in terms of anisongs. SONY shaped the 2000s for anime music. It felt like the best fit for me all around."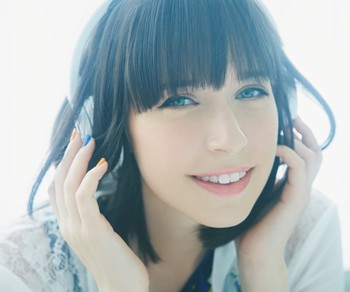 What followed was an unprecedented whirlwind for any performer, but even more so for a foreigner. Garnet's debut album was released at a breakneck speed and her life was turned upside down. "I went from being an English teacher in July to being signed with Sony as my management by August 1st and then with Sony as the record label by September 1st." She was initially billed as 'the female Chris Hart', and her first album was comprised of cover songs in the same manner that made Hart a household name. It would be another year and a half before her first original anime song -- 'Spinning World' -- the ending song for the popular show Naruto (a manga/anime she's been a fan of since middle school). It appealed greatly to younger fans who engaged in a relatively new form of media consumption: streaming. In 2015, the ending theme to Naruto was streamed nearly 7.5 million times. The song was coupled with 'Diana Anthem', a cheeky tune about her journey from otaku to anisong singer and was followed by 'Nankai Mystery' from the detective anime for kids -- Detective Team KZ -- coupled with a delightfully charming song about air conditioners. She collaborated with Joe Inoue who had worked with several of her idols and understood her strengths. "He is such an amazing artist!" Garnet remarked. "I loved working with him. He's so funny, creative and a wonderful performer in his own right."
These playful pop pieces suited Garnet just fine. "What I've always loved about J-Pop and anisong is that they are primarily positive music, more akin to the 'happy rock' of the 1960s like The Beatles," she explained. "Western music can tend to be negative and focus on the pain and sorrow, very aggressive. Japanese music has been accused of being a bit sugary, but I love it. Many anisongs focus not only on the positive side but are empowering and heroic. Now, current J-Pop is becoming a bit more like K-Pop, which is more like Western music about partying and heartbreak."

But such fairy tale dreams can be fragile in the real world, and there were downsides to being part of such a major label, particularly as a foreigner navigating the fickle tastes of Japanese consumers. "Japan is a place that it can be relatively easy to get noticed initially, but incredibly hard to sustain a career past 4-5 years," Garnet explained, "The entertainment industry evolves rapidly, and it is difficult to keep up with the ever-shifting interests. There is a term 'Miha people' meaning 'trend chasers', who make up a large and important part of fandom." These 'Miha' types made Garnet's personal evolution within such a major label quite challenging, because she debuted as a cover-song performer and then transitioned into originals. There was a dark and confusing period of time between Diana's dreams coming true and her transformation to becoming the more multifaceted artist she is today. This was around when she got to perform at Ohayocon for the first time in 2017, during what she calls a "transition year", and the warm welcome made her regard the convention as a home away from home, reigniting her passion to perform and sing. Knowing she'd be back in 2018 gave her something to look forward to at the start of the year.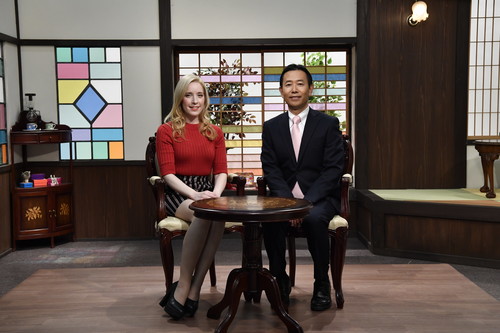 After that, she began dabbling in voice acting, stage performance, radio, and even co-hosting an instructional show on NHK called 'Igo Focus' that's based on what's considered to be the oldest board game on earth -- created thousands of years ago. While it may seem strange for an outsider to have so much inside knowledge of such an ancient activity, Garnet has been playing the game since childhood, inspired from encountering it in anime. After joining this program, NHK approached her with another offer to be a part of a 60-year institution, a radio show aimed at teaching English to middle school students called 'Kiso Eigo.'
From there she became more independent and confident and has branched out in many varied ways. Instead of this being off-putting to industry professionals, her unorthodox approach has garnered her more opportunities. Garnet has enjoyed many exciting collaborations that would have been impossible under a major label. She is voice acting for video games such as OVA Gunvolt and Dragon Marked for Death (which she also sings a song for), among many others and for dubbing as well as educational CDs.

But her biggest joy is the return to music. She experienced her first shot at co-writing lyrics for the anime Meow Meow Japanese History (historical events in Japan as told by cats). It was a challenge to write from a deeply personal and emotional place in a second language, but the experience yielded her songs 'My Life' and 'Thank You for the Music.' She is now working on a potential anime tie-in that will remain top-secret until confirmed.
Ohayocon 2019 also brought her journey full-circle, because it solidified collaborations with two Japanese-born associates: the famed director Nabeshin (aka Shinichi Watanabe, best known for Excel Saga), with whom Garnet teamed up with for a new anime set to debut in India called Luna Chan, featuring a song she performed at Ohayocon named 'Beauty Luna', and the twenty-song anime mashup she performed over two days of panels and concerts with the former producer, translator, and co-founding member for one of the first US-based anime companies, AnimEigo, and current songwriter/producer for J-Pop (a term he coined in the 1980s) and anisong artists such as fripSide -- Shin Kurokawa -- who arranged the 20 anisongs just for the occasion. Garnet and Kurokawa are working on various musical explorations of covers and originals both stateside and abroad. "Thanks to Ohayocon, I have gotten the opportunity to work with two phenomenal collaborators who appreciate what I have to offer and are open to interesting new ideas," Garnet stated.

While actualizing her lifelong ambition didn't lead to an easy access road of rainbows, this multi-layered and magnetic force of nature continues to be a history-maker, and she can serve as an inspiration for otaku everywhere who dare to dream big and follow their fantasies.
Thanks to Diana Garnet and Ohayocon for this interview opportunity.
---
discuss this in the forum (3 posts)
|
this article has been modified since it was originally posted; see change history