Interest

Wedding Self-Help Book for Boys-Love Fans Offered

posted on by Crystalyn Hodgkins
---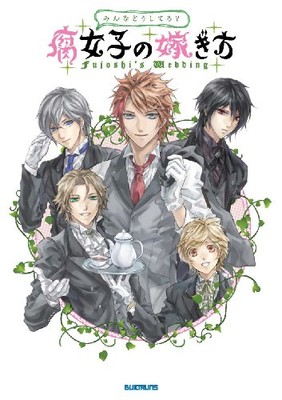 The Japanese company X-One is taking pre-orders for a marriage guidebook for fujoshi (otaku of boys-love stories), to be released on August 24. The book, titled Fujoshi no Totsugi Kata (How a Fujoshi Gets Married/Fujoshi's Wedding), answers questions such as "where do people go to meet others, and how do they get married," "when I get married, what do I do with my huge boys-love collection," and "when we're living together, what do I do with the data on my computer and mobile phone?"
The book centers around a girl named Fumi and her five ikemen (handsome male) butlers, as they work together to help Fumi identify the problems and anxieties of getting married and find solutions. The book also comes with an interview with an experienced fujoshi about how to build a peaceful household after marriage. In addition, the book includes information from Mandarake, K Books and other dōjinshi specialty shops; the otaku marriage hunting service Ballad Complex; and the marriage news service Onet.
The book retails for 1,260 yen (about US$16).
Source: Akiba Keizai Shimbun via Jam Guru
---