Interest

Osamu Tezuka Manga Inspire Shirts, Shoes by Lacoste

posted on

2013-05-12

19:30 EDT by Lynzee Loveridge
---
In collaboration with Tezuka Productions, French apparel company Lacoste is producing a special collection inspired by the works of prolific manga creator Osamu Tezuka (Mighty Atom/Astro Boy, Black Jack, Jungle Emperor/Kimba the White Lion, Phoenix). The company began accepting pre-orders for T-shirts and polos at its Lacoste L!VE Harajuku Olympia Annex store on Saturday. The manga-inspired apparel is also available through Lacoste's online shop.
The six shirts feature designs from Astro Boy, Black Jack, and The Mysterious Underground Men science-fiction manga. T-shirts will sell for 7,875 yen (about US$78), and polos will sell for 16,800 yen (US$165).
Astro Boy


Black Jack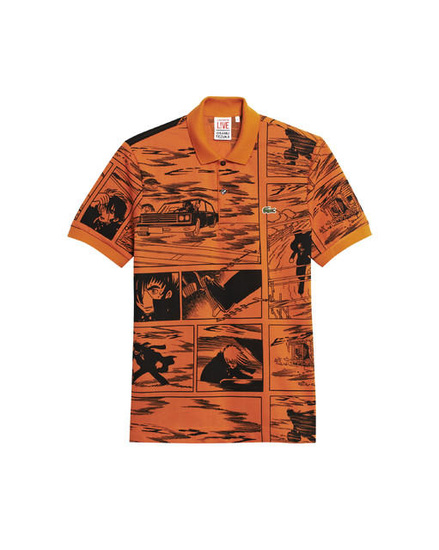 The Mysterious Underground Men


Hiroaki Ohya drew inspiration from the Ashita wo Kirihiraku Tezuka Osamu no Kotoba 201―Ima wo Ikiru Hito-tachi he book to design the collection. Published in 2005, the book compiles over 200 messages from the late "God of Manga." Ohya based his collection on Tezuka's following words from the book: "Since ancient times, humanity has continued to carry three dreams. Those are flying in the air, transforming, and communicating with animals and nature." Ohya chose scenes from The Mysterious Underground Men, Astro Boy, and Black Jack respectively to evoke those dreams in the collection. Ohya also collaborated with Tezuka Productions to produce the "Astro Boy by Ohya fashion brand in 1999.
Lacoste also began accepting pre-orders for limited-edition "Lacoste L!VE x Osamu Tezuka" collection shoes that will be released in August. Only 50 pairs of the Astro Boy-inspired footwear will be made, and they will retail for 17,325 yen (US$171).
Tezuka's work is not the first to be adapted into footwear. Evangelion inspired shoes by K-Swiss and Adidas. Adidas also created Captain Tsubasa running shoes and was credited for product placement on the Honey and Clover anime. Tiger & Bunny character shoes were sold by Premium Bandai last year, and Sanrio and Doc Martin's teamed up to make high-top boots in 2010.
Source: RBB Today
---