Interest

Tiger & Bunny's Shoes Offered in Japan

posted on by Crystalyn Hodgkins
Kotetsu's combination shoes, Barnaby's shoelace boots to ship in May
---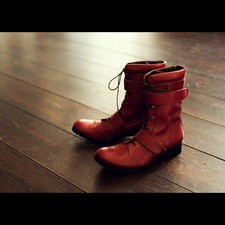 Premium Bandai, Bandai's official shopping website, is taking pre-orders for a replica of Tiger & Bunny character Kotetsu T. Kaburagi's combination shoes and Barnaby Brooks Jr.'s shoelace boots.
Both sets of shoes come in five sizes and are made of real leather. Each also features a "Tiger" or "Bunny" logo on the sole or tongue of the shoes, respectively, and both feature a Tiger & Bunny logo on the bottom of the shoes. Barnaby's boots retail for 29,800 yen (about US$384), and Kotetsu's shoes retail for 19,800 yen (about US$255). Both items will ship in May.
The website has previously offered such Tiger & Bunny-related apparel and accessory items as Kotetsu's vest, hat, and tie, Barnaby's necklace, Blue Rose's earrings, and Tiger & Bunny-themed watches.
Source: Fujoshi News
Images © Sunrise / T&B Partners, MBS
---