Interest

Attack on Titan Makeup Tutorials for Halloween

posted on by Bamboo Dong
Need an idea for a Halloween costume? How about a titan?
---
Just in time for Halloween, we rounded up a handful of makeup tutorials and photos to hopefully inspire anyone who wanted to be a titan from Attack on Titan.
Colossal Titan
Colossal Titan by Hkisame
Colossal Titan by Midori-chan
A photo tutorial by Sherlynnt.com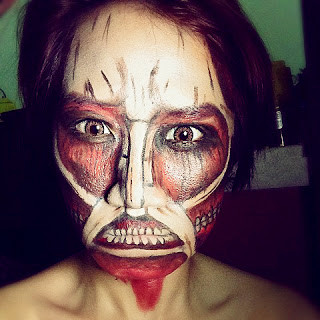 Titan Eren
Titan Eren by Tanya Panagia
Titan Eren by LilPwanda
Titan Eren by Hkisame
Female Titan
If the female titan is more your style, check out some these videos and photos below from other cosplayers who've figured out some makeup tricks:
Manga version female titan by Avrilstyleclow
Anime version female titan by Avrilstyleclow
Meanwhile, here are some pictures from Twitter user @i_uruha, who shows off how she pulled off her female titan look (including her below-the-eye faux-blood half-circles).

All the other titans...
If you prefer your costumes to be a little more off the beaten path, you can always try for one of these guys:
For everyone else, there's the simple alternative-- just buying a titan mask.
Do you have a favorite tutorial that we missed? Let us know in the forums!
---