Interest

Fukouka Police Distribute Anti-Yakuza Manga

posted on by Chris Nishijima
Contains testimonies from previous yakuza members
---
Earlier this week, the Fukuoka Prefectural Police Department published a short manga story as an attempt to discourage citizens from partaking in yakuza gang activities. The manga, titled "I Did Not Expect This To Happen 2" is a sequel to the original which was released last January.
The storyline of the manga follows a member of a yakuza clan who, in the face of a hostile public, searches for a way to leave gang life. As the story progresses, the themes touch on the ultimate emptiness that he feels from work in areas such as loansharking, blackmail, and drug dealing and pastimes like attending hostess clubs and playing pachinko. When the character attempts to leave the yakuza for the sake of his family, his oyabun asserts typical clan authoritarianism by demanding a large sum of money. This leads to the main character trying to seek another way of leaving.

But while the Fukuoka Police may have released the manga in an attempt to keep individuals from joining the yakuza lifestyle, it seems that membership in the Kyushu region has dropped in recent years. For instance, the Kudo-kai clan, once hailed as the largest yakuza clan in the region have seen a drop in membership of about 30% in the last five years, decreasing from 1350 in 2008 members to about 950 members.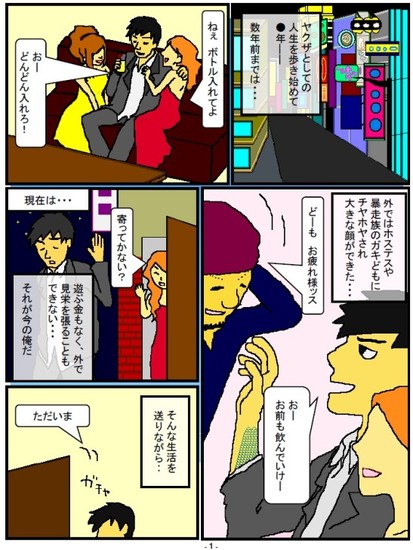 The manga closes with words from previous members of yakuza clans who prefer their current lifestyles to that of the yakuza life. One individual left the yakuza for the sake of his pregnant wife with the help anti-gangster consultation center. Since then, he has been a member of the construction industry, specializing in tile laying. He encouraged others to avoid the yakuza lifestyle for the sake of an honest living, saying "I was relieved to be able to leave the yakuza world safely. Sometimes the work is tough, but I have a constant income, and now, with a baby, I can enjoy my time."
[Via Tokyo Reporter]
---