Interest

Kumamon Suspends Twitter Updates in Wake of Kumamoto Earthquake

posted on by Eric Stimson
---
Kumamon, the beloved mascot of Kyushu's Kumamoto Prefecture, has refrained from updating its Twitter page since an earthquake struck its home on April 14. In response to concerns from its fans for his well-being, the bear's official home page posted that social media updates have been suspended because "we put the people who have been afflicted by the earthquake first." (This follows a Japanese practice called jishuku, in which respect for the dead is shown by voluntary self-restraint and abstinence from pleasure.)
熊本が熱くなることまちがいなしだモン☆ラグビーワールドカップ2019が楽しみだモーン☆エイエイモーン! pic.twitter.com/pJmQVPaLgA

— くまモン【公式】 (@55_kumamon) April 14, 2016

Kumamon's last tweet, celebrating the 2019 Rugby World Cup, which Kumamoto will co-host
Kumamon is a very popular mascot whose Twitter account is usually updated at least three times a day and boasts 117,000 followers. Products bearing its image topped 100 billion yen ($916 million) in revenue last year; many of these products were foods like tomatoes and strawberries, and with 2.1 billion yen ($19 million) in sales coming from overseas. Kumamon's recent activities have included cycling with the Yowamushi Pedal crew, riding motorcycles and meeting Keanu Reeves, and dressing up as Eva Unit-01.
The voice actress behind One Piece's Luffy, Mayumi Tanaka, voiced her support for beleaguered Kumamoto in this video, where she shows off a clever cosplay of Luffy in Gear 4. "I will protect my friends in Kumamoto!" she declares in his voice.
知り合いが田中さんから送って貰ったって
本当負けないで pic.twitter.com/PomHR4lIu2

— 瑞歩 (@mitaaan3) April 16, 2016
In addition, the One Piece kabuki troupe, which toured Fukuoka (also on Kyushu) on April 16, opted to go on with the show despite a reduction in the audience. "We all got together and talked about it and decided that we should still perform; that it is especially times like these when we should perform. If there is a single person in the audience, it is the duty of an actor to perform on stage," explained Ennosuke Ichikawa, who plays Luffy. The cast collected donations for relief efforts from the audience after the play.
Eiichiro Oda, One Piece's creator, hails from Kumamoto, which might explain the responsibility those involved with One Piece feel toward the area.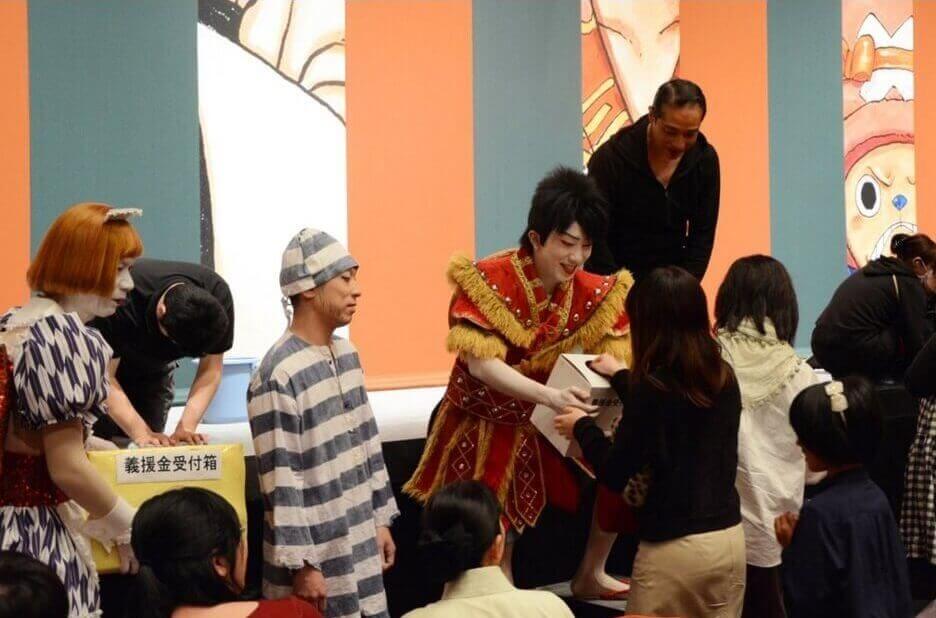 In addition, Apamanshop, a real estate leasing company, announced that it is offering empty rooms free of charge to the 180,000 victims of the earthquake in need of shelter.
Kumamoto Prefecture has suffered two major earthquakes, one on April 14 (magnitude 6.2) and one on April 16 (magnitude 7.3). The combined death toll is 42, along with 1,500 injured and nine missing. The earthquakes also triggered an eruption of nearby Mount Aso and large landslides that destroyed the Great Aso Bridge and trapped 10 people in buildings. Kumamoto Castle and Aso Shrine suffered extensive damage.
An unofficial Mobile Suit Gundam-themed bar in Utsunomiya similarly offered free drinks for flood victims last year.
Sources: Kumamon Official Home Page, The Japan Times, Hakataza via The One Piece Podcast, Apamanshop Network and The Weather Channel; Sean Breslin; Image from Twitter
---