News

Fruits Basket Gets Stage Play — by All-Male Troupe

posted on by Egan Loo
---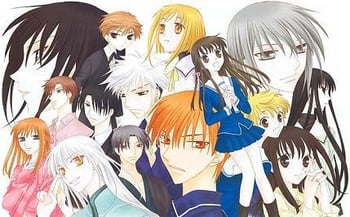 Natsuki Takaya's shōjo romance manga Fruits Basket will get its first stage play — by a theatrical troupe that happens to be all-male. Gekidan Studio Life is aiming to open the production in The Galaxy Theater in Tokyo on February 25 for a two-week run. In an attempt to cast unknown actors looking for their professional stage debuts, the theatrical company has been holding auditions from October 1 to November 28. "Healthy males 23 years old or younger" can audition, although a guardian's permission is required for minors.
Tokyopop will publish the 21st of Fruits Basket's 23 volumes in North America next month.
Souce: Ticket Pia
---
RightStuf - Anime, Manga and More
The Winter 2019 Anime Season has begun! Check back every day for new reviews of this winter's new anime:
Now Available: Kemono Friends 2 - Winter 2019 Shorts - VIRTUALSAN: LOOKING - The Magnificent Kotobuki - Kaguya-sama: Love is War - ENDRO! - Date A Live III - Magical Girl Spec Ops Asuka - Domestic Girlfriend - The Quintessential Quintuplets - Girly Air Force - The Promised Neverland - Kemurikusa - My Roommate is a Cat - Meiji Tokyo Renka - Dororo - Mob Psycho 100 II - The Rising of the Shield Hero - Boogiepop and Others - W'z - and MORE!
Heidi takes a slow week in stride with Star Wars, Destiny, a new Dragon Ball game, No More Heroes and much more!
― Well, howdy everyone! Hope you're having an okay week. I'm currently running on far less sleep than usual because I tend to work (read: game) pretty late into the night, and for the past three days, my apartment has been having new roofing installed. Always fun waking up at 9 A.M. to THU...
High-schooler Shido Itsuka has the power to seal away a Spirit's power by making them blush and planting a kiss on them. Up until now, the spirits that have opened their hearts to him are Tohka, Yoshino, Kotori, Kaguya, Yuzuru, and Miku.
― Date A Live III Official Website: http://date-a-live-anime.com/ Introduction Characters Cast & Staff Gallery Premieres on January 11, 2019 (JST) Key Staff Directo...
This short series didn't catch much attention when it first aired, with its janky animation and head-scratching premise. Andy and Steve reveal what's so special about the newest work of nonsense from the creator of gdgd Fairies.
― Himote House didn't catch much attention when it first aired, with its janky animation and head-scratching premise. This week, Andy and Steve reveal what's so special abou...
The animation quality of '80s OVAs and movies can be absolutely jaw-dropping, so what changed to bring so many of these ambitious productions down to earth in the following decade? Justin Sevakis has the answers.
― Jacob asked: I was looking back at the anime that was made during the 1980's and have had something that has always had me curious. I have heard from several anime podcasts and as well as...
This hybrid between vampire-fighting action and elaborate period-piece has style in abundance but holds back on the substance. Theron Martin has the details on this Netflix-hosted series.
― This 12-episode series is an original anime production by P.A. Works and Masahiro Ando, whose previous directorial credits are as varied as Hanasaku Iroha, Snow White with the Red Hair, and the movie Sword of the ...
Once known for its otaku culture, nerdy shops of Akihabara have been closing one by one. Twelve girls are trying their best to bring Akihabara back to its former fun glory.
― Pastel Memories Official Website: https://pasumemotv.com/ Introduction Characters Cast & Staff Gallery Premieres at 12:30 AM of January 8, 2019 (JST) Key Staff Director: Yasuyuki Shinozaki ("Aishiteruze Baby (TV)" as episode di...
The results are in and we have your Daily Streaming Reviews schedule for Winter 2019!
― This season's poll results have been tallied and we've put together the schedule for the Winter 2019 Daily Streaming Reviews! Due to lack of interest in the show, Paul Jensen will be wrapping up his reviews of Radiant this week. We may add coverage of more autumn anime based on future reader interest, so let us kn...
With the success of so many kickstarted movies, games, and other pop culture ephemera, could the dream of "making your own anime" really be as close as a month or two of crowdsourcing? Justin Sevakis has the answers.
― PAL asked: I know several web comic artists who have popular strips and are always asked by their fans "Any chance of an animated series?" To which they reply "No. Never. It's impossi...
Paul discovers whether this mid-2000s magical girl classic has aged gracefully on blu-ray, plus all this week's new anime releases and a new mecha-filled Shelf Obsessed!
― It's Preview Guide time again! Actually it might be streaming review announcement time on the day this column comes out. They've rolling the new shows out pretty darn fast this season. Welcome to Shelf Life. Jump to this week's re...
The Legendary Super Saiyan Broly joins the official Dragon Ball Super canon in this lavish, intense and bare-knuckled re-imagining of the original 1993 film, opening in US theaters this week! Here's our full review.
― At this point, Akira Toriyama's Dragon Ball franchise hardly needs any introduction. With hundreds upon hundreds of episodes, over a dozen feature films and specials, and fame the world...